Jason Hoffman / Thrillist
Jason Hoffman / Thrillist
The Way to Your Dead Loved Ones' Hearts Is Through the Belly
Long before we started decorating with skeletons and ghosts for Halloween, some 2,500 years ago, the indigenous people of Mesoamerica celebrated their dead with a month-long festival. But this holiday is warm rather than spooky. In honor of the Lady of the Dead Goddess Mictecacihuatl, they held feasts for the dead. And after the Spaniards brought Catholicism, the holiday combined with All Saints and All Souls Days to become Dia de los Muertos or Day of the Dead.
Traditionally, Dia de Muertos has served as a symbol for how Mexicans deal with death: as a natural part of the life cycle. The ancient holiday is a time for families to celebrate the lives of their departed loved ones. At its center is the annual ritual of building ofrendas, or altars, in homes, at cemeteries and other public spaces, which entice the dead to return to the land of the living (just for a couple of days) so that they're not forgotten.
Ofrendas are constructed with displays of marigolds (known in the Aztec language of Nahuatl as cempasuchil), colorful cut paper banners called papel picado, photos of ancestors, maybe a deck of cards or a favorite toy, and many of the dead relative's favorite food and drinks.
Dia de los Muertos is so ingrained in Mexican society that in 2008, UNESCO inscribed it on its Representative List of the Intangible Cultural Heritage of Humanity, acknowledging its cultural significance the world over.
By Serena Maria Daniels
This sweet confection isn't just for the dead: all about pan de muerto, and where you can get some. Click here for full story...
But as the holiday has gained in prominence and made its way north, first in Mexico and other parts of Latin America, and then in the United States, Dia de Muertos has shifted away from its part indigenous, part Catholic roots to become more intertwined with Halloween, and of course, commercialization.
We see Dia de Muertos Barbie dolls, sugar skull candy dishes alongside ceramic jack-o-lanterns at Target, and craft cocktail bars stocking up on mezcal to host pricey Muertos-themed tasting events.
While some people are dismayed by how the holiday has evolved, there are ways to observe Dia de Muertos in a more personal, meaningful way, especially through food. While you're arranging your ofrenda with marigolds, old photos, candles, and strings of papel picado, you can add a few of these quintessential Meixcan foods.
Sugar skulls
One of the most appropriated images associated with Dia de Muertos has to be the calavera or skull. Images of skulls and skeletons illustrate the more accepting perspective that Mexicans have around death. And this iconology includes sugar skulls, mounds of granulated sugar molded into the shape of skulls and decorated with brightly-hued icing. Some are so elaborately adorned that they're far from edible, but families and shops make simpler, tinier skulls that you can eat and display. They represent the sweetness of life.
Pan de muerto
Translated in English as bread of the dead, is sweet, yeasted, and rounded, and typically flavored with orange extract (and/or juice, zest), anise seeds, and cinnamon, and dusted with granulated sugar or sesame seeds. Its spongy texture makes it perfect for soaking in atole or Mexican hot chocolate (see below) and cracking jokes with the souls of ancestors.
Tamales
Tamales are some of the most common dishes placed on the altar for the enjoyment of ancestors. A tamal is made from masa, a corn flour-based dough, that's wrapped in a cornhusk or banana leaf, then steamed. Tamales are filled with a variety of proteins like pork, shredded chicken, roasted poblano chiles and queso fresco, or with sweet pineapple, strawberry, or raisins.
Mucbipollo, or Pib
In the southeastern Mexican state of Yucatan this time of year is known as Hanal Pixán, which translates in the Mayan language to "food of souls." Most notably, is mucbipollo, also spelled mukbil pollo, or shortened to pib. Likened to a giant tamal, mucbipollo is made with corn dough, lard, tomato, bell pepper, onion, the aromatic epazote herb, and other ingredients. The mucbipollo is wrapped in a banana leaf and buried in the ground where it cooks for several hours.
Spirits
No, not the ghostly kind, we mean alcoholic beverages. Plenty of altars include a bottle of tequila, mezcal, pulque (a boozy, milky-colored beverage made with fermented sap from the maguey plant and traditional to central Mexico), or beer -- whichever was the preference of the departed. Plenty of tequila makers and beer brands like Cazadores and Victoria have embraced the holiday as a marketing hook, creating special edition labels. Regardless, una botella remains a common sight on an ofrenda.
Mole negro
Mole is widely considered the culinary gem of Mexico, with a number of flavor variations throughout the country. One of the most complex and rich in depth is mole negro, which hails from Oaxaca. Black in color, owing to the use of charred chilies and burnt chile seeds, the recipe for mole negro varies from family to family but often incorporates plantain, peanuts, almonds, raisins, and Mexican cinnamon and chocolate, resulting in a harmonious blend of sweet and spice. Often served over turkey, chicken, and warm tortillas, it's an earthly delight enticing enough to conjure the spirits of loved ones.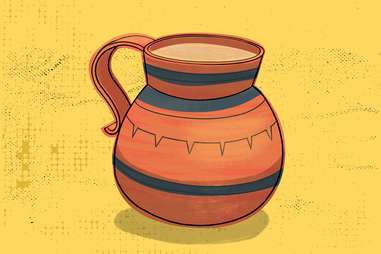 Hot chocolate
Speaking of Mexican chocolate, there's perhaps no better way to indulge than with a piping mug of hot chocolate. Chocolate's legacy in Mexico dates back thousands of years to when the Mayans first started cultivating cacao, consuming it as a bitter fermented hot drink. Today we make it with discs of chocolate spiked with cinnamon and sometimes chiles, melted and whisked with milk or water for a belly-warming treat.
Atole and champurrado
Atole is a spiced hot drink thickened with cornmeal and flavored with a myriad of sweet or savory varieties. It's a staple beverage to share by the mug-full with the departed. Corn or masa is usually cooked with water, and can be sweetened with fruit like pineapple, or can incorporate peanuts or pecans for a nuttier flavor. Add a melted disc of Mexican chocolate, and you've got champurrado.
Calabaza en tacha (candied pumpkin)
This treat has been adapted over the centuries since Pre-Hispanic times. Originally, pumpkin was sweetened with maguey sap. Now calabaza de tacha is simmered with sugar, spices, and fruit in a special caldron called a tacha.
Sign up here for our daily Thrillist email, get Eatmail for more food coverage, and subscribe here for our YouTube channel to get your fix of the best in food/drink/fun.