Is there really a difference between 1-day-old pizza and 5-day-old pizza?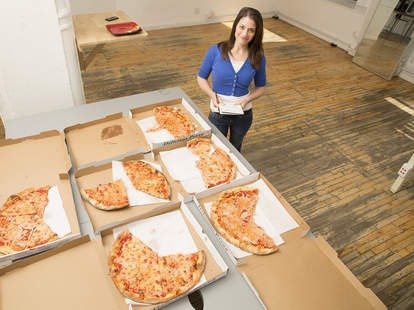 Is there really a difference between 1-day-old pizza and 5-day-old pizza? When you tell someone you've just eaten 5-day old pizza, the reaction ranges from "you're disgusting" to "you're a hero". But can you really tell the difference between one, two, three, four, and five day old pies? There's only one way to find out.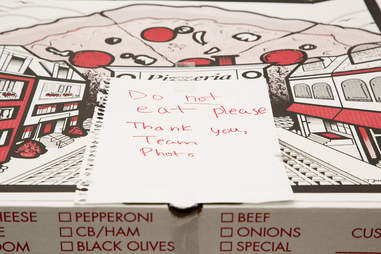 M.A.
Every day for one work week, a pizza was delivered to the Thrillist office, stamped with a symbol indicating which day it was purchased (known only to one secret pizza record keeper), taped closed, and stashed in a fridge with a note that totally alienated everyone who wasn't going to get to eat the pizza.
M.A.
On Friday, we laid out all five pizzas. My task: use my spidey senses to accurately determine fridge funk levels, and from there assign born-on dates to each and every one of these guys.
M.A.
From each box, I tried a cold slice, then a warmed slice (30 seconds microwaved). Because you know, science.
M.A.
Something I learned right away was that no two pizzas are created equal, even if you get them from the same place (Prince Street Pizza, which fresh out of the oven is one of the best slices in NYC). Some pies had thicker crust. Some had more cheese than others. They were all cut differently too and when refrigerated they all solidified differently. I took all of this into account when I made my predictions.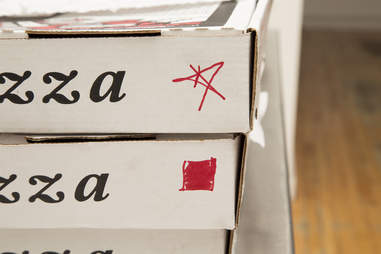 M.A.
First up, the box with the star symbol. Cold, it had a little funk, but when heated it went right away. It didn't look like refrigeration had taken its toll on the pie either.
M.A.
The box with the square on it had the most glorious looking cheese. It almost looked like extra cheese, a nice layer and very white. That totally threw me. When I tasted it cold the cheese had a lot of flavor and when heated it tasted even fresher.
M.A.
The happy face box had a lil' funk cold, but when heated it went away and the sauce became much sweeter.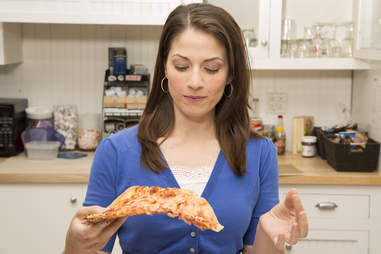 M.A.
The pizza in the triangle box scared me. It looked old and decrepit, like a senior citizen who spends all day leering at the daughters in 1980s sitcom reruns in an open, dirty robe. It tasted funky cold and even after receiving the heat it was still a little wrong and the cheese lost some of its flavor.
M.A.
The box with the circle on it also had nice white cheese, but this was the only pie that tasted more "good god how long has this thing been sitting next to that 4000yr-old box of sesame chicken?" heated than cold.
M.A.
Here are the results. Try to stay with me for this one: I thought the pizza actually bought on Tuesday was bought on Monday. I thought the Thursday pizza was bought on Tuesday, the Monday pizza bought on Wednesday, the Friday pizza bought on Thursday, and I thought the Wednesday pizza was bought on Friday, the same day that I ate it.
M.A.
Not. Even. Close.
Old pizza - 5. Mara - 0.
M.A.
So what does it all mean? That I have a crappy palate? Of course not! I'm a taste tester for Thrillist, bitch. If I can't tell the difference between day-old and 5-day old pizza you probably can't either. So eat it. Let no carbs go to waste. I can't vouch for anything older than five days, but if you're brave enough to try and find that things go terribly wrong on day six, please let us know.