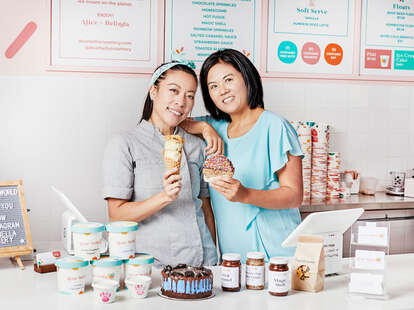 Photo courtesy of Dear Bella Creamery
Photo courtesy of Dear Bella Creamery
Alice Cherng and Belinda Wei believed a vegan ice cream shop with flavors that celebrate both their American and Taiwanese upbringings was a far-fetched dream. After working at LA's vegan chain Cafe Gratitude, the pair felt the dairy-free ice cream options available to them were lackluster—so they decided to make their own.
"We just started testing for fun and thought we'll maybe sell it at the farmers' market or an ice cream push car," Cherng explains. But as soon as they finalized their recipe, a space on Vine Street in Los Angeles opened up. "It felt serendipitous—for us to come up with this idea and then have everything fall into place afterwards," Wei says. That was nearly five years ago.
Dear Bella Creamery was originally known as Cocobella Creamery, a name that referenced the coconut milk-base that formerly made up all the ice creams. Now, the coconut milk ice creams are joined by flavors crafted with oat milk and sunflower butter—a recipe that results in undeniably creamy frozen desserts that remain dairy-free. Cherng and Wei want to banish the notion that vegan ice cream is chalky or icy. "We didn't want something that tasted necessarily healthy. We'd rather have something that tastes pleasurable," Cherng explains. After all, ice cream—vegan or not—is still ice cream. "Ultimately, ice cream is a science. It doesn't necessarily matter what kind of fat or carbs or sugar are in it, but it's the balance of everything together and the ratio."
Wei, who attended culinary school and is the recipe developer, has been able to find the equilibrium that makes for a silky, plant-based ice cream. "There are just so many new types of sciences coming out to help with the consistency of different food products so we're always on the search for that," she says. "Because we source premium ingredients, you can really taste the quality of it."
But Wei and Cherng weren't only motivated by their desire to nail the consistency of vegan ice cream. They also wanted to create flavors that celebrate their Taiwanese-American upbringings. "Our stuff is not traditional. You're not going to find this in Taiwan. But it's a very specific representation of our background," Cherng explains. "We grew up in American culture, as well as Chinese culture, and our flavors merge both of what we are."
The flavors include Taiwanese pineapple cake, lychee raspberry daiquiri, and mango sticky rice served alongside rocky road and New York cheesecake. "Because both of our backgrounds are Taiwanese, we were always seeking Taiwanese desserts and Taiwanese food in general," Wei says. "Being able to have a space to create and play with those ideas was a no brainer for us."
This sense of identity has culminated into a Chinese New Year celebration kit developed in partnership with another Asian woman-owned business, Fly by Jing. The celebration kit contains three flavors perfect for ringing in the year of the tiger: Taiwanese pineapple cake, black sesame, and dan dan—a peanut noodle inspired ice cream swirled with pops of Fly by Jing chili crisp. The kit also includes a silky red bean sauce to create at home sundaes, a selection of Chinese candies that can be eaten alongside the ice cream, and lucky red envelopes filled with coupons.
"Alice and I love chili oil so we just wanted to think outside of the box," Wei explains. Dan dan noodles is where their minds immediately went. "In the savory dish, there's a balance of flavors. By incorporating an element of sweetness, it just brought another level of depth to it—so it really wasn't hard to make it into an ice cream, just bizarre." Somehow, the ice cream works. There's the creamy nuttiness of the peanut base, which is sweetened just enough to stand up to the salt and heat of the chili crisp. This ice cream leaves your mouth with the sensation of being both warmed up and cooled down.
"We want people to see a glimpse of what Chinese food can be," Cherng says. "It's very versatile but can also be provocative."
The preorders for the Chinese New Year celebration kit are available for pick-up in Los Angeles or shipments nationwide. Each kit clocks in at $58.88, as eight is an auspicious number in Chinese culture.
"This kit is a way for us to represent ourselves as Chinese Americans and introduce a new tradition," Cherng explains. "It's another option for people who maybe can't have tangyuan, but they can still have black sesame ice cream in their freezer and feel the spirit of Chinese New Year. That's what this kit is really about."
Kat Thompson is a senior staff writer of food & drink at Thrillist. Follow her on Twitter @katthompsonn.