10 "white trash" foods you need to give a second chance
All photos by Laura Hayes
When the word "hipster" made a resurgence in the early aughts, it was first used to discuss people glorifying "white trash" culture by ironically wearing trucker hats and aviator shades (a style that died when Ashton started doing it on Punk'd) and eating Americana comfort foods -- Cheetos, tater tots, and the like. And though things have evolved, and most hipsters only eat tater tots that are homemade using locally sourced potatoes grown on urban rooftop gardens, we declare that there are still some real winners in that "white trash" category. So, to help, here they are (with some tips on the best ways to serve 'em):
Funyuns
Turn your apartment into a gourmet steakhouse with a little help from those chip/onion ring delights you remember from such times as "the day no one wanted to make out with you, because you were eating Funyuns". To class things up, they can easily masquerade as the crispy onions you'd find perched atop a steak at a white tablecloth restaurant.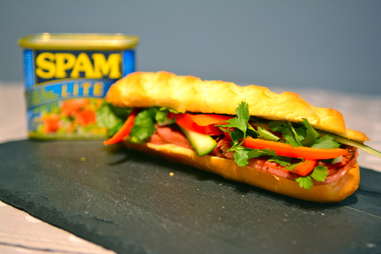 Spam
Though it smells a little like cat food coming out of the can (sorry, Hawaiians!), one $2.50 tin goes a long way and fries up better than bacon. For example, you're looking at a Spam bánh mì. This gourmet Vietnamese sando is just the tip of how versatile this porkish substance can be. Try it on breakfast sandwiches, in pasta dishes (like Spamghetti Carbonara), or perched atop a burger. Watching your figure? There's Spam "Lite" for that.
Velveeta
Voilà, LIQUID GOLD. The only "cheese" that doesn't get all weird when heated has been around since 1928 for a reason. Pinterest is ripe with recipes on how to put it to use, including a chocolate fudge recipe straight from the people at Kraft. Get your hands on a block right away because earlier this year the nation faced a bonafide Velveeta shortage.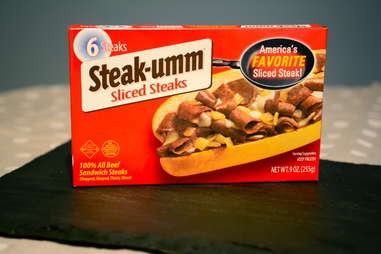 Steak-umms
Combine these thin, meaty strips with that Velveeta and you'll have yourself a cheesesteak that rivals Pat's or Geno's... or that's perfectly acceptable, and you don't even have to put up with Philadelphians to eat it. It also works well for Asian dishes like stir-fry or Japanese sukiyaki. Also, it's America's FAVORITE SLICED STEAK!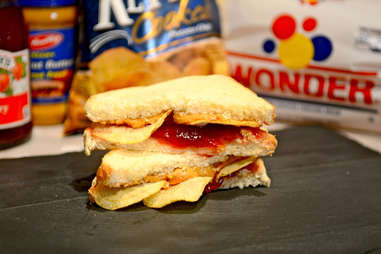 PB & J + potato chips
The CRUNCH to this upgraded childhood snack is exhilarating. But know that there are two levels here. Beginners should start with plain chips before graduating to the more advanced salt and vinegar level. Either way, you'll never go back to chip-less PB & J again.
Pancakes & Sausage on a Stick
Jimmy Dean (no relation to Paula, though she's perfect for this story) is a genius. Any meat on a stick is a win, but a freezer-to-mouth-in-50-seconds sausage-wrapped pancake is the crème de la crème of breakfasts. You can eat one in transit or at the gym on a treadmill or just, you know, at home or whatever.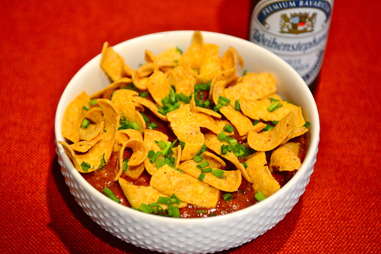 Frito Pie
Don't wait until tailgate season to reintroduce the Fritos & chili dish into your life. This is the complete package, and one bite nearly contains the entire food pyramid. Plus, there's nothing like eating a glorified dip for dinner. It pairs exceptionally well with a hefeweissbier, or EVERYTHING.
Peanuts dropped in Coca-Cola
Due to its sweet and salty flavor profile, Coke & peanuts have stood the test of time: our South of the Mason-Dixon line friends have been pouring peanuts into ice-cold Coca-Cola since the 1920s. It's not only tasty (especially when whiskey is introduced) but it also frees up one of your hands so you can do things like drive stick, Tinder, or give a random passerby the finger.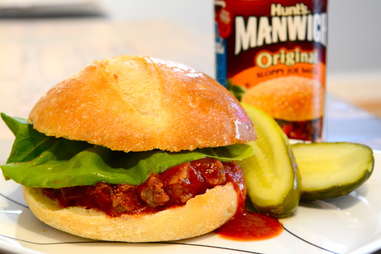 Manwich
The name of this Sloppy Joe sauce alone should have your testosterone firing on all cylinders. If you constantly find yourself torn between BBQ sauce and ketchup, Manwich is the perfect hybrid. Don't be afraid to use it as a dunk for fries, chicken tenders, or even other Manwiches.
Strawberry Pop-Tarts with Nesquik Strawberry Milk
In 1992, a dude named Thomas Nangle sued Kellogg's after his Pop-Tart caught fire in the toaster. A couple years later, a professor at Texas A&M performed an experiment proving that STRAWBERRY Pop-Tarts (specifically!) can produce foot-high flames. So basically what we're trying to say is, if you really want to live dangerously, get some Pop-Tarts, then double-down with strawberry goodness from Nesquik (then, later, maybe eat an actual Double Down).
Laura Hayes is a contributing writer for Thrillist's national food and drink team and Thrillist DC. She relies on CrossFit and corgi walks to combat her quest for caloric masterpieces and actively pretends she's a dude. Follow her at @BTMenu.