Everyone loves a good burger. Keenan and Kel proved that, and no one has been able to argue otherwise. But to make a truly great burger, sometimes you have to go beyond the usual American cheese and bacon toppings and pull out all the stops.
There were plenty of stops on display at Denver's annual Burger Battle, a ferocious competition between the Mile High City's top restaurants fighting to be named the best burger in town. And as you'll soon see, these burgers are also some of the best in the country. We'll prove it:
The competition
Twelve Denver-area restaurants (this isn't just a competition between burger joints -- many of these spots bring serious culinary chops to the table) all doled out samples of a quarter of a burger to the hungry crowds.
A panel of four chefs were given the task of tasting all the burgers and selecting a champion, while the crowd favorite won a People's Choice award. This is completely unrelated to the televised People's Choice Awards, which had a category called "Favorite TV Bromance". There's no joke here, we just thought that was noteworthy.
Named one of our best restaurants of the year in 2013, Old Major eschewed beef and went whole hog by using a literal whole hog for its burgers, and then topping it with fontina, mushroom duxelles, mustard aioli, and pickled red onions.
We stamped the seal of approval on TAG Burger recently, and they did their home state proud by making this roasted Pueblo chile, local goat cheese whipped with honey, and fried chicken skin burger.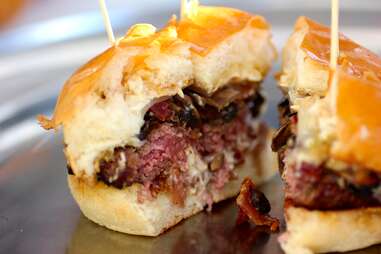 Highland Tap & Burger's Shroom Luva's
While eating these shrooms won't necessitate a trip to Joshua Tree to find yourself, they're memorable nonetheless, and are complemented nicely by Emmentaler cheese, white truffle aioli, and shaved foie gras.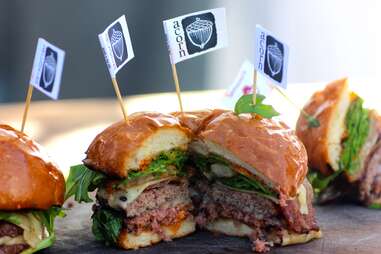 Acorn's Oak Grilled Double Cheeseburger
While it might look like a normal bacon double cheeseburger on the surface, the ingredients elevated this thing to extraordinary: harissa aioli, fried pickles, and Gruyere on a brioche bun.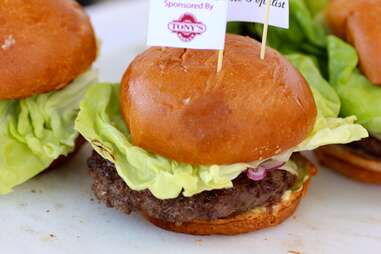 Another slyly plain-looking burger lit the crowd's curiosity, as they lined up in droves to taste 7X beef -- a Wagyu beef that the CO-based ranchers claim results in "intense marbling and unmatched flavor". A housemade remoulade, dill pickles, cheese, and a brioche bun rounded out the burger.
Humboldt's Humboldt Burger
Eavesdropping is ruder than whatever the hell that dude is singing about in that "Rude" song, but we couldn't help but hear a multitude of people raving about the local beef + bacon patty, crispy onion strips, Tillamook cheddar, and onion jam burger.
Larkburger's All American
A fast-growing chainlet founded in Vail, Larkburger showed why they attract so many burger lovers into their doors each day by serving up a 1/2lb all-natural burger with all the trimmings: tomato, onion, Vail Valley rocket, and Oregon cheddar on a brioche bun.
Not only did this burger win the Judges' Choice for best burger, it also won the People's Choice -- an unprecedented accomplishment in the Burger Battle competition thus far. Here's how they won it: a healthy spread of garlic cream cheese, "more garlic", onions, roasted red peppers, and red pepper aioli. Oh, and bacon. Lots of bacon.
It also came with a Life Saver mint. Smart!
No restaurant made a horse burger, so this little guy lived to see another day.
Lee Breslouer writes about food and drink for Thrillist, and has dreams about that Shroom burger. Follow him at @LeeBreslouer, because you can't make up a name that good.