How One Detroit Chef Reclaimed Her Cannabis Connection
And how she wants to help other mothers feel ok consuming cannabis, too.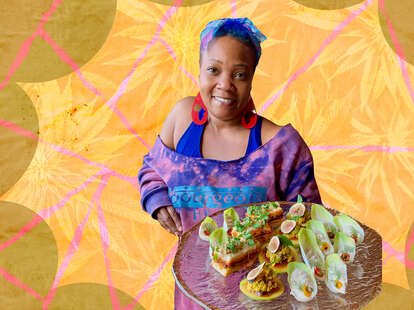 Design by Maitane Romagosa for Thrillist
When it comes to the weed game, there are many reasons to keep your day job. This writer used a pen name for her first year of strain review columns for fear of losing rent money. For others, it's a safety net fitted with health benefits and retirement accounts that most cannabis-related businesses can't easily access. Chef Enid Parham, however? She keeps her day job to stay grounded.
"I don't ever want to have a big ego," she says. "You know—once you start getting written up in papers and stuff. I just want to stay humble."
Parham's infused catering business goes by the name Lucky Pistil, and her complex, creative bites have made appearances at any Detroit cannabis events of note the past few years. She was recently voted Michigan's Top Cannabis Chef, in fact, so the presence of an ego would be fair. But it's doubtful any amount of Michelin stars could ever go to this community-minded advocate's head. That's largely because Parham's entire cannabis journey has been a humbling one.
"I grew up in the DARE era," explains Parham. "The first experience I had was through my dad, who used cannabis for his pain. But as a kid, I thought he was doing drugs. I thought the drugs were making him sick, and we would argue. He'd try to explain that it's medicinal; that it wasn't like crack. I didn't get it—I actually went and flushed his stash down the toilet at one point. It just shows the stigmatization of what they did to us—how conditioned we were. If my father was here today, it would be a very different story."
It was actually when her father passed, as she handled that grief while navigating life as a single mom, that weed became a positive part of her life. It calmed her anxiety more effectively than any pills that doctors had prescribed, and it helped her relate to the world while everything felt so overwhelming and difficult.
"When I smoked weed, it would either put me to sleep, or make me happy," says Parham. "And I needed both those things. I didn't even realize I was medicating myself at that time."
It was actually when her father passed, as she handled that grief while navigating life as a single mom, that weed became a positive part of her life.
She started cooking at the Ritz Carlton and started to hear stories from the West Coast of infused dinner parties and culinary pop-ups, as well as how increasingly eager people are to pay to attend events like these. She looked up recipes to try out making her first batch of weed butter, and in no time she was hosting private brunches in downtown Detroit space, topping savories and sweets with infused butter. Those brunches became intimate dinners with handwritten invitations complete with secret code to access the unlisted location, and suddenly Parham had launched one of the city's first underground supper clubs.
While cooking and hosting, she did research and learned more about the plant and the new community forming around it as Michigan's legal dispensary system took shape.
"It's a creative world, there are so many ways to cook with cannabis," she says. "I like cooking with flower though—I don't like to mess with it too much and process it down to concentrates or tinctures. I like to leave the plant alone. Everybody partakes in their own way. As long as it's out there, and people have access to it, it's all fine by me."
She reeled things in to just small gatherings of friends at her home, giving her a place to hone her menus and styles of microdosing. In 2019, she was still making a living as a chef in downtown Detroit. As much as the guests loved every dinner and eagerly asked about her next event, it dawned on Parham that what she really wanted to do was teach other people how to do this for themselves. She wanted a cooking show.
"I knew a director who could shoot it, but I needed a different kitchen as a set," she explains. "As I'm looking around for potential kitchens, I got invited to a weed community party at Copper House. They had an amazing kitchen, but overall, the event was just so refreshing, so diverse, and so beautiful. I've lived in Detroit all my life and had never seen all those different kinds of people having such a good time and having real conversations."
This introduction to the other like-minded people doing work in this space empowered Parham to keep working on carving out a place for herself in this industry. She wants to share her knowledge and help destigmatize cannabis for mothers like her who need help seeing this plant in a new light, as well as participate in advocacy for access to the cannabis industry. She schedules her dinners and Lucky Pistil events during the off-season, and enjoys this balance for now, but she's not losing sight of the ultimate goal.
"I want to get more into educating within cannabis and advocating for federal legalization," she says. "Restaurants are reaching out to me for infused dinners, but it's time for me to focus on the pilot I'm working on, because I believe in it. My name comes from my favorite part of the plant—the pistil—because it's the part that determines how it will grow. Since my fate is in my hands. And if I make it, I'm lucky. So I'm the Lucky Pistil."
Lauren Yoshiko is a freelance writer and editor based in Portland, Oregon. She writes
The Broccoli Report
, a bi-weekly newsletter for creative cannabis entrepreneurs.