When Did Rolling Papers Get so Beautiful?
Devambez makes hand-painted rolling papers worthy of premium flower.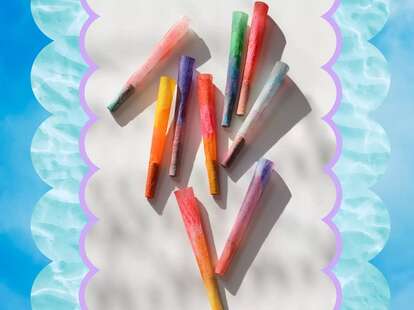 Photo courtesy of Devambez, Design by Maitane Romagosa for Thrillist
The standards for cannabis flower have never been so high—carefully cultivated buds from renowned or especially rare genetics, robust flavors, and potent cannabinoid profiles the likes of which past generations only dreamed of. Cannabis connoisseurs expect the best representation of this plant that modern cultivation methodologies can offer.
The rolling papers they use to smoke that primo flower? Not so much.
For whatever reason, our standards for rolling papers have remained stuck in the 1970s. Sure, more "natural" materials like rice and hemp have become increasingly popular. In the grand scheme of things, though, the average connoisseur is still grabbing a pack of ubiquitous RAW rolling papers out of the cardboard display box as a last minute add-on at the dispensary or bodega counter.
That's what inspired Devambez, Europe's 200+ year-old premier paper maker, to enter the smokable paper game in 2017. Yes, the same name behind the stationery of royal families and publisher of defining art books on the evolution of luxury.
The company had seen the shifting cannabis cultural scene happening in the U.S., with premium cultivation and high quality products becoming the norm, and the thought was you don't drink the finest wine and champagne out of paper cups. Rolling papers were an example of a vital tool that wasn't evolving along with the innovations in flower and concentrates, and, as the paper authority, Devambez dove in headfirst to producing the finest ones possible.
Now, the brand has released the first ever hand-painted pre-roll. The Watercolor Pre-Roll—made in collaboration with artisanal dyer Audrey Louise Reynolds—is the result of many years of experimentation with different ingredients and approaches, and its more traditional artisanal execution is more than novel in the young, still-developing cannabis industry.
Like all their papers, the "canvas" for each Watercolor Pre-Roll is made from hemp grown in France, in fields adjacent to the Moet Chandon vineyards in the Champagne region. The dyes are made from organic vegetables and fruit foraged by Reynolds herself, who sought out vibrant, stable pigments that would color the paper without flavoring it and without requiring preservatives. She then painted each paper by hand, sending them back to France for each to be rolled into a pre-roll cone by hand, by one person.
"Working on this joint endeavor with Devambez started nearly a decade ago with an idea between friends," says Reynolds. "Sampling started almost two years ago. The color process was a super fun one—researching the overlap of smokeable medicinal plants and natural color I could harness to apply."
Devambez and Reynolds spoke loosely of sunsets and the depths of color found in nature when discussing inspo for the papers' look, but ultimately, the craft of these papers meant more than the actual color palettes. Each paper is totally unique and unpredictable, some with a spectrum of lighter hues and others made up of moody splashes of emerald and violet, and packaged in a black glass tube to protect each piece of art from light exposure.
"It was a really time consuming and costly process for us both," Reynolds adds. "But I'm very proud that we were able to make this ethical, biodegradable, beautiful, smokeable, well made, and so, so fun dream a reality."
Old World practices are far and few between in the supercharged, rapidly evolving cannabis scene of today. Growth-oriented mindsets push producers to call on mechanized solutions that ensure efficient, consistent perfection, and the first costs to be cut are often the things that take the most time.
But we love that Devambez' pre-rolls aren't identical. They don't look perfect. You don't know what colors you're going to get, and you'll never get the same colorway twice. You do know that each is made with an incredible amount of care—a sentiment we could use a lot more of as we decide what kind of cannabis market we want to build.
Lauren Yoshikois a freelance writer and editor based in Portland, Oregon. She writes
The Broccoli Report
, a bi-weekly newsletter for creative cannabis entrepreneurs
.