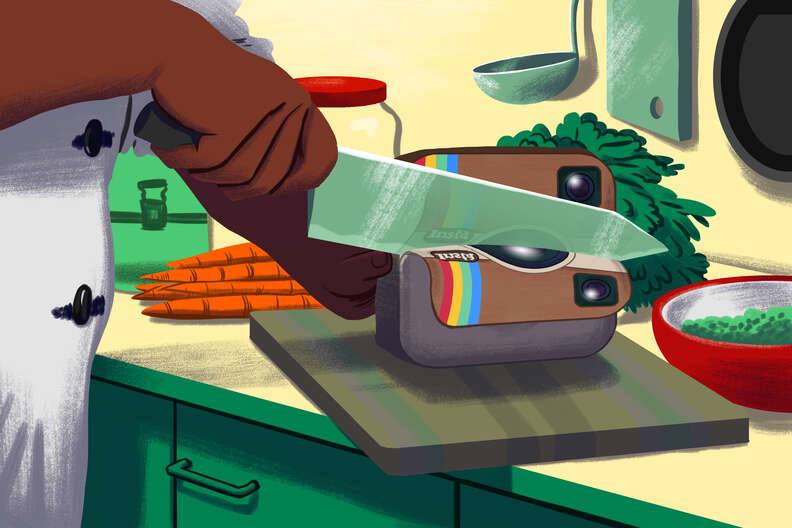 Jason Hoffman/Thrillist
Jason Hoffman/Thrillist
How Instagram Changed the Way Chefs Think About Food
Hunched over a perfectly plated duck confit hash eggs Benny while juggling my iPhone trying to get a pic, I had an uncommon moment of brunch-table contemplation: "Did food even exist meaningfully before social media? What came first, the #brunchshot or the egg? Were restaurants different before Instagram? Am I egregiously offending the chef??" I had to know.
Since its inception a mere five years ago, Instagram has obviously influenced the way people eat. Restaurant stalwarts like TAO in New York are now aiding amateur food photographers with specialty light boxes for optimal photos (yes, seriously), while other notable eateries have gone so far as to ban photography all together.
But how do the nation's top chefs -- the people who actually prepare the food, and not just photograph it -- really feel about the ubiquitous app's influence? I asked them to find out.
Chefs can put their work in front of food-lusting eyeballs, without a middleman
When sharing thoughts about Instagram, most chefs begin with its merits as a marketing tool. This alone has changed the way chefs work in the 21st century -- these photos are like tiny, glowing digital billboards.
"Instagram is a huge platform for marketing, it's really changed everything -- we can tell people about specials, new dishes, all in a second and all for free, basically," Ashley Shelton, Executive chef at Pastaria, St. Louis, said. "Even personally, I can use my own Instagram to tell my story, to build my own personal brand by showing where I shop, what wine I buy… it's a great way to connect with people that you probably wouldn't be able to reach, before."
Joanna Stachon, Executive chef at Ada Street in Chicago agrees with this sentiment. "It's almost like it has evened the playing field," she told me, "It's letting thousands of eyes come into a kitchen, and see the food and the process with their own eyes."
Instagram is a way to gain instant reviews of new dishes
"When we release a new dish we can always check out our social media the day after to see who posted a picture, what people are saying about it. It's great information. It's direct feedback from the customer. It's information you wouldn't be able to get, otherwise," says Fabian von Hauske, the young Owner/chef at Contra and Wildair -- two hot, hot NYC eateries.
Chefs now consider the impact their creations will have on social media when workshopping new dishes
"Chefs have been trying to make their food look good for centuries, and that hasn't changed," Stachon told me. "But there is definitely more of a focus on food in our culture these days -- and I think Instagram plays into that, and makes it even more important."
"When I'm designing a dish, one of the first things I ask myself is: how is this going to look? How would it look in a picture?" Shelton said. "Everyday people who might not consider themselves foodies are becoming passionate and caring about pictures of food, so there is definitely an added importance on the way things look -- now, more than ever."
Megan Pohoff, Executive Pastry Chef at WP24 by Wolfgang Puck who's known for creative, gorgeous looking confections, acknowledged that a beautiful dessert will inevitably gain more attention that a plainer dish, even if it's not as tasty. "Taste is always the most important thing, no question -- but making a beautiful plate is a big deal, too. You want to make these plates eye-catching, and photo worthy, for sure. You want to make a dessert so beautiful, people don't even want to eat it."
"The Instagram culture definitely plays into the way people make food now -- designing dishes, you have to keep these things in mind. Does this look good? Will this make a great picture? It's not our only concern, but you can't say it doesn't cross our minds when we make a new pizza," said Laura Meyer, Head Chef and Pizza Maker at Tony's Pizza Napoletana. "Eating a dish and having a photo go hand-in-hand these days."

Professional cooking now is actually a lot like... old-school hip-hop?
"I'm a big fan of hip-hop, and I think there are a lot of parallels between music and food," explained Kei-Ichi Kurobe, Executive Sous Chef at Los Angeles' Hinoki and the Bird. "Think of it in these terms: it was easier for old-school artists to get noticed, and become celebrated. All it took was a great song to get attention and acclaim. Now, just having a hit won't cut it. It's the same way in the cooking world. You can't just have a great piece of grilled meat, and expect people to get excited. I guess that it's easier to get people's attention now, but it's harder to keep it -- social media and Instagram is definitely a big player in this. People are just care about food now, more than even when I first came up in the industry.
"Overall, it's definitely a positive thing for the culinary world," he added. "People are harder to please, we all have more exposure, it's making us up our game in a way that we've never had to do before."
But sometimes Instagram can just be smoke and mirrors
"When I was younger, in my early 20s, I'd say I was more focused on presentation and technique -- not to say I didn't think through the process, or care about taste, but sometimes technique and showmanship took over," Bobby Will, Executive chef at Saltaire Oyster Bar and Fish House in Portsmouth, NY, admitted. "I think this mindset has maybe become amplified with Instagram and social media playing such a large role in the industry.
"I'm not going to call anyone out, but there are people in the biz who put something on their own Instagram that I know the kitchens can't reproduce on a nightly basis… and they kind of mislead the audience. It's really about striking the right balance between what looks good, what tastes good, and how realistic it is in person, compared to what you see online."
"I think there are restaurants out there that create dishes, while only thinking about creating a buzz on Instagram or to just get attention, to make people share them," von Hauske said. "But that's really not the right way to do it. People should be sharing dishes because they love them, not because they were designed to be shared."
To be clear, chefs don't care when you take photos of their food, right?
Overall, the influence of Instagram has been overwhelmingly positive for chefs -- according to the sampling I spoke with, at least. And my original concern that chefs don't want people taking photos of their food, was totally off-base.
"No, no way -- I say 'please take pictures of my food,'" Shelton said. "I think it's a sign that people love and appreciate what you are doing. I take pictures of food all the time. I love being able to go back, and look at where I've been and what I've eaten -- it's a way to relive a meal all over again."
"No, of course I don't care if people take photos of our pizza," Meyer started, "But listen: some dishes are designed to be eaten quickly. When I see a pizza designed to be served very hot, dying while a group of people crowd around and take photos… I have to admit, it makes me cringe a little bit."
Lesson learned: lest you lose out on peak taste, shoot quick, eat first, hashtag later.
Sign up here for our daily Thrillist email, and get your fix of the best in food/drink/fun.
Wil Fulton is a staff writer for Thrillist. You should probably check your blood sugar after reading this. Follow him @wilfulton.