It's about 6pm on a Thursday, and I'm accosting the employees of a D'Agostino grocery store about a food truck that's supposedly parked outside their market. This isn't just any food truck, either. To mark their 75th birthday this year, Dietz & Watson decided to take their deli meats and cheeses to the streets on a cross-country food truck tour that began in Houston in April and is set to conclude in their homebase of Philadelphia at the end of the month. But right now they're in New York, and I'm struggling to find the "can't-miss" truck.
Turns out I'm at the wrong D'Agostino. Aces.
Once I approach the correct one, I'm greeted by a group of Dietz & Watson reps standing outside a navy blue-and-red truck. New York is their 19th city in six months, but they're still eager to get some meat treats out to hungry West Village pedestrians.
After being outfitted with a Dietz & Watson shirt and hat (to my bitter disappointment, it's not a fez), I climb aboard the truck and meet the two-man team of Steve Cassarino, aka Chef Roc, and Oscar, his "sous chef". Today they're serving up tiny paninis of Buffalo-style chicken with roasted garlic cheddar and cranberry honey mustard, plus some black forest ham, pepper jack cheese, and grape tomato crostini. Neither sample requires too much work to assemble -- it's really just a matter of slicing, spreading, and stacking -- though of course that's because the team already spent a casual eight hours prepping the stuff in a nearby Dietz & Watson commercial kitchen yesterday.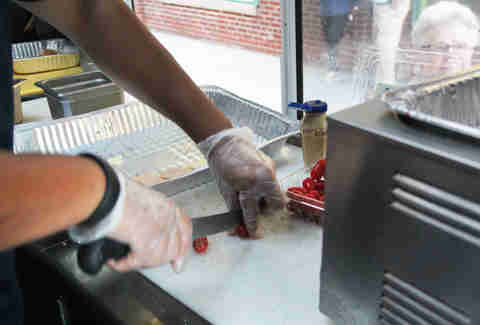 The New York stops aren't tied to any specific events, but the crew has been at summer festivals, football games, and grocery store promos all over the country. The craziest was the Chicago Air & Water Show, where they served 28,000 samples in two days. "There was a line of 50-100 people when we opened at 10am and we had to cut the line off at 6," says Cassarino. "It was insane." But the one that really required endurance was Phoenix, where they were serving in 110°F heat. Well, 110° if they were actually outside. Inside the truck it was more like 140°, or hot enough to melt half the clientele at Madame Tussauds.
The crowd today has been a mix of dudes walking their dogs, curious old ladies on evening strolls, and even an errant vegetarian (she was cool, so they gave her some cheese), and everyone seems down with the free food. They've mostly been coming in leisurely intervals in groups of two or three, but a bunch of people rush the window five minutes to close. Apparently this happens every damn time, so the unfazed crew dishes out the last of the goods and then packs up the truck right on time. They're off to hit the town, and I'm off to go home and praise the deli gods I've never had to serve food in 140-freaking-degree heat.
(To meet up with the truck on its last legs, check out the schedule on Dietz & Watson's Facebook page.)
Kristin Hunt is a food/drink staff writer for Thrillist, and enjoys all food trucks, but especially the ones with Belgian waffles. Follow her at @kristin_hunt.