Tastes Worth Traveling For
Sponsored By

Dine out Like You've Traveled Back in Time at These Historic Restaurants
Sponsored By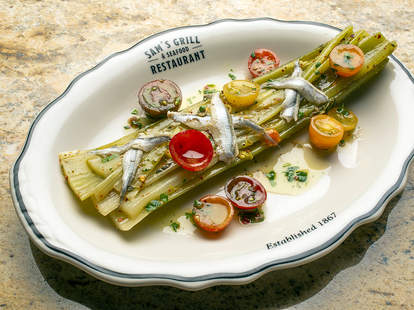 Nearly 60 percent of all restaurants fail within their first year, and 80 percent don't make it to their fifth anniversary. Given those odds, merely surviving for five or 10 years is a massive accomplishment for a restaurant. Anything beyond that, and you're on your way to becoming a legend. We found a handful of places around the country that are bona fide legends, along with one paying loving homage to the rich history of its building. From a colonial tavern that's survived 250 years in New York City, arguably the most mercurial restaurant market in the country; to a classic Creole institution in New Orleans; to a 98-year-old Chicago bar with a bootlegging past, these places offer a stirring glimpse of history while staying relevant in the 21st century. Each one attracts locals and visitors in equal measure, and honors their roots with each dish they plate -- so keep them on your radar, and in your travel plans.
San Francisco, California
Quintessentially old-school American restaurants bring to mind extra dry martinis, raw oysters, and lots of dark wood -- and Sam's Grill in San Francisco nails all three. Founded in 1867 as an open-air oyster market, Sam's remains one of the most popular seafood restaurants in the Bay Area, 152 years on. "The concept of Sam's as a local, fresh fish grill is something that's timeless," executive chef David Gringrass says. Since coming on just over a year ago, Gringrass has spent much of his time recalibrating the "Sam's Classic San Francisco Dishes" section of the menu, which is almost as much of a time capsule for old SF as the restaurant itself. That's thanks to items like toasted angels (oysters wrapped in bacon and fried), lobster thermidor, and the "Hangtown Fry" -- an omelette with oysters, bacon, and cheese. "We got rid of the microgreens and tweezers and squeeze bottles to make it more like it was in the '40s and '50s," he explains. Sometimes, you have to go backward to go forward. Speaking of the past, Sam's was founded by an Irish expat and oysterman named M.B. Moraghan, and was named after him for its first 55 years of existence. In 1922, Sam Zenovich purchased the venue, giving it the name that endures today. The current boss, Peter Quartaroli, is the fifth owner in Sam's history, and got his start as a waiter there. He bought the place with a band of regulars in 2014 -- a testament to the fact that while Sam's does attract some tourists, it remains a neighborhood institution at its core.
Courtesy of Jax Cafe
Minneapolis, Minnesota
Since 1910, the family-owned building housing Jax Cafe has been a lot of things: a furniture store, a hardware shop, even a funeral parlor. But it's been Jax Cafe since 1933 -- right when Prohibition was repealed. Since then, the motto at Jax is a testament to its simplicity: "serving steaks, not trends." Within Jax's brick, ivy-covered walls, you can revel in a vintage steakhouse atmosphere, where the waiters wear white shirts and bowties, the walls are wood paneled, and every party (with a reservation) finds an embossed matchbook with their name on it waiting at the table when they arrive. "Everybody has a Jax story, and this helps them remember it," owner Bill Kozlak
said earlier this year
about the 50-year-old tradition. This Twin Cities establishment is a member of the Minnesota Restaurant Association's Hospitality Hall of Fame, has won a Beef Backer Award for excellent meat preparation, and remains a hugely popular destination for date nights, family celebrations, and hungry travelers. Jax offerings include a legendary slow-roasted prime rib, a closely guarded clam chowder recipe, and rainbow trout you can catch yourself from a garden stream on the property.
Cian LaHart
New York, New York
American restaurants simply don't get more historic than the Fraunces Tavern, which is included in the National Register of Historic Places and located at 54 Pearl Street, on the southern tip of Manhattan. It's been around for more than 250 years, it has its own museum, and, for 21st century relevance, it was the setting of the first two numbers in the Broadway smash hit
Hamilton
. Christened the Queen's Head Tavern way back in 1719, the venue functioned as a meeting place for the Sons of Liberty, allegedly had a cannonball shot at it during the Revolutionary War, and, once the war was won, housed the Treasury, War, and Foreign Affairs departments while New York was briefly the nation's capital. It kept the drinks flowing during those times, too, and it's not an exaggeration to say that Fraunces Tavern is the "
bar that birthed America.
" After years of renovations, present-day owner Eddie Travers, who bought the fabled place in 2010, has done his best to restore the tavern to its original glory. "When we took it over 10 years ago, they had covered the ceilings, the floors," Travers says. "We exposed everything, to bring it back to what the tavern might have looked like." Beyond authentic Colonial decor, the restaurant features elevated pub fare that also pays homage to American history: Think raw oysters, chicken potpie, and traditional fish & chips. There's also a roster of drinks that would make the Founding Fathers proud, featuring more than 200 kinds of whiskey, gin, port, sherry, tequila, and mezcal alongside a huge assortment of local craft beer and cider.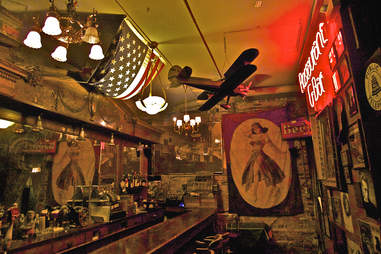 Flickr
Chicago, Illinois
This Windy City legend has withstood updated fire codes, Prohibition, and a tilted structure to keep going strong for 98 years. The original building was constructed in 1872, one year after the Great Chicago Fire, and it was the last wood-framed structure allowed in the city's Central Business District (those updated fire codes at work). Back then, it operated as a grocery store, until Vito Giacomo converted it to a tavern in 1921. Today, Green Door Tavern claims to be the oldest drinking establishment in the city, thanks in part to its illegal operation as a speakeasy during Prohibition. (Fun fact: A green door signaled a speakeasy at the time.) A massive bookshelf covers a hole in the wall that was used to sneak in illegal booze, and a speakeasy-style bar, The Drifter, currently operates in the Green Door's basement. The main space serves brunch, dinner, and late-night bites alongside a lengthy beer list. Menu highlights include a Scotch egg, the GDT crispy braised beef sandwich, and the "United States of Bacon Triple Decker Grilled Cheese." As for the building's famous tilt? Shortly after the new construction settled in on North Orleans Street back in the 19th century, it "racked," or leaned just slightly, and it's been that way ever since.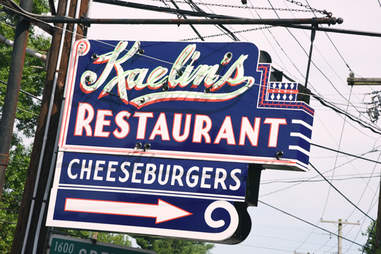 Dan Dry
Louisville, Kentucky
Opened in the spring of 2018, 80/20 at Kaelin's is by no means an old restaurant, but the history it honors runs deep. Like, the birthplace of fast food, deep. The original Kaelin's, which launched in 1934, occupied the current dining room of 80/20 and is a landmark for American cuisine thanks to multiple groundbreaking developments that happened there. For starters, the place lays claim to being the birthplace of the cheeseburger. It also invented the carry-out window, allowing customers to place orders without actually entering the restaurant, and later developed that into a drive-through -- the first of its kind in the country, legend has it. Finally, Colonel Harland Sanders (yes, that colonel) created the recipe and first sold his famous fried chicken at Kaelin's, before franchising the now-iconic operation. The original owners sold the historic restaurant in 2004, and it changed hands a few times before Chris Fenton, Bill DuBourg, and Matt Staggs reimagined the venue in its current iteration: an upscale burger joint (the name refers to the ideal ratio of meat to fat in burger meat) and ice cream parlor, with plenty of vintage vibes. "We've been able to take our time, choose investments wisely and do the correct thing for the property," Fenton
said after the opening in 2018
. "The history of it means a lot to us." Today, you can still order the OG Kaelin's burger, fried on a cast-iron pan, but they've brought the menu into the 21st century, too. Carnitas poutine and chorizo burgers sit right alongside Southern classics such as fried chicken dinners, green tomatoes, and shrimp & grits. It's history, recast for the present day.