9 dishes so spicy you have to sign a waiver
Courtesy of Jake Melnick's Corner Tap
Are your taste buds ready for a passport to adventure and/or terror? Sweet, because these nine ragingly hot dishes stretching from Charlotte to Hawaii are guaranteed to take your mouth places it's never been before and might not want to visit again -- but you can't eat any of them without signing a waiver exonerating their restaurants of liability for your misguided bravery.
The Emperor's Egg Roll

Why does China Blossom speckle this off-menu Hot Pocket of Death with 23k gold flakes? Why did TV Diner's Billy Costa refuse to help co-host Jenny Johnson finish hers even after she begged him to spare her just a small amount of fiery torment? These and many other questions will be pushed aside by sheer misery after the first taste of Naga Viper pepper hits your lips.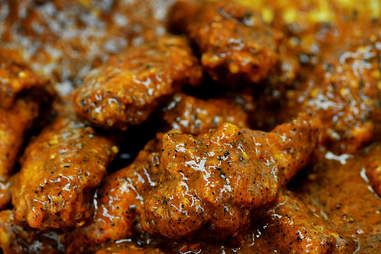 Courtesy of Jake Melnick's Corner Tap
XXX Hot Wings

When it comes to Scoville Units, Jake Melnick's Corner Tap is on its game, adding the Trinidad Scorpion Pepper to its XXX Sauce the minute it surpassed the Ghost Pepper for world's hottest. Two things that haven't changed: they're still served with a fireman's helmet, and finishing them gets you on the Wall of Flame -- after which you can brag that your stats are far more impressive than anyone's from "The Pre-Trinidad Era".
The Squeelin' Pig Sandwich

Single A Tigers affiliate, the West Michigan Whitecaps, always keep the concessions interesting, whether it's their fan-favorite Baco (a taco with a bacon shell), the notorious 4lb, 4800 calorie Fifth Third Burger, or this tongue-torturing pulled pork sandwich with Giardiniera, Ghost Pepper, and flaming BBQ sauce -- which used to be milder until Lou Brown said, "Forget about the sweet sauce, give them the heater!".
The Seppuku Challenge
Bushido, Charleston, SC

All you really need to know about "The Spicy Tuna Hand Roll Challenge Redux" is that it involves 10 rolls of escalating painfulness, and that "if The Bushido Seppuku Challenge's kick is too much for your stomach to handle, you lose! Legends are not weak of stomach!".
Flying Pie/Facebook
The Triple Habanero

Flying Pie only offers this 20yr-old tradition in August, because that's when their already hotter Yucatan habs are at their most tear-inducing, and because the vigilance required to handle them without "contaminating" regular pizzas (separate utensils, washing cycles, etc.) is exhausting. The waiver's only for takeout, and reads… awesomely:
Dear Flying Pie,
I would like to personally thank the sadist responsible for creating the Triple Habanero. When I purchased this Demon Pizza, I was cocky; overconfident; full of myself. I could not be defeated by a simple pizza. Alas, I was wrong. Therefore, I thank you, Flying Pie, for putting me in my place.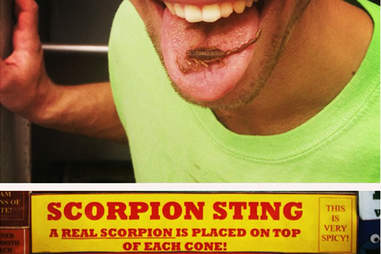 The Ice Cream Store/Facebook
Ghost Pepper Ice Cream

Sadly the only ice cream store in America with a flavor called Stifler's Mom, TICS got massive press for their Scorpion Sting -- African vanilla with Cayenne pepper, cinnamon, You Can't Handle This hot sauce, and A GARNISH OF REAL SCORPION -- but the waiver-needing move is Ghost Pepper Ice Cream, which takes the Sting and adds Mad Dog 357, Heartbreaking Dawns 1841, and Da' Bomb Ghost Pepper sauces, plus Ghost mash from Hockessin's Two Fat Guys' restaurant. Who knew scorpions had that many calories?
The #10 Curry

Owner Anny Sooksri has 19 "rules" for those who dare attempt the Wall of Flame challenge built around this bowl doused with four tablespoons of Thai chilis -- which hit you like "tear gas" when you're cooking them, and can wreck you for two days after consumption. The first is mandatory antacid chewing; the last is that you pay double and mop your own puddle if you're overwhelmed by "urges contrary to swallowing".
Sweet Thunder/Facebook
The Challenge Bowl

Sweet Thunder is the name of mad sushi scientist Dawn Cabral's husband's race car, so you won't be eating that. What you will put down after signing a waiver acknowledging that you are "crazy, insane": two pounds of rice and one pound of irresponsibly spicy ahi poke drowned in four different sauces (shoyu chili, wasabi oil, Sriracha, chili pepper) -- hot enough that one challenger felt compelled to chug the water out of a vase of flowers.
Burger Off/Facebook
XXX Hot Chilli Burger

Chunky's Four Horsemen gets a lot of press for San Antonio, but our friends across the Pond's 9.2 million Scoville beast is no slouch. Its piri piri concentrate-based sauce has sent at least five customers to the hospital (one with a perforated bowel, four with anaphylactic shock), caused Big Brother contestant Pete Bennett to roll around in agony on the sidewalk, and inspired one dude to seek relief by tearing off all his clothes. Definitely try that next time you eat something too spicy -- it totally works.