Indian Sweets for a Most Brilliant Diwali Holiday Season
It wasn't until my first Diwali away from home, in a midwestern campus town 20 years ago, that I truly grasped how much Diwali means to me. Known in the Western world as the Festival of Lights, Diwali is all about family, our special rituals, the treats and fireworks, and enjoying it all together. Diwali is deeply religious for many, and celebrations include wearing festive clothing, gift exchanges, creating elaborate artwork called rangoli, ceremonial lamp-lighting and fireworks to eliminate negativity, and visiting elders and places of worship for blessings.
And of course, as a family we feast upon traditional Indian sweets, or mithai. Confectioners, lovingly known as halwais, show off their skills in converting simple ingredients, milk, sugar, flour, spices, and nuts, into mounds of decadent treats. They range in sweetness from delicate to diskettes dripping in syrup, and they come in all textures and shapes, some covered in fine sheets of gold or silver. Mithais are vegetarian, so we can incorporate them into religious offerings, or prasad, as an untasted serving offered on a decorative platter at either the family religious altar or at the temple. Afterwards, we consume the mithai prasad as a "blessing".

In the late '90s, there weren't many places to purchase good quality Diwali mithai in our campus town. We had to make a day long drip to Devon Street in Chicago, 200 miles away. I had to struggle alone in a small student apartment to create my own.
But today, thankfully, there is no dearth of well-made classic Diwali mithais. Here are a few of my favorites, especially for the holiday, and where you can buy them.
Badami Halwa or Bombay Halwa: Reminiscent of gummy candies, these one-inch cubes are sticky preparations made with sugar syrup, corn starch, and flavorings (rose, saffron, almond, etc) and decorated with chopped almonds or pistachios.
Ghugra or Karanji: These small crescent-shaped, empanada-styled delicately sweet treats are filled with a variety of decadent fillings – from desiccated coconut to khoya or sweetened milk-solids, and deep-fried in ghee.
Imarti or Jhangri: Although similar to Jalebi, these crunchy, bracelet-like orange disks are made with skinless urad daal and a pinch of corn starch, then deep-fried in ghee and soaked in sugar syrup. Unlike Jalebi made with fermented white flour batter, Imarti is unfermented and gluten-free. As the imarti is shaped directly in hot ghee, uniformly shaped imartis are like works of art.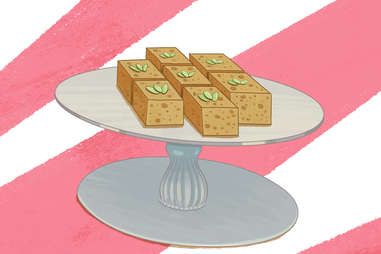 Mysore Paak: Also called Mohanthal, these are made with chickpea flour, ghee, simple sugar syrup, and a fleck or two of cardamom for added flavor. Sometimes decorated with chopped nuts, they range in texture from luscious and crumbly to fudge-like in consistency.
Penda/Pedha/Peda: Another gluten-free treat, these pressed and molded morsels made with milk solids and sugar are as varied as the flavors in a confectioners' toolkit. They are flavored with nutmeg, cardamom, saffron, or a combination, and lightly decorated with nuts like Chirongi nuts or pistachios. Pedas are popular prasad offerings.
Sukhadi: Cooked in generous amounts of ghee, whole wheat flour and jaggery combine to resembles a firm shortbread cookie. Sukhadi is extremely popular in Gujarat and an iconic prasad at the Mahudi Jain temple near Gandhinagar, India.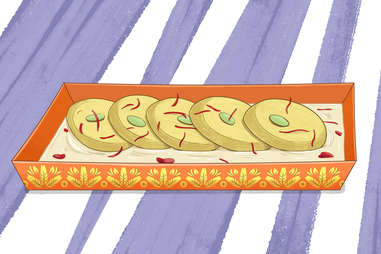 Bengali Mithai: Hands down, a selection of mithai is incomplete without any kind of Bengali mithai. Popular ones include rasgulla – fresh soft cheese balls soaking in a light sugar syrup, or shondesh, a fudge-like preparation of fresh paneer. But a personal favorite is rasmalai – wherein rasgullas are soaked in a lightly sweet kheer, or thickened milk and garnished with chopped nuts and saffron.
Where to buy mithai
You can pick up mithai in local Indian stores and restaurants, or you can order them online. Reputable institutions loved within the Desi community represent the old guards of food traditions, but many also offer exciting twists on old classics.

The Yellow Chilli: The brain-child of India's celeb Master Chef Sanjeev Kapoor, this chain has a small but carefully curated selection of delicately crafted classic desserts. No Yellow Chilli near you? Ask your local Indian restaurants if they sell sweets to take-away.
Indian grocery stores: The refrigerated section of any Indian grocery store is a solid place to look for Indian mithais at affordable prices. Look for the following brands:
Gits
Vadilal
Haldiram's
Bikaner
MTR
Dedicated Halwai's / Mithai Shops: Most shops offer mithai by the pound and many sell sampler packages. Most will ship with the exception of perishable sweets like Bengali mithai. Also, ladoos tend crumble in transit, so not recommended for shipping.
To truly appreciate the abundantly unique, regionally varied Diwali mithais is to eat your way through them with clean fingers and a nosh bowl for precious crumbs. Pair them with savory snacks such as chakli, sev, or any variety of chewdo/chiwda – a chex-mix styled snack, for an elegant and unforgettable Diwali spread. So, whether your Diwali mithai comes from your grandmothers' recipes or a modern cookbook, the kitchens of a Master Chef or a packaged instant mix, arrives by mail from across the country or across the planet, or in the hands of a loved one, here is to wishing you a tasty Diwali shared with loved ones, for a joyful and bountiful year ahead.
Sign up here for our daily Thrillist email, get Eatmail for more food coverage, and subscribe here for our YouTube channel to get your fix of the best in food/drink/fun.