Do We Really Need to Convince You to Make These Pizza-Themed Recipes?
Check out all these bitchin' pizza-themed appetizers! They are excellent for any party or gathering among friends, but better when you make them at midnight and eat all of them by yourself in front of the warm, welcoming glow of Netflix's original programming. Who needs friends when you have pizza pot pie?
Combining my three greatest loves (pizza, waffles, and lightly greasing a waffle iron), this mash-up of breakfast/pizza is a meal that has no time constraints. When pizza's on a waffle, you can eat pizza anytime. Except in the dressing room at JCPenney. They will kick you out of the store for that (trust me).
Key ingredients:
Pillsbury Grands! biscuits
Waffle iron
Pizza accoutrements
Drew Swantak/Thrillist
It's fattening, greasy, filled with meat, and quite possibly more American than apple pie.
Key ingredients
Shredded mozzarella
Spicy Italian sausage
Pizza sauce
Drew Swantak/Thrillist
If there's one problem I have with pizza, it's that the crust is plain ol' pizza dough, rather than a slab of savory ramen. This solves everything and will allow me to die fulfilled.
Key ingredients:
Insta-ramen
Provolone
Pepperoni
The French take their cuisine seriously
-- and that extends to their ubiquitous breakfast pastry, the croissant. That being said, we are sure they have zero qualms about teaming up with their continental neighbor (Italia!) to provide the world with the greatest European duo since Siegfried and Roy.
Key ingredients:
Puff pastry
Dried oregano
Mozzarella and Parmesan cheese
Drew Swantak/Thrillist
Salads are cold and boring, and the only way to improve them is obviously to add little bites of pizza in every forkful. And they are ridiculously easy to make.
Key ingredients:
Leftover pizza
Vegetable oil
Cole Saladino/Thrillist
Every boring bagel deserves to be saved from the margarines and chives of the world. Here to add an uppercut of flavor to even the blandest of breakfasts, is cream cheese that tastes like pizza. Actually, you don't even need a bagel to enjoy this stuff, in theory. Just one clean hand and zero shame.
Key ingredients:
Plain cream cheese
Sun-dried tomatoes
Basil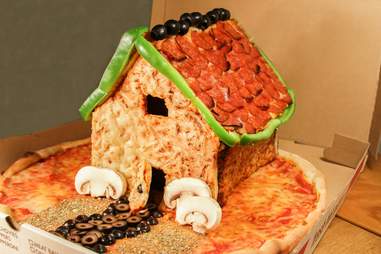 Carrie Dennis/Thrillist
So, maybe this is just a seasonal thing (to replace your decidedly un-delicious gingerbread house), but in my opinion, a pizza hut this majestic can't be limited to one month of the year. Doesn't it make you just want to curl up inside of it and spend the new year surrounded by walls of sauce and cheese?
Pee-wee Herman agrees with me
.
Key ingredients:
A shit-ton of pizza
A blow torch
Too much free time
Sign up here for our daily Thrillist email, and get your fix of the best in food/drink/fun.
Wil Fulton is a staff writer for Thrillist. His favorite kind of pizza is the kind he already ate. Follow him: @WilFulton.