This is dedicated to every insecure dude who has stared blankly over a dinner table wondering if things would have been different had he just ordered the burger. It's for every machismo male who fully ascribes to the "pizza theory," and thinks the more he consumes, the more attractive he appears. These are words of wisdom for every hetero Y-chromosome carrier, who is just in the mood for a salad sometimes, and doesn't think there's anything wrong with that, dammit.
I asked eight women I work with, my own girlfriend, a sex and dating expert, and my very own mother (to add some historical context to this whole thing) for their candid thoughts on what men eat and order at restaurants. The results were interesting, at points dumbfounding, and more often than not, kind of scary.
It's not as cut and dry as "Don't order a salad," but in some ways, it kind of is
"Salad as a main meal? No. If that's what we are doing... maybe. But if we go to the steakhouse and he orders the salad, that's an amateur move. Order a proper entree. You are not a child." -- Keller Powell, Tech and Cars editor
"It depends on what kind of salad, really... if it's something light, and we are out at dinner, that might be a little disconcerting. Is it like an iceberg lettuce wedge? That's just a bizarre order, generally." -- Carrie Dennis, Food and Drink editor
"If we were at a restaurant and my date ordered a salad, I would think it was kind of weird, especially if I ordered like, a burger." -- Christine Olivo, social media community coordinator
"I do think that would be kind of weird... then again I haven't been on a date in a while, except with your father. I think if I was younger I might not care as much. You guys are part of the 'salad generation,' right?" -- My mom, Jill
"It would depend on the context... it might be a good thing, like, he's trying to be healthy. I know people tend to gain weight when they start dating, so this might be a good sign." -- Michelle No, editorial production assistant
"This is an invasion of my privacy, Wil -- but no, I wouldn't judge a guy for ordering the salad. Well, actually, it really depends on the cuisine. If we are at an Italian restaurant and he ordered a salad... that's weird. But for the most part, it's fine.'" -- Julie Cerick, managing editor
"It definitely depends on where we are, and what I'm having -- I dated a metrosexual a few years ago, so I'm used to it." -- Jenn Bui, graphic designer
 
I guess that means it all depends on the context?
"I mean, yeah, like I was saying, that metrosexual guy sometimes made me feel like a fat-ass when I didn't order a salad, and he did... but sometimes I don't want the salad." -- Bui 
"It may sound stupid, or old fashioned, but you never really want to be eating something that is way unhealthier than your date. If I'm getting the salad, like, if that's what we're doing then cool. If not, then get a real dinner." -- Powell
"I'm pretty laid-back, and I don't really care what my date orders, to be honest." -- Leanne Butkovic, cities editor
"I don't like to think that way, but sometimes I do... actually, if you want to order a salad, just do it. We don't have to stick to gender norms, right?" -- No
"You know I hate it when you order a salad and I don't, it makes me feel like I should be eating something healthier. I don't even know why you asked me this question." -- My girlfriend, Maya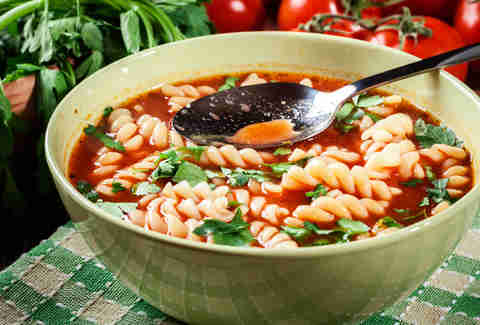 Aside from salad, are there any dishes daters should avoid?
"There's always that one weird outlier on the menu, and it really bothers me when people order it. Like, don't show up to a burger joint and get the meatloaf. Or, don't order the quesadillas if we are at some divey diner." -- Powell 
"If he only ordered a side, I would hate that. I love sharing, and I wouldn't feel like it would be cool to share if that's all he ordered." -- Dennis
"I lose respect for people in general who order their meat well done." -- Lucy Meilus, New York editor
"Sometimes I think guys will order steaks well done to show their manliness or something... when it's that transparent, it's always weird." -- Butkovic 
"Oh, also, don't order the soup. Who the fuck orders the soup? If a guy ordered the soup of the day at a restaurant, I'd never go out with him again." -- Powell
"If we're at a Chinese place and they get sesame chicken... I'm like, thats kind of juvenile." -- Cerick
"Anything that makes your breath smell bad, obviously." -- My girlfriend
"Liver and onions, that is gross." -- My mom
"If we're at a Japanese place, and he orders some weird American-style roll, I'd definitely judge him -- or if he took me to a badly done fusion place? Anywhere tacky... so restaurant choice is important. Very important." -- No
 
Restaurant etiquette is much, much more important than food choice
"My biggest pet peeve is just being gross while eating. For me, it's not what you are eating, but how you are eating it. Just... don't be a gross eater. -- Butkovic 
"Etiquette is way, way more important to me. If you are rude or abrupt with servers, if you can't handle your cutlery like an adult... Oh! And if you smack your lips when you chew... that is the absolute worst." -- Powell
"It's really bad when they are rude to waitstaff... or hold their utensils weirdly, like you know when people grip onto a fork with a whole fist?" -- Meilus 
"Not using a napkin, using your phone while we're eating. Or eating with your fingers like you do a lot, Wil. All that stuff is horrible." -- My mom
"A lot of it depends on how intoxicated they are... and how intoxicated I am." -- Bui
Do any women like seeing a man overeat?
"Oh, like the pizza theory? Yeah, I've seen that. No, it doesn't impress me and honestly a lot of times guys will order more than they can even eat and I think that is weird... that's a turn-off." -- Bui 
"Oh my God, I didn't know that was a thing. I'd think he's over-ordering to show off he has money to spend. Either way, I don't know if I'd care." -- No
"I think that's disgusting -- no, it would not impress me." -- Powell
"In the history of our evolution, something that has always impressed women is displaying waste -- wasting resources. Women were attracted to the men who dragged back giant woolly mammoths, and not three little rabbits. The attitude is 'stick with me, and there will be lots of food in your future.' On a very micro level, over-ordering and overeating at a restaurant is displaying waste. Whether or not this works, on a conscious level, is questionable... but it's definitely not implausible." -- Dr. Wendy Walsh, psychologist and radio host
"That's something I'm definitely not paying attention to." -- Butkovic 
 
But, do women get turned off by a guy who eats less than she does?
"Maybe this is revealing some deep-seated insecurity about myself, but if a dude's bigger than I am it does kind of bother me that he's eating less from like, a calorie-intake perspective." -- Dennis
"You never want to be eating more than the guy, it does make you feel weird." -- Powell 
"This is a big problem for a lot of women -- anthropologically, women are attracted to bigger men with bigger muscles. Even though in modern times we don't need someone who is physically big to provide for us, there is still a deep-seated want for that. On the flip side, women are always judged on their body type in our society, so in combination it only makes sense to feel this way." -- Dr. Walsh
"I don't know... I just can't see that happening, so if it did, it would probably bother me." -- My mom
"I hope this doesn't sound dumb, but yeah, I do think I'd rather have a guy order more than I do." -- Olivo 
"Jesus... you know I hate, hate, hate when I eat more than you. I also like you to order more than I do so I can share some of your food, and not feel bad about it." -- My girlfriend
What happens at restaurants is, like, really important
 "My answers may be a little skewed, because food and going out to eat is really important to me, so I need someone that is compatible in that aspect... or it probably won't work." -- Dennis
"So, going out to eat at restaurants, and just like, eating, is really a big part of dating for me -- it's really important. So my answers might be a little different than everyone else's. But if they aren't into the same stuff as I am, it can be a problem." -- Powell
"I'm not sure I can answer these as good as everyone else did! You know one of our favorite things to do is go out to dinner together, so it's really important... I probably care more than everyone else." -- My mom
"I don't know if I'm the best person to ask these questions, because I really love and care about food... so it might be a little different. But if they don't match up with my tastes, it's a big deal!" -- No
"These are hard questions, because I do really care about food and going out to eat, and everyone else probably doesn't." -- Bui 
"Our culture now, is very food-centric, and dates are often based around food. Food compatibility is something that plays a major factor in modern dating, it's very important to so many women. I often wonder how vegan guys get laid -- are they just dating other vegans?" -- Dr. Walsh
"I don't think I should answer here... I bet I care about food and going out to eat way more than any other girl you talked to." -- My girlfriend
 
Conclusion
Over-eating isn't impressing anyone... at least on the conscious level, etiquette and food compatibility is important, salad is sometimes OK, my sample population might've been skewed since every woman I talked to who works at Thrillist thinks they're more into food than anyone else, and my dad is now on a diet.
"Actually, I think your father probably should be ordering more salads... so I'm going to work on that, now that you mention it." -- My mom
Sign up here for our daily Thrillist email, and get your fix of the best in food/drink/fun.
Wil Fulton is a staff writer for Thrillist. He's never judged anyone in his life. Follow him: @wilfulton.