10 restaurants where dogs are served steak, beer, and ice cream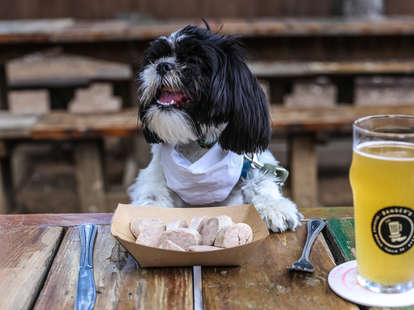 They say dogs are a man's best friend, and what's the point of having a best friend if you can't buy them a beer every once in a while?
While it might seem gluttonous to feed a NY strip to a schnauzer or give a bulldog a brew, restaurants across the country are indulging dog owners' willingness to pamper their pups by offering specialty canine-only menus. Here are 10 such restaurants that are willing to throw dogs way more than just a bone.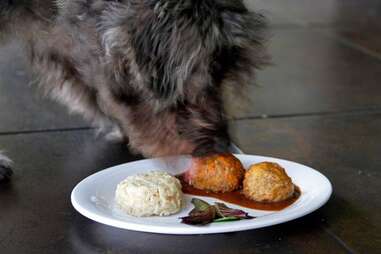 Besa Grill (address and info)
Clearwater, FL
What your dog is eating: K-9 beef meatballs with a side of meat-flavored Bowser Beer
What you're eating: Bourbon-glazed Delmonico with a side of meat-flavored Bowser Beer
This modern new-American meets Latin hotspot near Old Tampa Bay is one of the nation's premiere dog destinations thanks to scrambled egg brunch bark bowls, meaty entrees, and most importantly, non-alcoholic dog beer.
Hamburger Heaven (address and info)
West Palm Beach, FL
What your dog is eating: Nice Rrrrrice with steamed salmon and a baked sweet potato
What you're eating: Miami Burger with melted cheddar, homemade salsa, and avocado mayo
Since 1945, Hamburger Heaven has been flipping some of the finest patties in Florida, but they've also got your dog covered with a steamed salmon dish and a roast turkey canine casserole. Or, you could just buy your dog one of their burgers, if you don't want him to look fancier than you.
Art and Soul (address and info)
Washington D.C.
What your dog is eating: A "Hungry Dawg" 6oz grilled steak
What you're eating: Confit pork belly and pig head ravioli
Finally Fido can experience James Beard award-winning cuisine via the Pooch Patio menu at Art and Soul, which Wine Enthusiast named to its top 100 restaurants. Despite their love of litter boxes, dogs can still have impeccable taste.
Sea Glass (address and info)
Cape Elizabeth, ME
What your dog is eating: Angus beef tip Doggy Gumbo and K-9 ice cream topped with crumbled dog bones
What you're eating: Gulf of Maine seafood paella
Nestled up against Crescent Beach, the Inn by the Sea offers luxury accommodations for you and your pet, including a special four-legged menu at their restaurant Sea Glass, which features a ground-beef Meat Roaff, Doggy Gumbo, and even dessert, a big step up from the usual doggy digestif of licking one's own crotch.
Moss Beach Distillery (address and info)
Moss Beach, CA
What your dog is eating: Mini burger patties with bacon slices
What you're eating: Coastal crab cake Benedict and bottomless mimosas
Formerly a Prohibition-era speakeasy supplied by Canadian rum runners, Moss Beach Distillery is now a seaside destination restaurant known for a spectacular brunch and hallways that are haunted by the spectre of a woman supposedly killed on the seashore near the restaurant. The place is also haunted by the ghosts of hundreds of dogs' appetites.
Tin Shed Garden Cafe (address and info)
Portland, OR
What your dog is eating: Ham Barker Helper
What you're eating: San Fran sandwich with house-roasted chicken, applewood-smoked bacon, green apple, and blue cheese sauce on grilled sourdough
Dogs eat free on Tuesdays and get special discounts if they're wearing a Tin Shed bandana at this hugely popular spot in the city's Alberta Arts District. Given that this is Portland, the bandanas are probably tied to a locally made hemp dog collar.
Dog Park Cafe (address and info)
Temecula, CA
What your dog is eating: Doggie California Roll-over with cod, rice, cheddar, and seaweed
What you're eating: Takeout from one of the neighboring restaurants that serves people
Owners are seriously neglected at Dog Park Cafe, whose menu is designed exclusively for canine companions. The extensive offerings include the I Chihuahua Chimichanga, a cheeseburger and fries, and a Hot Doggie in a Blanket. If your puppy has a sweet tooth, they also do a full doggie dessert menu.

Cafe Fina (address and info)
Monterey, CA
What your dog is eating: A 14oz grilled and sliced NY strip
What you're eating: A whole roasted striped bass
This spot on the bustling Fisherman's Wharf is a favorite of everyone from Jay Leno to Damien Marley and ravenously hungry animals, who apparently eat better than most humans.
Banger's Sausage House and Beer Garden (address and info)
Austin, TX
What your dog is eating: The beef/pork Woof Wurst
What you're eating: A fried-chicken sausage and draft beer from one of over 100 taps
In addition to a massive tap selection, specialty sausages, and limited-time specials like a late-night stoner menu, Banger's is so dog friendly they've got a fenced-off dog run, Mega Mutt Mondays with dog vendors on site, and a special doggie sausage that gives proceeds to a local poochie non-profit.
Cafe Limelight (address and info)
Santa Cruz, CA
What your dog is eating: Big and chewy roasted pig ears and roasted turkey
What you're eating: A barbecue chicken panini
Cafe Limelight is a quaint gem that's the place to go to in Santa Cruz for some seriously loaded paninis. And also pig ears for the pups, plus chewable dental sticks to clean their teeth and get rid of pig-ear breath.
Dan Gentile is a staff writer on Thrillist's national food and drink team. He is the proud owner of that adorable Shih Tzu who had some not-so-adorable shihs after eating those Woof Wursts. Follow him to responsible dog ownership at @Dannosphere.