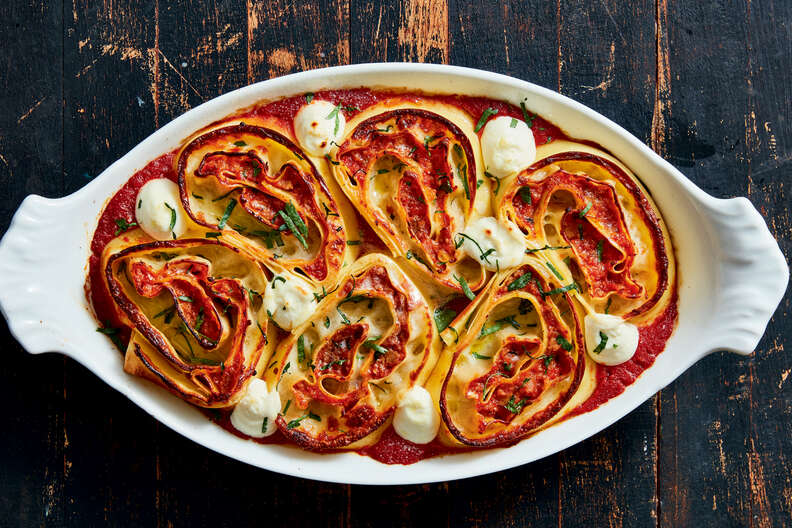 Photo by Christopher Testani
Photo by Christopher Testani
Being Italian is one thing—an identity and cuisine shaped by sun-kissed vineyards, fresh pasta, and strong family values. Italian-American, however, is a whole other experience, and something husband-and-wife team Angela Rito and Scott Tacinelli work to explore in their upcoming cookbook, aptly titled Italian-American, out October 26.
"We're very passionate about Italian-American cuisine, so we just really wanted to showcase our take on the cuisine and what it can be," Rito explains. "I think people wrongly associate Italian food in general with spaghetti and meatballs, or things that aren't even really found in Italy. And we just wanted to make that distinction—this is Italian-American food—but also celebrate it because we're both Italian Americans, and we're extremely proud of that heritage."
Both Rito's and Tacinelli's careers in food have spanned over a decade. There was Park Avenue, the celebrated New York City restaurant where the pair first met (Rito worked front of house while Tacinelli was a line cook) and fell in love. Then there was Dinner Table, the 19-seat speakeasy restaurant in the back of an East Village bar where the iconic pinwheel lasagna was born.
And now there's Don Angie, the Michelin-starred gem in the West Village that serves a riff on Caesar salad made with a mountain of chrysanthemum greens snow capped with parmesan cheese, flaky garlic-stuffed flatbread sprinkled with sesame seeds, and the gorgeous rolled lasagna dish swirled with robiolina cheese that has followed them from Dinner Table—perhaps their most famous dish.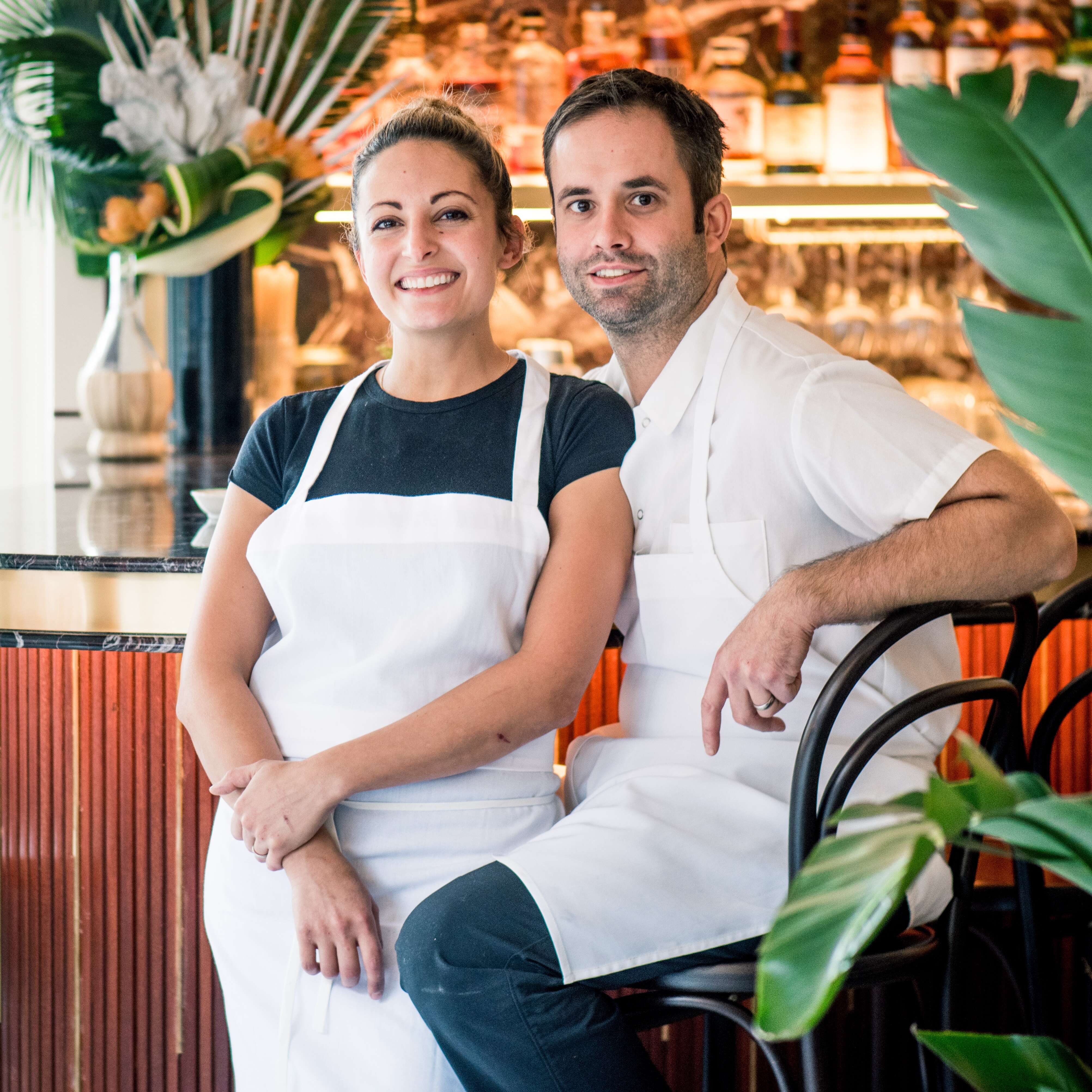 "We wanted to come up with a baked pasta dish for two, a large format pasta dish, and we landed on lasagna at the time because who doesn't love lasagna?" Rito laughs.
The challenge was making the lasagna stand out against other red sauce joints. "If you go to a restaurant and you order a piece of lasagna, it's not the prettiest thing because it's usually made in a big pan and they cut a square out," Tacinelli says.
The idea to roll the pasta instead of layering it came from Rito, after she spotted a mouthwatering photo of cinnamon rolls and drew inspiration. "One of the best things about it, I always thought, is growing up, we would always want the ends of the lasagna, the very, very corners and stuff, because those got crispy and brown," Tacinelli says. "We realized when you made it like this and cooked it, the whole top that was cut would get crispy."
Rito chimes in: "It's like a perfect textural contrast in every bite. It's not like one person gets all the crispy stuff, someone gets the squishy piece. It's all in one."
The lasagna is a feat in and of itself to make—a true weekend project. It requires preparation of an Italian sausage bolognese, flavored with warm star anise and fish sauce for more depth of flavor. A fragrant besciamella—cooked with shallots, bay leaves, and thyme—needs to be prepared. There's the tomato sauce, which only takes 10 minutes to make, but is another component. Plus there's the assembling.
It might be time consuming, but Tacinelli wants readers of the cookbook to know that "it's not hard to do if you follow the instructions." That, and that not all the recipes are as time-intensive—but they are equally as creative.
"We're inspired by Nona's recipes, but we're both really into food in general and excited by dining out, trying new ingredients, and traveling to places other than Italy," Rito says. The cookbook is a reflection of that—as well as the bonds that have shaped both Rito and Tacinelli.
There are photos of both their grandparents' wedding days, tulle veils and grins galore, tucked into the introduction of the book. There's a picture of Rito and Tacinelli strolling through Florence, Italy, during their own nuptials. Rito's great-grandfather bakes bread in a black and white photo, while Tacinelli's great-grandmother stirs Sunday gravy in a Brooklyn park.
The recipes are embedded in the pages: Tacinelli's grandmother's Easter pie, Sicilian pastries from Rito's grandfather, a recipe for homemade sambuca (which, cheekily, is side-by-side with a photo of Tacinelli's mom on her first communion day).
"It's a lot more than just a cookbook. It's really kind of a story about us, too. I think that's what Italian-American is—" Tacinelli says, glancing at Rito. "It's about family," she finishes.
Don Angie Pinwheel Lasagna
Yield: 16 pinwheels (serves 8-10)
Ingredients:
Kosher salt, for the pasta water (see Note)
Northern-Style Egg Yolk Pasta or 8 store-bought fresh pasta sheets (12 × 7 inches)
1 cup plus 3 tablespoons Besciamella, chilled (recipe follows)
4 cups shredded wholemilk mozzarella cheese
1 cup finely grated Parmigiano-Reggiano cheese
4 cups Italian Sausage Bolognese, chilled (recipe follows)
2 cups 10-Minute San Marzano Tomato Sauce, chilled (recipe follows)
½ cup robiolina cheese or whipped cream cheese
2 Tablespoons roughly chopped parsley
3 Tablespoons extra-virgin olive oil, for finishing
Directions:
1. In a large pot, bring 4 quarts water and 1 cup kosher salt to a boil over high heat. Meanwhile, set up an ice bath in a large bowl. Line a sheet pan with parchment paper.
2. Working with one sheet at a time, place a pasta sheet in the boiling water for 15 seconds, then immediately remove and chill in the ice bath for 15 seconds. Transfer to the lined sheet pan and pat dry with a paper towel. Cover with another layer of parchment paper and repeat with the remaining pasta, creating a stack of sheets, each patted dry and each layer separated by parchment.
3. On a clean countertop, lay out one pasta sheet with a short side facing you (the sheet should look like a portrait shot). Spread ¼ cup of the besciamella in a thin layer evenly across the sheet. Sprinkle 1 cup of the mozzarella and ¼ cup of parmesan over the besciamella.
4. Place another sheet of pasta on top. Spread 1 cup of the Bolognese evenly across the second pasta sheet, leaving a 2-inch border uncovered at the top short edge. Spoon 2 teaspoons of the besciamella onto the uncovered edge (this will act like your "glue" to seal the roll closed).
5. Starting at the bottom, roll up the layered pasta into a thick log (like a jelly roll). Transfer to a small sheet pan seam-side down. Place in the refrigerator to chill for at least 1 and up to 2 hours, which will firm it up and make it easier to slice.
6. Repeat the process with the remaining pasta sheets to make a total of 4 rolls, transferring to the refrigerator as you finish each roll. (The rolls can be tightly wrapped in plastic at this point and refrigerated for up to 2 days, or frozen for up to 3 months, before cooking. If frozen, thaw in the refrigerator before slicing.)
7. Preheat the oven to 400°F. Transfer the rolls to a cutting board. Using a serrated knife, slice each log in half crosswise, then slice each half in half to give you 4 slices per roll, each about 1¾ inches thick.
8. Ladle all of the tomato sauce into a 9x13-inchbaking dish, covering the entire bottom of the dish. Arrange the lasagna pinwheels cut-side down in the baking dish, 4 pinwheels across in one direction and 4 across in the other. (All 16 pieces should fit in one layer, gently staggered to fit.)
9. Bake until the pasta edges are golden brown, 20 to 25 minutes. Remove the baking dish from the oven and add tablespoon-sized dollops of robiolina in between the pinwheels in a random pattern. Return to the oven and bake until the robiolina is warm and melted, an additional 2 to 3 minutes. Top with chopped parsley and olive oil.
10. Serve immediately. Leftovers keep, refrigerated, for up to 4 days.
Besciamella
Yield: 2½ cups
Ingredients:
½ cup (1 stick) unsalted butter, cubed
1 head garlic, halved horizontally
⅓ cup thinly sliced shallots (about 1 medium shallot)
1 bay leaf
1 thyme sprig
¼ teaspoon black peppercorns
1 teaspoon kosher salt
½ cup all-purpose flour, "00" flour, or Wondra
2 cups cold whole milk
Directions:
1. In a small heavy-bottomed pot, melt the butter over medium heat. Add the garlic, shallots, bay leaf, thyme, peppercorns, and salt. Cook over low heat until the shallots are translucent, about 2 minutes.
2. Add the flour and stir well. Increase the heat to medium and cook, stirring continually with a wooden spoon or silicone spatula, until the flour forms a smooth paste and turns lightly golden brown, about 5 minutes. Stir in the milk and cook for 5 minutes, stirring continually, until the besciamella is thick enough to coat the back of a spoon. Remove from the heat and strain through a fine-mesh sieve.
3. Place in the refrigerator to cool. Besciamella keeps, tightly covered in the refrigerator, for up to 3 days, or in the freezer for up to 3 months.
Italian Sausage Bolognese
Ingredients:
2 yellow onions, coarsely chopped
4 garlic cloves, peeled
5 celery ribs, coarsely chopped
2 carrots, coarsely chopped
4 ounces pancetta, cut into 1-inch cubes
1 pound sweet Italian sausage, casings removed
1 pound ground veal
3 Tablespoons kosher salt
2 Tablespoons extra-virgin olive oil
½ cup tomato paste
1 cup white wine
2 (28-ounce) cans whole tomatoes (preferably San Marzano DOP)
2 cups whole milk
2 whole star anise
2 teaspoons colatura or fish sauce, plus more to taste
1 Tablespoon sugar
2 Tablespoons fresh lemon juice
Directions:
1. In a food processor, working in batches if necessary, process the onions, garlic, celery, and carrots until chopped as finely as possible, similar in size to uncooked rice. Set aside. Rinse the food processor and process the pancetta until very finely chopped, the same size as the vegetables. Set aside.
2. In a medium bowl, mix the Italian sausage and veal together and season with the salt.
3. In a large heavy-bottomed pot, heat the olive oil over high heat. When it shimmers, add the meat, stirring frequently with a wooden spoon to break it up into small pieces, until evenly browned, about 15 minutes. Remove the meat with a slotted spoon and set aside. Drain any excess fat from the pot but keep the browned bits on the bottom (do not wash).
4. Add the pancetta to the pot over medium heat and cook, stirring occasionally, until the fat is rendered and the pancetta is browned, 8-10 minutes. Add the processed vegetables and cook, stirring often, until the vegetables are very soft and have taken on a darker hue, 10-15 minutes.
5. Add the tomato paste and cook, continuing to stir, for 5 minutes, until deep orange and caramelized. Stir in the wine and cook until fully evaporated, about 5 minutes.
6. Meanwhile, using your hands, crush the tomatoes (including the liquid) over a medium bowl until completely broken up.
7. Return the ground meat to the pot. Add the milk, star anise, and tomatoes. Stir well, bring to a simmer, and cook over medium-low heat, uncovered, stirring occasionally, until the sauce thickens and is bright orange, about 2 hours. If any fat separates, whisk it back in to emulsify. Discard the star anise. Remove the pot from the heat and add the colatura, sugar, and lemon juice and stir well to incorporate and re-emulsify the sauce.
8. The sauce is ready to be used at this point, or it can be stored in an airtight container in the refrigerator for up to 1 week, or in the freezer for up to 3 months.
10-Minute San Marzano Tomato Sauce
Ingredients:
2 (28-ounce) cans whole San Marzano tomatoes (make sure they are labeled DOP)
½ cup extra-virgin olive oil
8 garlic cloves, smashed with the flat side of a chef's knife
1 Tablespoon plus 1 teaspoon kosher salt
¼ teaspoon crushed red pepper flakes
1 Tablespoon sugar
2 sprigs basil
Directions:
1. In a food processor, pulse the tomatoes (including the liquid) until they're broken up but still chunky (you'll have about 7 cups). You can also do this with your hands, though it will produce a chunkier sauce (not a bad thing!).
2. In a medium pot, heat the olive oil over medium-high heat until shimmering. Add the garlic and salt and cook, stirring occasionally, until the garlic is golden and fragrant, about 2 minutes. Add the pepper flakes and stir. Stir in the tomatoes and cook until the sauce comes to a boil, 1 to 2 minutes. Immediately remove from the heat and season with the sugar, then stir in the basil sprigs.
3. Let the basil steep in the sauce for at least 5 minutes and up to 30 minutes, then remove the basil and garlic from the sauce before serving. The sauce is ready to be used at this point, or it can be stored in an airtight container in the refrigerator for up to 1 week, or in the freezer for up to 3 months.
Kat Thompson is a senior staff writer for Food & Drink at Thrillist. Follow her on Twitter @katthompsonn.