Will I watch your stuff while you go to the bathroom?
Hell no.
I will not protect your MacBook Pro, valued at $1,499, from evildoers while you take a hurried pee in a coffee shop bathroom. Here's why.
Recommended Video
Tuna Eyeball with Timothy DeLaGhetto and Ben Sinclair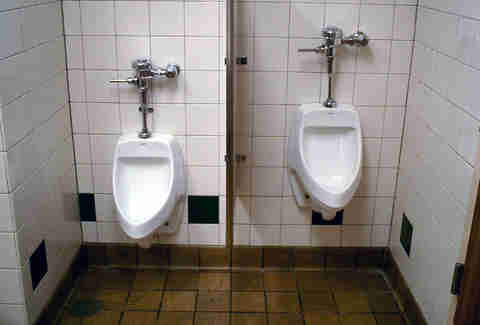 You can take your laptop into the bathroom
You don't have a desktop computer. Your computer will fit into your bag, and you can take your bag into the bathroom! Here's something you might not know: you won't be giving up your seat. You can leave your coat on the chair and no one will sit there! And since I'm pretty sure I saw that coat on sale at H&M for $4.99, there is nothing else at your table of value. Wait, I stand corrected. Your mocha latte is worth more than your coat.
 
I am not fighting for your laptop
I'm not risking my life for the computer you're going to scrap in two years anyway. If someone took the very computer on which I'm writing this opinion piece off this table in the coffee shop, would I chase them out the door? This is my work computer, what do you think? Oh no, all the Excel files I'd miss!
You don't know me and I don't know you
If I turned to a stranger in a coffee shop and handed them $1,499 and then asked them to watch it while I went to the bathroom, would I be surprised if they walked out with it? No, I would not! I would be called an idiot by anyone with a brain that I trusted a stranger with 1,499 dollar bills. But for some reason we invest that same amount of money into a computer and EVERYONE's cool with it?!
 
Trusting strangers is a horrible idea
I'm a decent person and I won't steal your computer myself, but you don't know that. What ever happened to STRANGER DANGER?
 
Oh geez, this is the weirdest timing...
... but I have to go to the bathroom now too. Probably because I keep writing about going to the bathroom! Anyways, will you watch my laptop?
Lee Breslouer is a senior editor at Thrillist and really appreciates you keeping an eye on his laptop. Follow him to coffee shop etiquette tips: @LeeBreslouer.