They've given us a Twinkie-bunned miracle and a deep-fried PBR masterpiece, and now PYT is living up to their artery-clogging, joy-creating rep with their latest invention: the beastly Double Bacon-Wrapped Burger.
Stacked with two bacon-shelled patties, this baby makes regular bacon cheeseburgers look like the Broncos' offense. It's just $17 and is available at their Philly shop 'til Friday. You don't wanna miss this, even if it means making a pilgrimage.
Recommended Video
Send Foodz: Japan Village
The whole glorious affair starts when the chef weaves together four slices of bacon, which will soon become the most unwholesome thing to result from basketry skills ever.
The weaves are then wrapped around two 5oz beef patties like straight jackets. Yes, it's that insane.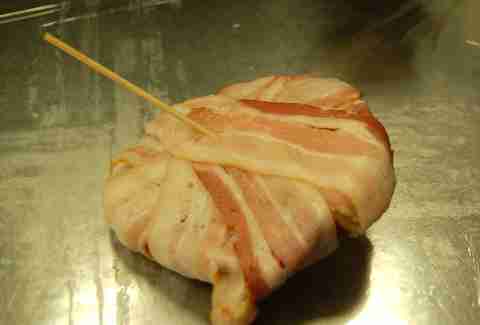 Once fully covered in bacon, those poor patties get impaled by wood skewers straight through the heart. Just like Dracula. But way fatter.
Then it's into the deep fryer to achieve maximum crispy-crunchiness.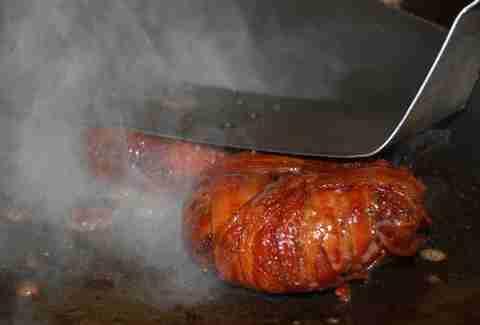 The burgers are then flattened and sizzled on the grill, while thick slices of cheddar are melted on top.
The buns are grilled, too, and then buttered, because health.
Once the patties are rested upon the bun, the  "backyard slaw" -- a homemade heap of classic burger toppings, including lettuce, onions, pickles, ketchup, mustard, mayonnaise, garlic, and vinegar -- finishes this thing off with a burger whose caloric content is somehow higher than the Seahawks' Super Bowl yardage.