Drag brunch means glitter, booze, and sky-high bouffants.

| Cole Saladino/Thrillist
Drag brunch means glitter, booze, and sky-high bouffants.

| Cole Saladino/Thrillist
Drag Brunch Is the Most Important Meal of the Week
Where pancakes, politics, and performance collide.
On a sunny Sunday afternoon, there is a raucous line down the block of an industrial street in Brooklyn's Bushwick neighborhood, and it had only just turned noon. A line this early on a weekend is rare in the neighborhood, but brunch is a contact sport in New York. You and your friends have to run a flawless, coordinated attack in order to snag a seat at temples to the meal like Clinton St. Baking Company and Russ & Daughters Cafe.
But the gaggle in Bushwick lining up to get into 3 Dollar Bill, a queer bar and performance space, is there for one thing, and it's not the promise of chicken and waffles or a stack of pancakes. It's drag brunch.
Imagine your typical brunch scene. Everyone -- moms, dads, kids, grandparents, even -- in their Sunday best, politely tucking into a short stack or, I don't know, a Denver omelet. Norman Rockwell, but for the breakfast set.
Drag brunch, with its glitter, booze and sky-high bouffants, is anything but that.
At 3 Dollar Bill, drag queens are holding court, and the crowd -- a diverse mix of predominantly LGBT folks and straight women -- are ready for their sermon. Crowding into the bar's dark-as-night performance space, the crowd watches as 10 drag queens take the stage over the course of an afternoon, lip-syncing to comedic covers of Taylor Swift's "I Knew You Were Trouble," singing (yes, actual singing) to Lady Gaga and, duh, theatrics.
"A queen climbed up the scaffolding, jumped and landed in a split," said Cody Wimmer, an attendee of The Dragtastic Bubbly Brunch, the name of the touring show hosted by gay celebrity, Ross Mathews. "You just don't get that at church."
Of course, the revelry is fueled by brunch's de facto beverage, the mimosa, while outside, a spacious, sun-drenched patio is nearly empty. The line for the bar's food counter, quasi-Mexican snack window Del Sur Cocina -- which serves a limited menu of tacos, chicken fingers and guac -- is all but dried up.
All this is a far cry from typical brunch haunts pouring endless bellinis and plates of french toast -- but drag brunch has no signs of abating. While brunch has been in the cultural lexicon for decades, drag brunch has become a coast-to-coast mainstay, scrambling eggs with a dash of sass and verve.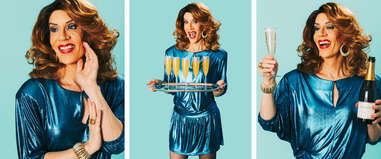 Linda Simpson, a New York City drag queen and documenter and historian of the scene, says that for all the rise in drag, which includes the mainstream television show and cultural phenomenon RuPaul's Drag Race, there's still an apprehension to the art form. But drag brunch helps to bridge the gap.
"Drag brunch is the gateway to all drag," Ritzy Bitz, a petite, bronze-skinned NYC queen who hosts a weekly brunch at La Pulperia in Hells Kitchen, tells me. "It's friendly, it's during the day -- you're not disturbing the gays in their natural habitat. People don't always want to or have the ability to go to a drag show at 11 p.m. or midnight or 1 a.m., and as a drag queen, we're competing with the music, a drunk crowd, people wanting to go home with each other."
Ritzy says that drag brunch is the best combination for both attendees -- brunch goers get a meal and entertainment, and drag queens can maintain regular working hours while performing for a more receptive audience. "It's more intimate -- there's a danger element, because the servers are walking around with food while I'm tumbling around, but I can also
engage with the audience more directly."
And while some lament that drag has moved beyond the LGBT underground -- drag brunches, specifically, evolving into an event associated with roving hordes of straight women -- Simpson says that this is a non-issue.
"High tide raises all ships," she says. "Drag is entertainment, and why shouldn't drag queens get recognized for their work and their art? Drag has become a legitimate career now -- people can make a living doing it, and working at brunch is part of that.
"Besides," Simpson says, "who doesn't want a little bit of pizzazz to go along with their eggs and bloodies?"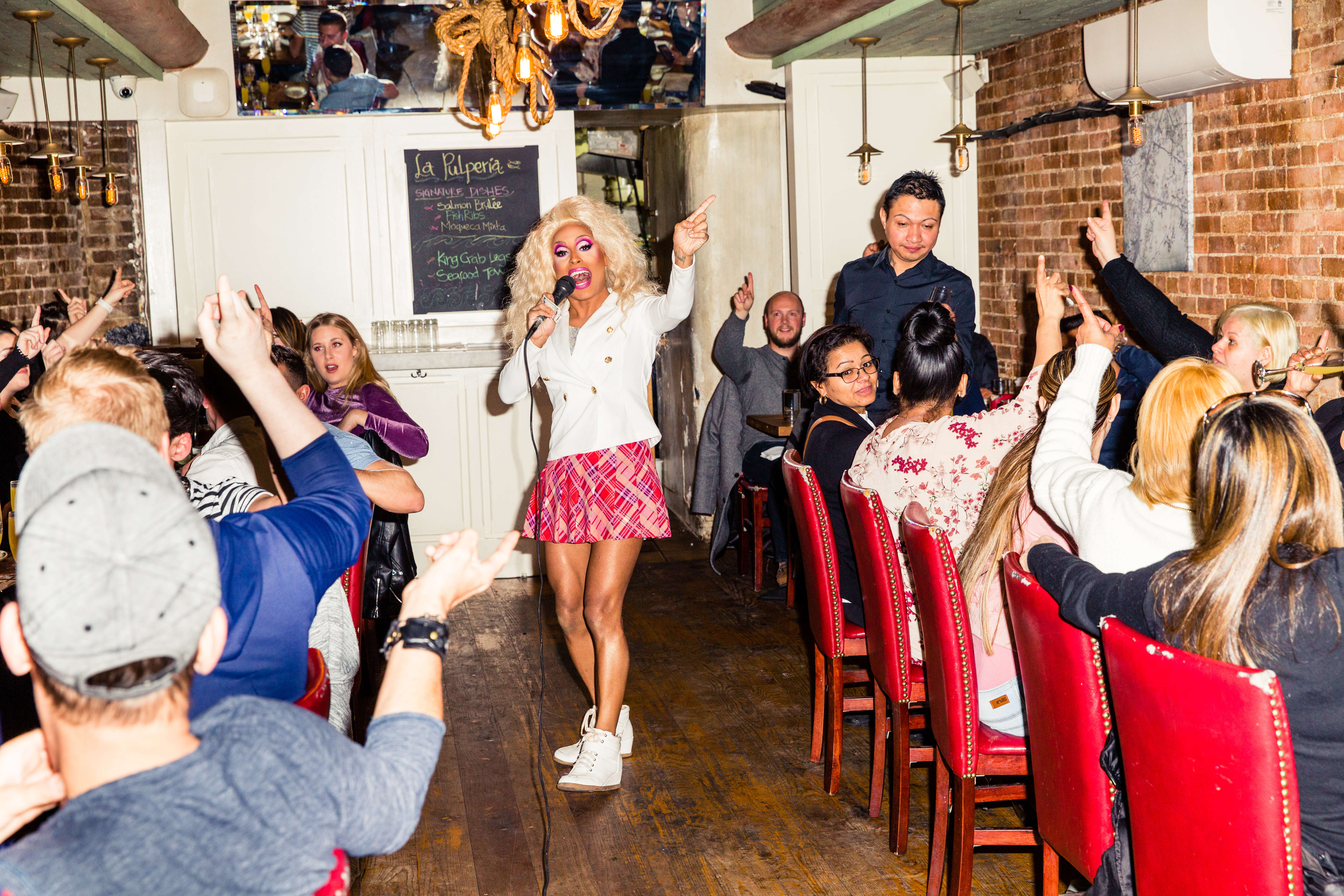 New York restaurants, bars and clubs like Lips and Lucky Cheng's have long employed drag staff, but brunch is a newer phenomenon and a natural evolution, says Simpson. "These [restaurants] saw a gimmick to bring in new customers." But while no one can pinpoint the start to the first drag brunch -- was it in gay bastions like San Francisco, New York or Los Angeles? -- drag brunch at its core has always been as much about politics as it has been about the entertaining and the food.
Trans activists and drag queens Marsha P. Johnson and Sylvia Rivera led the Stonewall riots in June 1969 -- at the time, legendary gay bar Stonewall Inn was not typically frequented by gay white men, but the community's more marginalized contingent, namely people of color, drag queens, lesbians, sex workers and homeless youth. And then in San Francisco in 1979, The Sisters of Perpetual Indulgence -- a drag-clad charity and non-profit parodying the attire of Catholic nuns -- was founded to raise money and awareness for LGBT causes, specifically HIV/AIDS and community activism.
For Poppy Tooker, a straight-identifying woman and author of a forthcoming book called Drag Brunch, the phrase "drag is politics" has always run true. Tooker lives in New Orleans, a city that has long embraced drag. See: Mardi Gras. But "in the '80s," Tooker says, "drag queens were throwing drag brunches to take care of their friends who were dying before anyone was taking care of them."
Tooker uses her platform as a New Orleans-based food and culture historian and radio host to organize charity-oriented drag brunches throughout the city, namely Dining Out for Life and CrescentCare, two local HIV/AIDS charities. Proceeds from Drag Brunch, which tells New Orleans' brunch and drag histories alongside recipes and photos of local queens, will benefit CrescentCare.
In writing Drag Brunch, Tooker dove deep into the city's relationship with drag and brunch, namely the history of Julian Eltinge, a world-famous turn-of-the-century vaudevilleian and drag queen, and Madame Begue, a local restaurateur. The way Tooker tells it, brunch and drag have always been bosom buddies. Round these parts, Madame Begue is credited with creating "second breakfast" -- a meal served at 11 a.m. -- around 1884. Julian Eltinge, a frequent diner of Begue's, once gifted Madame Begue an autographed photo of his alter ego, Vesta Tilley, which hung in the brunch-progenitor from 1917 onward -- there's even a hilarious ghost story, if you want to get into it.
"Part of my impetus for writing Drag Brunch is to remember an entire generation we lost," said Tooker. "My fear is that they will be forgotten -- these charities that helped New Orleans' AIDs victims, many of my friends. To say 'once upon a time, there was a disease that was so segregating, that was so cruel, that families wouldn't even come for the bodies of their loved ones.'"
You're there for the show, not the chow.
But what about the food? It's brunch, after all.
Ignore the wigs and spectacle, and it may seem as if drag brunch's food is often secondary, even tertiary, to the politics and the entertainment. Look at any menu and it's the usual offering you'll find elsewhere -- eggs benedict variations, omelets, even avocado toast. Of course, you'll see deviations -- La Pulperia offers Latin takes like dulce de leche french toast, or chimichurri-topped benedicts, while campy Hamburger Mary's (a loosely-related chain of franchises founded in the '70s) delivers on the burgers, named after famous divas. There are naturally exceptions to the rule, but the fare at drag brunch is typically middling, at best (take it from someone who frequents many a drag brunch). You're there for the show, not the chow.
But Tooker insists that food is still an important part of the show, at least the ones she runs. "Restaurants have adopted drag brunch because it keeps the doors open," said Tooker. "It's a money-maker, but that doesn't mean the quality of the food has to suffer." She points to legendary New Orleans restaurant Brennan's, which now hosts a raucous, once-a-year drag brunch during the famously gay festival Southern Decadence, or the often sold-out dim sum drag brunch at buzzy newcomer Maypop.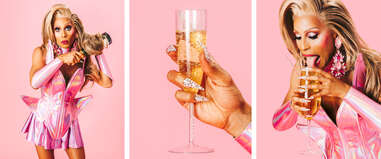 If only other drag brunch spots would follow suit.
For now, however, drag brunch remains a place of celebration -- with mostly medicore food. "I like drag brunch because it supports the underdogs of the underdogs -- supporting queer artists and queer spaces beyond the peak hours of Friday and Saturday nights," says an attendee at 3 Dollar Bill.
"Yeah, there's something powerful about seeing queens in the light of day instead of hidden away at dark bars at night," adds Wimmer.
At a time when queens are being celebrated across all media -- being the first drag queen to attend the Oscars, being nominated for James Beard Awards -- Ritzy Bitz echoes that sentiment. "We're passed people thinking of queens as birthday clowns," she says. "Queens who have aspirations outside of a club have a chance to shine, brunch or no brunch.
We've already had drag queens run for office and win -- every drag queen has that power.
"Heck, maybe one day, we'll have our first drag astronaut. For now, I want to make new fans and have a good time."
Sign up here for our daily Thrillist email, get Eatmail for more food coverage, and subscribe here for our YouTube channel to get your fix of the best in food/drink/fun.
Joseph Hernandez is Thrillist's senior travel editor. He likes his mimosas like he likes his drag queens: Bubbly and acidic.