How Drop Culture Has Taken Over the Food World
From Supreme to sandwiches, streetwear marketing has changed the way we eat.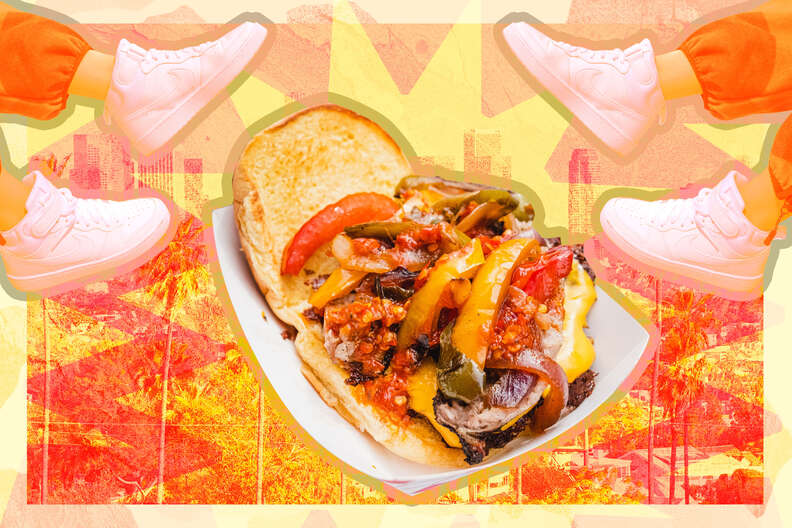 Photo courtesy of Family Style, Design by Grace Han for Thrillist
Photo courtesy of Family Style, Design by Grace Han for Thrillist
Seeing long lines curl around the streets of SoHo is certainly nothing new. They could be a sign of the latest Nike x Off-White sneaker drop or Glossier bronzer, or maybe people are camped out for the new iPhone release. But lately a newer type of thought has creeped in: Is everyone just really stoked for a sandwich?
That's because drop marketing techniques—most commonly associated with streetwear and sneaker brands like Supreme, Nike, and Stüssy—have crept into the food landscape. Chefs and owners are employing the spontaneous social media strategy to let their followers know that a limited-time dish is here and they've gotta act fast to get it.
"We are kind of the same people, even the best chefs now are streetwear guys," says Miles Canares, who co-founded Family Style, a festival that creates exclusive collaborations between food and streetwear brands, with Bobby Kim and Ben Shenassafar of The Hundreds fame. "Chefs are independent and don't want to follow the rules their predecessors have set. It's about breaking boundaries and disrupting the market. That's really where streetwear came from—a natural rebellion of the standard."
Indeed, just as brands bucked the traditional fashion industry in the '90s, food businesses are operating outside the fine dining restaurant mold. While food trucks, street food, and guerilla-style marketing existed long before the Covid-19 pandemic, these past two years have accelerated the popularity of one-off product drops.
"Restaurants really had to simplify their menus because of supply chain and labor issues," says Liz Aviles, the VP of market intelligence for the Chicago-based Upshot Agency. "Now you're having to create excitement over a must-eat dish. Plus, a lot of other sources of special were unavailable to us in many ways. It amplifies the appeal of these things we see as scarce."
The idea of food drops has been percolating for a few years, due in large part to Instagram and TikTok. Many owners see social media as the most direct and authentic way to have a conversation with customers. Essentially, promoting a certain dish right as it's released just makes sense for their brand.
"We're really into hip-hop and streetwear culture and we think memes are funny," says Steve Chu, co-owner of Ekiben in Baltimore, which drops Asian-influenced food items to many adoring, drooling fans. "A lot of restaurants take themselves seriously and seem too ego-driven. We just want to get people excited about a new product and I'm glad it comes across as hype, because it's really just genuinely how we feel."
Secrets are great, when you're in on them. Luckily, it doesn't take an inside connection to get a great rate on insurance. State Farm® helps you keep more of your hard-earned dollars with surprisingly great rates. Getting the right coverage for your budget — with no secrets required — means more to spend on your preferred adventure. Like a good neighbor, State Farm is there.®
When Ekiben first dropped its soft shell crab sandwich (topped with an additional crab cake and sharp cheddar on a pillowy steamed bun), "people went nuts," Chu says. He remembers customers buying eight sandwiches at a time, spending $200 per order. He was seeing posts on Instagram bragging about getting an Ekiben bag like it was a Telfar tote.
Of course, those visual posts are key—both when it comes to the initial announcement and followers sharing what they bought on social media. As Canares says: "You have their eyes first and then you get them to taste it." Food businesses like Love Hour, 886, Jon & Vinny's, Wildair, and countless around the country thrive off vibrant photos that connect directly with their fans.
"Social media has rapidly accelerated the life cycle of trends," Aviles explains. "There used to be more of a hunt for cool, like finding things in secondhand shops or record stores. But now it's very accessible, visual, in your face. The fact that cool is more diffused in our culture creates this need for drop mechanics to be more exciting than ever."
Aviles remembers working with a client Bibigo and, to drum up excitement for their Korean dumplings, they partnered with Postmates to create Mandu Monday, building the campaign around a drop culture mentality. This idea also sparked the popular open air festival Smorgasburg, or even a brand new app called Biite, which recruits chefs to create a limited number of one-off dishes for its members.
"As a restaurant, you generally have two guaranteed occasions for PR—when it opens and, unfortunately, the next time can be when it closes," says Alex Jacobs, who co-founded Biite with Guto Araki. The idea behind the app is that chefs create a dish they've been toying with, one that they don't have on a menu, for engaged customers. "Suddenly, it becomes an opportunity to create a buzz and monetize your R&D."
Recently, Biite worked with the chef collective behind Little Fish, known for its high-demand fish sandwiches in LA's Echo Park, to create multiple courses including a seven-layer caviar dip. "It was incredible," Araki says. "This trend forces creativity and, with the interest span getting shorter and shorter, people are seeking newness and innovation more passionately."
Of course, another experiential version is Canares' Family Style festival, which just took place on October 10 in Television City. There, the food and streetwear worlds quite literally collided in dishes like a pizza topped with caciocavallo, mozzarella, whipped ricotta, garlic, and spicy fusilli created by a partnership between Jon & Vinny's and Off White.
"This is a fun world because it's borderless," Canares says. "You can start it as a one-day drop, then create merch because customers are fans, too. I see people wearing restaurant merch almost every day. It's almost like the restaurant tee is the new band tee."
And, even though social media and Gen Z customers have made the current moment the perfect time for drop culture to thrive, street food hustling has never really gone out of style. Chu from Ekiben said that he was inspired by his grandmother, who used to sell zongzi, or glutinous rice dumplings, on the streets of Taiwan to make ends meet.
"Getting people excited about one thing and doing it really well is smart," he says. "As long as your fans and guests know you can pump out good products—food, music, or clothes—this kind of drop culture will always be around."