The Finest Sushi in Town Is at the Drug Store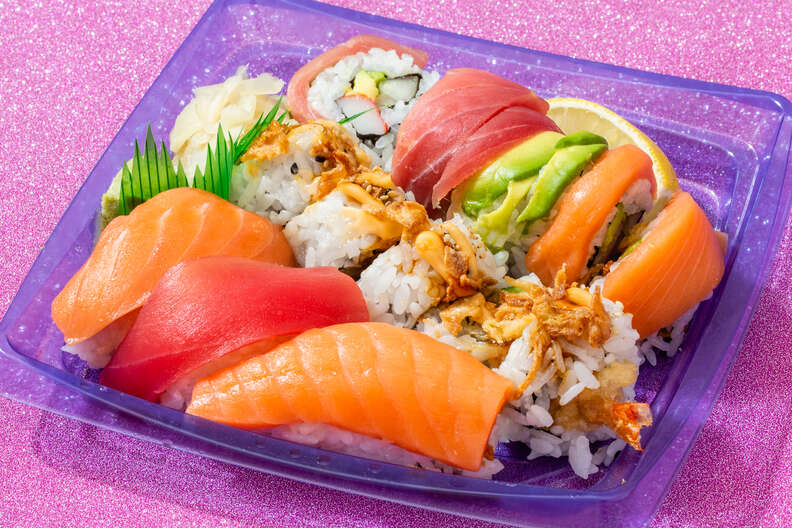 Cole Saladino / Thrillist
Cole Saladino / Thrillist
If you had told me six weeks ago that I'd be singing the praises of the pre-packaged sushi from freakin' Duane Reade, I would have swan-dived into a super low-key psychotic episode.
In the guts of a gaudy Trump Building on 40 Wall street is an innocuous Duane Reade that's known through rumors and lore to sell the finest sushi in lower Manhattan.
The first time I caught wind of this convenience store conundrum, I was working for a small marketing company writing copy for a certain notorious menthol cigarette brand when my manager casually dropped the fact that the Duane Reade on Wall Street had amazing sushi.
"No way," I said, unable to believe that a store that sells almonds, condoms, and shampoo could also dish out sushi that somehow doesn't cause nausea, vomiting, and heebie-jeebie intestinal worms.
The second time I heard about Duane Reade's mythical sushi spot, I knew I had to investigate. My manager's manager happened to be in town and wanted to know if I had ever had the sushi from the Duane Reade on 40 Wall Street.
As it turns out, this inconspicuous store happens to be the corporate headquarters of all the Duane Reade stores, which explains why they invest so much into their sushi counter.
"Oh yeah, they got high-profile clients coming in all the time," said my manager's manager, "so they wine them and dine them with their sushi," he said.
There are plenty of convenience stores and bodegas in the city where you can find sushi and sushi-adjacent products, but you don't have to be a New Yorker to know that you really shouldn't make it a habit of eating raw fish from a store that also sells Christmas lights, discount candles, and warming lube. You just don't know how long it's been there, how it was made, or what's happened to it along the way. But the truly surprising thing about all of this is that we're looking at an all-out trend here.
Joshua Foulquier is the owner of NY's Sushi Noz -- a high-end sushi restaurant headed by chef Chef Nozomu Abe that was inspired by his grandfather's seafood company in Hokkaido, Tokyo.
"In its original form, sushi in the Edo period's purpose was to provide city workers with a fast meal," starts Foulquier, "so in essence, convenience stores are picking up on this, and it's a great alternative to those who love sushi but do not have the time necessary to commit to a full sushi experience."
Foulquier goes on to say that the US has long since developed its own style of sushi over the last few decades -- New York sushi that's sold in unorthodox environments like Duane Reade.
Despite my preconceived notion of sticking to the essential NYC Code of Conduct of eating sushi in an appropriate environment, I found myself oddly fixated on this store. I knew I had to try it.
The sushi is prepared at the store counters, rather than pre-made.
Stepping in front of the convenience sushi counter, I tried to reassure myself by recalling that there are plenty of 7-Elevens in Tokyo that sell culinary delicacies within the very same walls. Plus, don't most Japanese people live to, like, 100? (Editors' note: Japan's life expectancy is currently at 81-87 years.)
I carefully picked out two packages that had the potential to, at the very least, only kill me slowly enough to see the birth of my first child: shrimp tempura, tuna, and dumplings. I grabbed my soy sauce and chopsticks, walked to the front of the store, and paid $16 for my drug store sushi.
At first glance, everything looked and smelled normal; even the raw tuna and salmon dishes appeared surprisingly fresh. I opened up my lunch, dipped my roll in soy sauce, and took a bite.
As you can probably guess from the fact that this is not an obituary or ghost-written by goddamn Wil Fulton, I survived. In fact, here's a pretty wild statement: Duane Reade's sushi is really, really tasty. The crunchy, light shrimp tempura paired wonderfully with the delicate pork dumplings (there's even an in-store microwave you can use). I found my meal almost indistinguishable from the fast-casual sushi spots you'll find anywhere else in Manhattan.
Hours later, all I could focus on was how satisfying my lunch was with the added bonus of a calm stomach.
Regardless of the positive experience, I decided to phone up the sushi counter at the Wall Street Duane Reade to at least get a little insight into the lunch that blew my head into smithereens. After repeating the phrase "help me with something else" to an automated voice on the other side of the line, I was connected to a young woman who herself seemed confused about my request.
"I'd just like to speak with whoever runs the sushi counter if possible?"
"The sushi counter?" She repeated.
"Yeah, just with whoever runs the sushi counter."
The woman then pointed me in the direction of AFC Franchise Corp, a company founded by a Japanese man named Ryuji Ishii who seemed pretty damn passionate about sushi, judging by his mission statement on the company site:
"Growing up in Japan, I have always enjoyed the convenience of packaged sushi as a snack or meal that I could purchase at every street corner. When I moved to the United States, I really missed this convenience. It was in 1986 that I finally realized my dreams by establishing Advanced Fresh Concepts Corp. and introduced the in-store sushi bar concept to Vons, a supermarket chain in Los Angeles."
AFC itself is simultaneously easy and impossible to reach; they answer on the first call, but can't seem to direct me to the right party to find out where this damn fish comes from.
The company has 4,000 independently owned and operated foodservice counters with chefs who work in shifts. They sell their fish, which is delivered fresh daily, to retail establishments throughout the United States, Canada, and Australia. The sushi is prepared at the store counters, rather than pre-made and shipped from a central location.
Did I expect a Michelin-star chef at the head of the operation? No, not exactly, though part of me was hoping to discover a lone sushi fanatic. Regardless of how it's made, all I can say is that it's made right -- at least in terms of convenience store sushi -- and I've now found a new place to eat lunch whenever I'm in FiDi.
Does this mean that Duane Reade is the next Nobu? Obviously not, but I know for a fact that the sushi I consumed: a) didn't kill me and b) tasted objectively better than some of the high-rated restaurants I've dined at elsewhere in the city. What does that mean for me as a person? Maybe I'll start taking the calculated risks that define your thirties, and if it kills me in the process? I'm not sure… I guess I'll just have Wil Fulton write my obituary.
Sign up here for our daily Thrillist email, get Eatmail for more food coverage, and subscribe here for our YouTube channel to get your fix of the best in food/drink/fun.