Irish Cafe Requires Doctor's Note for Gluten-Free Orders, the Internet Goes Berzerk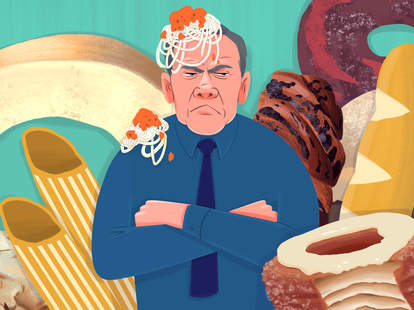 Anyone who's ever even dipped a toe into the service industry can agree that overly demanding customers are a huge pain in the ass. I'm not saying that diners with laundry lists of special requests are wrong to ask for accommodations -- they're paying for their meals, after all -- but the extent to which some customers feel entitled to customize their menus kind of defeats the purpose of a menu at all. And that goes double for dietary restrictions many back-of-the-house types consider passing trends.
One particularly outspoken cafe owner in Dublin, Ireland took this industry annoyance to a whole new level this past Sunday when he posted this provocative Facebook post notifying patrons that his cafe will no longer serve gluten-free dishes unless provided with a valid doctor's note. And, like some red-faced gym teacher handing out extra laps to the tummy-achers, Paul Stenson (aka Paulie) wants the world to know that the White Moose is not budging on this one.
The post came soon after one diner inquired about gluten-free pancakes. When asked if she had coeliac (that's celiac to us Americans) disease, a genetic aversion to wheat products that affects an estimated one out of 100 UK residents (the stats are similar in the US), the woman admitted she wasn't familiar with the word. And Paulie, already an accomplished internet troll, jumped on the chance to stir up a full-fledged social media shitstorm.
The post accrued over a thousand comments over the last 32 hours as the White Moose gleefully engaged in a back-and-forth with the offended. Its responses varied from dad joke-level attempts at humor, to under-researched scientific claims about celiac disease, and, uh, some super-creative insults ("Yeah well you look like an absolute dick…").
In follow-up posts, Paulie and crew accused GF-ers of suffering from "a psychological disorder" and "let's-make-it-up-as-we-go-along syndrome," and assured the world that they were not, in fact, joking, but were "deadly serious." Interesting choice of words, my dudes.
Look, I'm by no means gluten-free. I'm a beer writer, for crying out loud. But I do happen to be allergic to peanuts and if my dumpling place asked to see my medical records every time I asked it to hold the nuts, I'd be pretty damn annoyed. At the same time, there are places I know I can't mess with, like Thai food joints and Five Guys (RIP me). I've learned that sometimes it's better to steer clear of something entirely than to be that guy just for a few pancakes. It might not be fair, but it's the cross I've borne since i was… born.
Honestly though, wheat-phobic or not, who wants to eat at that asshat's cafe anyhow?
Sign up here for our daily Thrillist email, and get your fix of the best in food/drink/fun.
Meredith Heil is a staff writer for Thrillist. Nah, she don't spin on her head. She spin work in the blogs so she can spend her bread. Stay nut-free with @mereditto.