Dunkin' Donuts Delivery Could Be In Your Future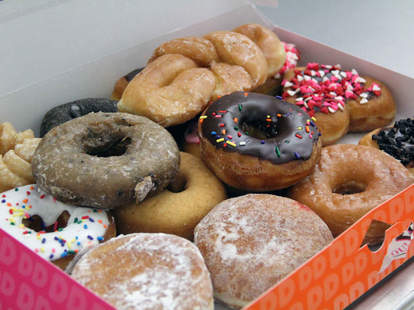 Just as the powdered sugar dust was settling after National Donut Day last Friday, a Dunkin' Donuts executive hinted over the weekend that it's no longer just "time to make the donuts" -- but deliver them, too. 
In an interview with CNBC's "On the Money," Dunkin' Chairman and CEO Nigel Travis said the sugary dough purveyor is conducting a "private test" of a mobile app-based service, joining a bunch of other national chains like Chipotle and Starbucks that have recently revealed plans to help us become even lazier. 
"We're now developing mobile ordering," Travis said on the show. "We're doing a private test. We'll move to a more public test later this year. We'll probably launch mobile ordering sometime next year."
While Travis said there is no rush for Dunkin' to launch a delivery service -- and that it plans for more testing -- he believes it's a major strategic move, apparently because customers are increasingly tech and mobile-savvy, and increasingly expect the convenience of a huge box of Long Johns and frosted sprinkle deliciousness delivered right to their door. Like, who the hell wants to journey all the way to one of the zillion Dunkin' locations anyway? 
Update - 12:15pm ET: When asked by Thrillist for more details about the delivery plans, Dunkin' Donuts provided the following statement from Scott Hudler, Vice President, Global Consumer Engagement for Dunkin' Brands, saying they have no announcements to make about a delivery service:
"We are always looking for new ways to drive franchisee profitability and make sure our products are more accessible and convenient for our guests, while continuing to offer the high-quality coffee, sandwiches and baked goods they expect from their local Dunkin' Donuts restaurants," he said. "Delivery is something that we will be evaluating in the future and we think that is has the potential to integrate with our Mobile Ordering platform that is currently under development. Delivery is a future initiative and at this time we have no specific announcements related to delivery."
Tony Merevick is Cities News Editor at Thrillist and wonders how that's going to work in Manhattan, where there are Dunkin' locations walking distance from pretty much everywhere. Send news tips to news@thrillist.com and follow him on Twitter @tonymerevick.