Experts rank the 15 best Dunkin' Donuts flavors
All Photos by Adam Lapetina
All Photos by Adam Lapetina
If you walk into any Dunkin' Donuts anywhere in America, you'll see a veritable who's who of classic donut varieties. There's glazed! There's an old-fashioned! It's pretty much a given that you'll find something to fit your fancy, and when you bring a box of them back to the office, everyone invariably chows down on their favorite, leaving no time to compare and contrast their flavors, texture, or quality of dough. Dammit, coworkers, I just want to discuss the mouthfeel of that Boston Kreme!
So, in the interest of science -- and figuring out where DD's donutsmiths truly excel in pairing tastes and textures -- we decided to bring in a crack team of donut eaters to discover, once and for all, what Dunkin's best offerings are, and which of them are just aspire-rings.
THE JUDGES
Our brave tasters, who agreed to sample 15 donuts for the betterment of humanity, were:
They were asked to taste each donut, comment on their experience, and -- based on the donut's flavor, texture, and overall profile -- rate each of them on a scale of 1 to 10, with 1 being the worst and 10 being the best. Then, we aggregated their scores and averaged them out to find our winners and losers. Here's how it broke down.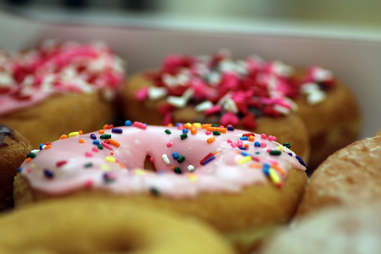 THE DONUTS
15. Mother's Heart
The Mother's Heart is a seasonal offering, featuring strawberry frosting and a "kreme" filling with heart-shaped sprinkles on top. Our judges found it to be too busy and far too sugary. They were, however, called "cute".
Best quote: "I think my blood sugar just spiked at least 80%." - Karen
14. Bavarian Kreme
Despite the fact that this powdered sugar-dusted donut is filled with cream, our tasters found it dry and crusty due to the donut's cakey composition and a rather sparse distribution of the cream. The two textures worked well together, but that didn't lift this donut up to the heights of some of the others.
Best quote: "To be honest, it has a similar aftertaste to processed wine. It lingers on your palate and doesn't go away." - Chad
13. Chocolate Frosted with Sprinkles
With a straightforward presentation and concept, the chocolate frosted was a little too simple. The texture was a bit on the crusty side, and our tasters thought it could've used a little more of a candy crunch from the sprinkles to balance out the overall profile. Also, there wasn't enough chocolate, which is weird for a chocolate donut.
Best quote: "Could definitely use some more chocolate." - Corey
12. Strawberry Frosted with Sprinkles
This donut suffered from the same problems that plagued its chocolate-frosted brethren, except for the fact that the strawberry frosting was deemed "less offensive" and more "perfumey", in a relatively decent, lingering way.
Best quote: "Oh my god. Tastes like my Strawberry Shortcake dolls used to smell." - Karen
11. Brownie Batter
A chocolate-lover's dream became our tasters' mediocre nightmare in its heavy-handed treatment of chocolate, which was applied liberally on top of and within the donut -- in a kind of "pudding-y" form that was just too much to handle. If you love brownies, though, and are settling for getting a donut instead, this is the one for you.
Best quote: "This is like a pure sugar experience that I don't mind that much." - Corey
10. Vanilla Frosted with Sprinkles
Deemed "a Funfetti donut that's not much fun", the vanilla frosted with sprinkles was lifted out of the quagmire of the chocolate and strawberry frosted donuts. The frosting was less one-note than the other two examples, having a certain citrusy aftertaste that convinced our tasters it wasn't just sugar, but something more.
Best quote:"The sprinkles do add a bit of excitement." - Chad
9. Blueberry Cake
"Unsettlingly blue-tasting" was the prevailing sentiment for this cake donut, which smelled more like Crunch Berries than something that actually grows on a shrub. Our tasters were hit by a sucker-punch of sugar, which they believed detracted from the fruity element of the donut. It could benefit from being flavored with honey instead.
Best quote: "Smells like a little mix that you use to make blueberry muffins." - Karen
8. Jelly
This classic donut variety didn't fare too well overall due to its striking similarity in composition to the Bavarian Kreme. In reality, it only differs in what it's filled with, which, in this case, is a syrupy red goo not really attributable to any specific fruit. Our tasters remarked that some added acidity in the jelly would do volumes for the recipe.
Best quote: "I feel like you need a Wet-Nap after this donut." - Karen
7. Old-Fashioned
Overall, the old-fashioned was pretty reminiscent of a bag of store-bought miniature donuts, and that was both its saving grace and its undoing. The composition was a bit on the dry side, with our tasters remarking that it needed some coffee for "dunkin'". There were signs that this donut was aspiring toward cider donut territory, but none of the elements were quite there.
Best quote: "It makes me nostalgic for other donuts that aren't this donut." - Andrew
6. French Cruller
With a lighter, more delicate texture than the other donuts, the braided cruller divided our judges. Some felt that the flakiness was perfect, while others were turned off by the huge amounts of sugary icing that were poured onto the exterior. Reminiscent of a Rice Krispies Treat, but a little more cloying. (We've been watching a lot of Chopped...)
Best quote: "I think if you have a straight-up sugar addiction, this is the one you should go for." - Karen
5. Cookie Dough
One of DD's newer offerings (it was born in January), the cookie dough donut is a heart-shaped pastry covered with chocolate chips and stuffed with cookie-dough buttercream. It suffered from a bit of an identity crisis, with our tasters not being sure whether there were coffee or caramel notes in the cream filling, as well as an oversaturation of textures -- four different ones, which detracted from the focus of the donut. The chocolate chips were universally liked, though.
Best quote: "I wouldn't have wanted to eat the whole donut." - Andrew
4. Boston Kreme
Despite being coated with chocolate like the previous chocolate frosted with sprinkles, our tasters noticed a distinct change in the texture of the topping, which they described as being richer and creamier. The three textures (custard cream filling, yeasty donut, ganache-like frosting) work together harmoniously and make this one of the best offerings.
Best quote: "I think it's delicious and I still love it. Texturally, the most complex. Three different textures that work really well together." - Chad
3. Bow Tie
This braided stick donut has about the same consistency and composition as the cruller, except for the fact that it tasted a little bit butterier and richer. The sweetness wasn't overpowering, which made the "artfully braided" bow tie stand out from the rest of the pack. Plus, you could wear it to prom!
Best quote: "I do appreciate the sophistication of the shape of the donut. Oh so European." - Karen
2. Chocolate Glazed
The chocolate glazed was unanimously revered for its unique, almost chalky texture that actually worked despite its inherent graininess from the bitterness of the chocolate, which, while not the fancy chocolate that chocolate-fanciers might be used to, was reminiscent of hot cocoa mix.
Best quote: "The percentage of cocoa is not 80%. It's more like a 30%. I still love it though!" - Chad
1. Glazed
This is it. The cream of the crop, despite a lack of cream. The crown jewel of the donut kingdom. The glazed donut was heralded as perfectly balanced, chewy with a bit of a natural spring, and possessing just the right level of density. The icing isn't a hastily assembled afterthought here, as it is with some of the other, busier flavors. Here, simplicity reigns. And it is good.
Best quote:"I could eat two of these and not feel bad. Or only feel a little bit bad." - Karen
THE AFTERMATH
After the ratings were passed in and our tasters remarked over and over again that they couldn't "feel their legs", we wheeled them on their merry ways and got to tallying up the results. Apparently, a barrage of flavors and consistencies doesn't always add up to a satisfactory donut. When it comes down to it, classic flavors like chocolate cake or glazed are classic for a reason -- they're simple, elegant, and don't go for overblown flair and panache. That could be why they're usually the first to go when you set that DD box down in the conference room.
Adam Lapetina is a food/drink staff writer at Thrillist, and wholeheartedly believes that the best things in life are fried. Read his musings on Twitter at @adamlapetina.