Party season is here, and you know what goes great with Champagne (or let's face it, prosecco)? Not chips and salsa. Yeah we know, you got the fancy blue tortilla chips from Whole Foods. But we think you can do better, so we asked a bunch of chefs for their favorite easy appetizers. All of these dishes look really impressive but require no more than five ingredients. So you'll actually be telling the truth when you're all like "Oh this? It's just a little something I threw together." Happy hosting.
Recommended Video
Send Foodz: New York City Wine & Food Festival
Spiced Fondue in a Roasted Pumpkin
Bryce Shuman, Betony, NYC
"I've made this at home and the pumpkin is an awesome presentation piece for parties. It gets everyone together around one spot and it keeps the cheese hot. The key is to make sure it's really hot when you serve it. And roast the pumpkin in a nice pan that you can serve it in, that way you don't have to move it."
How to make it: Cut the top off a small pumpkin and scoop it out. Season with salt, sugar and nutmeg, put the top back on and roast. Heat milk on the stove to just under a boil and whisk in a pack of Velveeta. Turn the heat to low and add Gruyere a bit at a time until you reach a good, thick consistency. Transfer into the pumpkin, put the lid on and warm in the oven before serving.
Bruschetta with butternut squash, ricotta and honey
Hugh Acheson, Five & Ten and The National, Athens GA
"This is a contemporary take on toast and a good way to plow through surplus squash during the fall-winter season. Harness that harvest! You can make enough to serve 30 people quickly and effectively so it's delicious food for a crowd."
How to make it: Toast baguette slices and roast cubed butternut in the oven. You can do them at the same time as long as you keep an eye on them. Spread ricotta on the toast, top with a few cubes of squash, drizzle with honey, and sprinkle with salt.
Almond Stuffed Dates with Lime Zest
Jenn Louis, Lincoln, Portland OR
"This is one of my favorite appetizers, and it pairs well with most drinks people tend to serve around the holidays, especially bubbles. The dates are sweet and savory—we've had guests at the restaurant order them for an appetizer and again for dessert."
How to make it: Get some fancy Marcona almonds and good quality dates. Stuff each date with a few almonds and then warm them on the stove. Serve them still warm with a sprinkle of flaky sea salt and some freshly grated lime zest.
Baked Fontina
Jimmy Bradley, The Red Cat, NYC
"We usually keep this off the written menu at The Red Cat but all the regulars know they can order it. For entertaining, all you need to do is set out a big skillet of cheese with a basket of crusty bread and everyone's happy. And it will make the house smell great."
How to make it: Put cubed fontina cheese in a cast iron skillet or baking dish, top with sliced garlic, thyme leaves and olive oil. Broil until it's melted and bubbly enough to scoop up. Serve with crackers or nice, crusty bread.
Banderillas
Katie Button, Curate and Nightbell, Asheville NC
"Banderillas are Spanish cocktail skewers, and the idea is to pair different ingredients into an interesting one-bite combination. They're made entirely of prepared ingredients so you can just raid your pantry and refrigerator. Most of the time I don't even have to go to the grocery store, except maybe for some high quality anchovies."
How to make it: Get a cheese, something pickled, olives, canned seafood (like anchovies or boquerones) and a vegetable (like roasted red peppers or marinated artichoke). Take a wooden cocktail skewer and start mixing and matching. Stick to three items per skewer so it fits in your mouth, and put something that won't slide off at the end, like an olive or chunk of cheese.
Beef and Guanciale Spiedini
Paul C. Reilly, Beast & Bottle and Coperta, Denver CO
"Who doesn't love eating roasted meat on a stick? This is essentially a mixed grill of fresh beef and cured pork. It's a very satisfying small bite and since it's served on a skewer, it's the perfect finger food. You can make them ahead of time and when you're ready to serve, pop them under the broiler and they'll be ready in ten minutes."
How to make it: Cut beef (Reilly says sirloin is great) and guanciale into similar sized cubes. Thread onto a soaked wooden skewer and marinate for a couple of hours in salsa verde. Broil the skewers for about 4 minutes on each side. Serve with more salsa verde spread on top.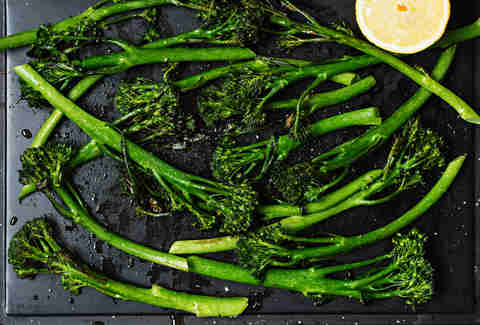 Charred Broccolini
Diego Moya, Blake Lane, NYC
"I love the bitterness of charred greens, it really gets the appetite going. This dish was actually inspired by pizza. As a teenager, I worked at my folks pizzeria and one of my favorite garnishes was the charred broccoli on one of our slices."
How to make it: Blanch and drain the broccolini, then place them in a really hot pan with a bit of oil. Don't move them until one side is charred black. Once they're done, turn off the heat and add olive oil, sliced garlic, chili flakes, salt and a bit of vinegar to deglaze the pan and then stir it altogether.
Frico Caldo
Duncan Holmes, Frasca Food and Wine, Boulder CO
"Frico is the ultimate comfort food: it's cheesy, salty, and crispy all at once. It's essentially a really sexy hash brown. It comes from from Friuli in Italy and it epitomizes cucina povera, or peasant food. The ingredients are humble but together they really sing."
How to make it: Boil potatoes and crush into small pieces. Mix with grated montasio cheese and sauteed onions. Cook the mixture in a pan on high heat, flipping it like a pancake so it's crispy on both sides. Cut into wedges and serve with a drizzle of vinegar and chopped cilantro.
Zucchini Scapece
Pasquale Cozzolino, Ribalta, NYC
"Scapece means 'marinated in vinegar.' This is an iconic plate that you'll find in Naples. It has very few ingredients and it's versatile, it goes with every meal. In Naples, when a guy is very easy going we say he's like a zucchini scapece."
How to make it: Cut zucchini into slices and fry until they're a dark golden brown. Drain the excess oil and toss with salt, vinegar, mint leaves and garlic. Garnish with more mint leaves and serve with toothpicks, or just eat them with your hands.
Smoked Trout Dip
Meherwan Irani, Chai Pani, Asheville NC and Decatur GA
"My wife's side of the family is Jewish and I quickly came to love smoked and cured fish. Once I accidentally over-ordered smoked trout for a family dinner, so I subbed it in one of the chaat dishes at Chai Pani. And even though on the surface there's nothing about smoked trout that would work in an Indian restaurant, the dish was a hit."
How to make it: Chop up two packs of smoked trout and mix with sour cream or Greek yogurt, whole grain mustard and a bit of sugar. Mix by hand for a chunky dip or pulse a couple of times in a food processor for a smoother consistency. Garnish with sriracha and cilantro.
Cast Iron-Roasted Brussels Sprouts
Michael Gulotta, MOPHO, New Orleans LA
"Originally this dish was a garnish on a vegetarian entree at MOPHO. But the crew was always cramming their faces with the leftover Brussels from each order, so we eventually put it on as an appetizer all by itself."
How to make it: Heat coconut oil in a large cast iron pan until it's smoking. Add quartered Brussels sprouts to the pan and brown on all sides. Toss with salt, Sambal chili paste, grapefruit zest and grapefruit juice. Gulotta says you can add the warm coconut oil from the pan for more richness.
Beer Cheese
Ford Fry, King & Duke and The Optimist, Atlanta GA
"We recently had a dinner where we served all retro appetizers like crab cakes and shrimp cocktail. The beer cheese was a huge hit. We used camembert and Swiss but you can tweak the recipe based on what you have; cheddar, gouda and Monterey Jack would all work."
How to make it: Combine cheese, cream cheese, garlic, butter and a German pilsner in a food processor. Fry recommends serving it with old-school crackers like saltines or Ritz for the full Mad Men effect.
Shaved Brussels Sprout Salad
Andrew Whitney, Dell'anima, NYC
"Not everyone likes raw Brussels sprouts, but with a little love and vinegar the flavors really pop. This is a really bright, colorful dish. It's a riff on the contorni we serve at Dell'anima, which is one of our top sellers."
How to make it: Shred or finely chop half a pound of Brussels sprouts and a large red onion. To serve, toss with a couple capfuls of apple cider vinegar, olive oil, and salt and pepper.
Sign up here for our daily Thrillist email, and get your fix of the best in food/drink/fun.