Paid Content For
Host Game Day Like a Pro with These Easy Wing Recipes
So quick and easy you might as well lock in your very own game day win and impress your guests (and yourself).
Paid Content For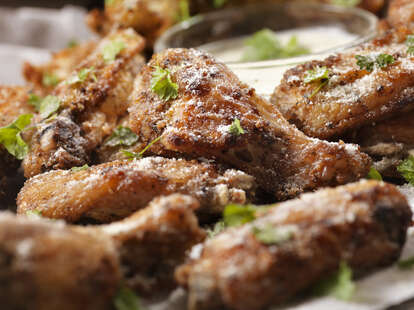 LauriPatterson/Getty Images
LauriPatterson/Getty Images
Allow me to be your wing woman for a moment—I'd like to empower you in your quest to whip up the ultimate game day snack. The chicken wing is a magical food. It is an interactive, compact vehicle for essentially any condiment. This means it's a bite that satisfies the masses, a real choose-your-own-adventure meat. We've compiled a list of some essential recipes to fulfill your chicky nuggie dreams.
Could you have them delivered? Sure. But these recipes are so quick and easy you might as well lock in your very own game day win and impress your guests (and yourself) with made-from-scratch ones instead. It's an unexpected special something that will make you the host with the most. Another important suggestion would be to listen to the band Wings whilst cooking for a truly immersive experience.
The Classic Hot Wing
A fan favorite. If you were to choose only one recipe for the occasion, a safe bet will always be the beloved classic buffalo style. This recipe is simple and makes note that celery sticks with blue cheese are a must-have accouterment. It's suggested you use Frank's Red Hot sauce, which may very well be one of the greatest hot sauces of all time. For this recipe, you'll want to stick with a cayenne- and vinegar-based sauce for that familiar heat. Get the recipe here.
Coconut Curry Wings
These wings are flirty. A little sweet, a touch sassy, comforting, and cool. Three main ingredients go into the marinade: coconut milk, red curry paste, and lime (zest and juice). It's like your wings took a bath in Tom Kha Gai soup, what a perfect idea. Get the recipe here.
Honey Mustard Wings
The honey mustard duo is one for the ages and another staple condiment that pairs perfectly with chicken. Instead of just dipping your wings in the stuff, why not coat them entirely, because you deserve it. The slightly sweet, tangy essence on these wings is totally indulgent, but the apple cider vinegar in the recipe keeps it balanced with a touch of zingy brightness. And the color from the grilled mustard is a treat for the eyes too. Get the recipe here.
Dill Pickle Wings
Want your wings to act like a chaser? Meet the Pickleback of snacks. This recipe allows you to impart a ton of flavor early on by brining the wings in pickle juice, which will also start to gently tenderize your meat and keep the wings juicy through the baking process. Chicken holds brine really well, it's a key process for punchy flavors, and this pickled wing hits hard. Get the recipe here.
Stella Artois is bringing in some serious reinforcements for three very lucky bar and restaurant workers this year, as a thank you for keeping the beers flowing and fries coming. MVP Eli Manning, Hall of Famer Dan Marino, and legendary Pittsburgh safety Ryan Clark are all swapping their jerseys for aprons and subbing in at establishments in Las Vegas, Miami, and Los Angeles (respectively) on the day of the big game. Whether you're cheering at the bar or celebrating the game at home, Stella is the perfect premium beer to savor the special day with loved ones.
Vietnamese-Style Wings
Much like brining in pickle juice, this recipe uses a buttermilk brine to tenderize the meat in preparation for frying. These wings are a great way to enjoy a dry, crunchy edition as opposed to a full-blown sauced effect. The recipe calls for cornstarch, which creates a beautiful golden-brown crust. The fish sauce and garlic components provide a savory and aromatic kick—heck yes. This is a great option to pair with another more saucy recipe so you get the best of both worlds. Get the recipe here.
Cilantro Lime Wings
Bright, fresh, and full of acidic bite. These are the palette cleanser of wings if there ever was such a thing. The juice from the citrus receives a beautiful smokey quality from the grilling here. These wings definitely call for crisp beer and tequila to accompany them. Get the recipe here.
4-Ingredient BBQ Sauced Wings
Have you historically been mystified by what exactly is in a barbecue sauce? You're not alone. This recipe solves said mystery: ketchup, honey, molasses, and liquid smoke get you to the goal post. A grilled BBQ wing is another classic recipe that won't disappoint. Sweet and smokey, and just the right amount of sticky. Game day calls for the finger-lickin' good stuff. Get the recipe here.
Crispiest Garlic Parmesan Wings
Ah, yes—the wing that is cosplaying as garlic bread. This recipe will certainly go all the way on the crispy-crunchy factor. Plus, the little grooves of the chicken skin grip the cheesy, garlicky goo, leaving your wings glistening. So simple. So beautiful. Absolutely flawless. Get the recipe here.