Macaroni and cheese is one of the world's greatest comfort foods, but between the fancy truffled mac eaten from silver spoons in big city restaurants, and the powdered stuff we all grew up with (which we ranked right here), there exists a middle ground that many culinarily challenged folks have not yet explored -- it's making your own macaroni and cheese at home.
After reading this, you'll put aside the powdered cheese for at least one night.
Recommended Video
Rapper E-40 Tries Portland Fried Lobster Tail With a Twist
That's me up there. No, I'm not a pan. Pans are notoriously stupid, and can't write for crap. I'm the guy holding the pan. And I can personally attest that making mac and cheese is an easy and fulfilling process, and you can eat it for five meals in a row without getting heartburn. Better yet, after you've made it once, you won't need to look at a recipe again.
So check out these six mostly-easy kinds of mac you need to make, and the Sage Brown Butter and Bacon version I actually made myself, with minimal injuries.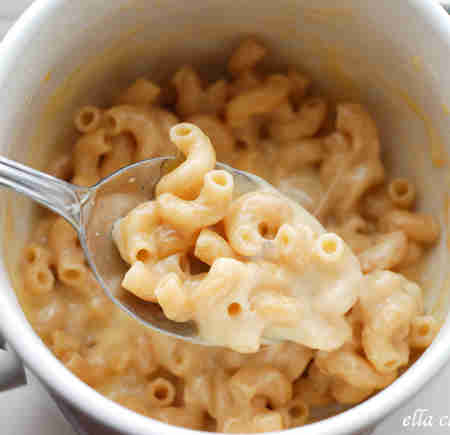 Homemade Single-Serve Microwave Macaroni and Cheese in a Mug
Difficulty: Very, very low.
Ingredients: Mac, water, cheese, milk. That's it.
Directions: Microwave the mac in water, add cheese, microwave some more, add milk, enjoy.
The DIY blogger at Ella Claire Inspired supplies a recipe for the simplest way to ditch the flavor packet. Fresh cheese is tastier than powdered cheese. This'll be worth your time. We guarantee it.
Alton Brown's Baked Macaroni and Cheese
Difficulty: Easy, according to the Food Network, so let's just say it's a tiny bit complicated.
Ingredients: Sharp cheddar, onion, flour, butter, egg, and some spices.
Directions: Simmer a egg/butter/flour-based sauce with some spices, throw it on the mac, top with toasted breadcrumbs.
Alton Brown showcased this recipe on his Food Network show, where he taught it to his adorable son who's probably a better cook than you. This is also a favorite on Reddit, so you know it's gotta be good and/or vote-bait.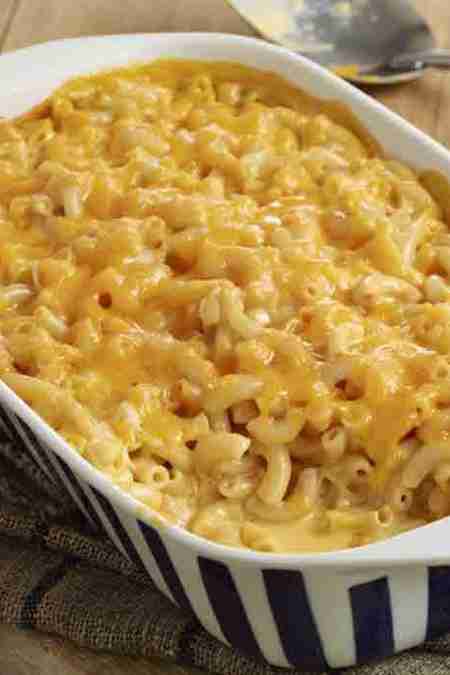 Kraft Easy Homemade Macaroni and Cheese
Difficulty: The word easy is in the title.
Ingredients: Eggs, evaporated milk, cayenne pepper, and a log of Velveeta.
Directions: Mix everything, pour it on top of the mac, stick it in the oven.
If you're looking for Velveeta Shells & Cheese flavor without having to steal dinner from a college sophomore's plate, this is the recipe for you.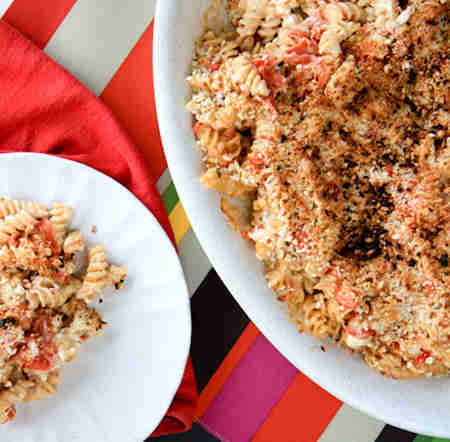 Pepperoni Pizza Mac and Cheese
Difficulty: Medium, because it requires multiple cheeses and frequent whisking.
Ingredients: Fontina, Parmesan, mozzarella, cottage cheese, pepperoni, tomato, and Italian spices.
Directions: Mix butter's lame cousin (olive oil) with flour, spices, and milk. Whisk a lot. Add the good stuff, dump it on the mac, and put it in the oven.
Cassie from Back To Her Roots came up with this recipe and she says her husband thinks it's the best mac she's ever made. Hopefully he wasn't just being nice.
Easy Beer Mac and Cheese
Difficulty: Lots of whisking makes this a medium, but the beer helps it go down easy.
Ingredients: Beer, milk, cheddar, Parm, and basil.
Directions: Make a "roux" (don't get scared, that's just butter+flour), whisk in milk and beer, drink a beer, add cheese and spices, bake it.
How Sweet It Is controversially states that mac and cheese is better than bacon, but their recipe includes beer so we'll give them a break.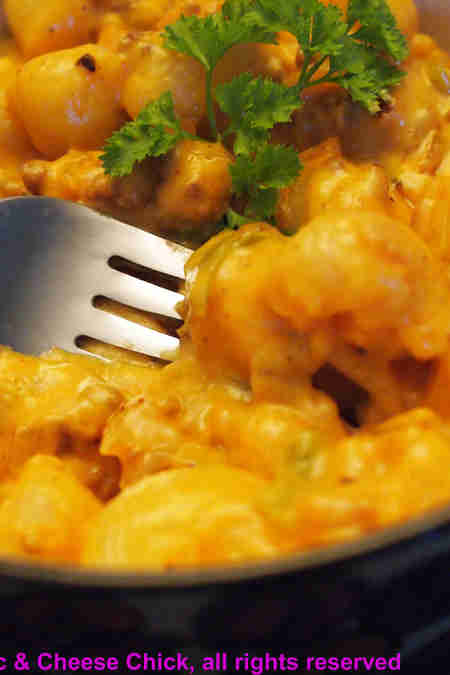 Fire-Roasted Hatch Chile Mac & Cheese
Difficulty: Medium, because you're actually roasting peppers.
Ingredients: Hatch chiles, sharp cheddar, chorizo, onion, and garlic.
Directions: Stick a few peppers directly on your stove burner to roast them, chop all the veggies, brown the chorizo, make that butter/flour sauce we keep talking about, and add everything to it. Stir in cooked pasta and you're ready to go.
All you need to know is that this recipe is from the Mac and Cheese Chick.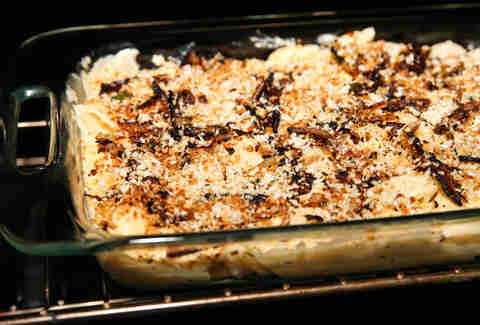 And finally, the recipe I tried...
Sage Brown Butter & Bacon Mac 'n Cheese
Difficulty level: Medium (I managed okay, so it might be easy for you).
Key ingredients: Butter, bacon, sage leaves (which Whole Foods doesn't stock, but powder worked), shallot, jalapeño, "assorted" cheeses, and breadcrumbs.
Directions: Wander around Whole Foods looking for sage leaves. Ask a nice employee to help you find them. Wait while they walkie talkie produce to no avail. Go home. Saute bacon with jalapeños and shallots, melt butter with sage powder. Add flour and whisk with a hmm, this wooden spoon should work fork, shred some cheese and a little bit of your thumb, mix in way more cheese than seems reasonable. Add to cooked mac. Put it in the oven. Eat for a few days straight. Go to the gym at some point.
FINAL THOUGHTS
I made a recipe from Lemony Thyme. It was a total success except for that cheese grater accident. And also slightly burning my other thumb while repositioning that nice casserole pan my mom gave me, all while fumbling with the settings on my camera using hands that were still coated in bacon grease even though I washed them twice.
The bottom line is this: if you've never made macaroni and cheese from scratch, you should start tonight.
Dan Gentile is a staff writer on Thrillist's national food/drink team who recently purchased a very nice toaster oven and is excited about exploring the world of crispy reheated food. He also enjoys hating mustard. Follow him to pots of gold/Twitter at @Dannosphere.