At the end of a long day, the words "20 minutes or less" usually point to a future that involves either fast food or a Domino's driver with a serious disregard for speed limits. These recipes -- from coconut chicken satay to tuna ceviche -- use minimal dishes, minimal ingredients, and, most importantly, minimal time. Skip the takeout line and get to the couch quicker with these incredible 20-minute meals.
A classic Caprese is an unadulterated union of ripe tomatoes, fresh basil, and mozzarella. But that's, you know, just an appetizer. If you toss in some grilled chicken and homemade balsamic dressing, you've got yourself a pretty damn robust entree. Get the recipe here.
How do you take something as meh as cabbage and make it pop? Brighten it up with
jalapeño and a squirt of fresh lime juice, making it a welcome companion to a pound of jumbo shrimp stuffed in crispy corn shells. Get the recipe here.
Twenty minutes is all it takes to feed four voracious guests. That's five minutes per guest, average. Oh, and you probably already have the ingredients in your pantry. Aside from the chicken breasts, of course. That'd be pretty gross. Learn the ins and outs right here.
It's the perfect combination of lazy and delicious: pre-made chicken tenders, lettuce, cheese, and Buffalo sauce are wrapped in tortillas, then lined up in a dish, sprinkled with grated cheese, and popped in the oven. It's a one-dish ticket to owning any potluck. Get the recipe here.
The beauty of pad Thai is that it can come together at home in as much time as it takes to get takeout. The beauty of this pad Thai is that the squash noodles, bean sprouts, chicken, and egg make it Paleo-friendly... in the event you're on a diet or a cave person. Learn how to make it here.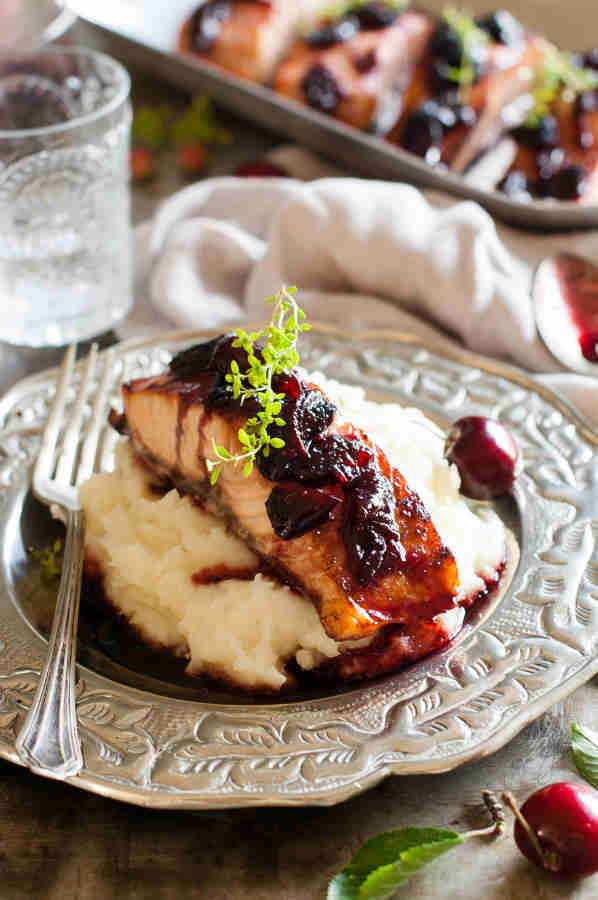 Balsamic vinegar and cherries are an unexpected combo to pair with salmon, but the sweet-and-savory homemade sauce is a surprisingly delicious substitute for capers! Recipe here.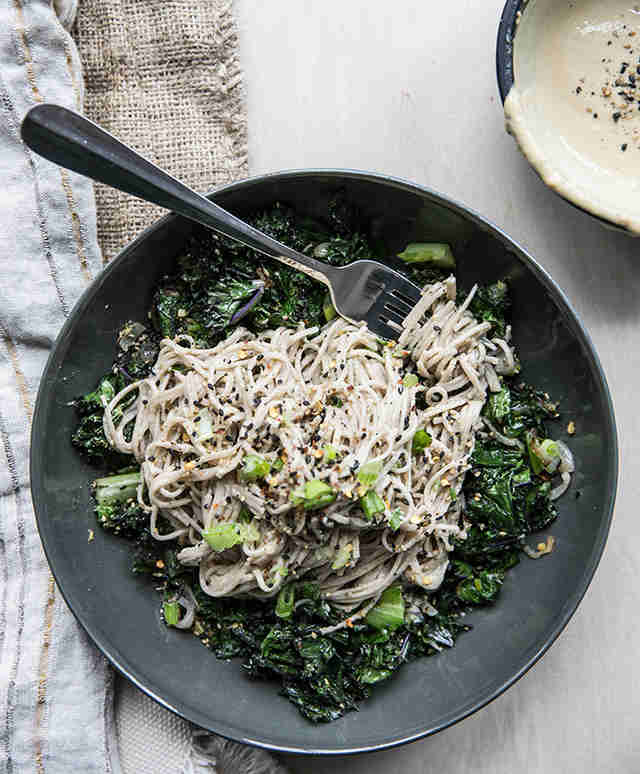 Mild-flavored soba noodles are an excellent canvas for healthy, flavorful meals. This recipe calls for them to be tossed with homemade ginger tahini, then topped with crisped shallots and seared kale and romaine. Serve them with your favorite protein (preferably not pantry chicken) on top. Recipe here.
This is an impressive dish that's so simple it can be thrown together on a baking sheet. Just combine tahini, coconut milk, honey, lime juice, and spices for the chicken marinade, then top with shredded coconut. The coconut quickly gets toasted after a moment in the oven, so it's extra sexy to lay out in front of guests. Recipe here.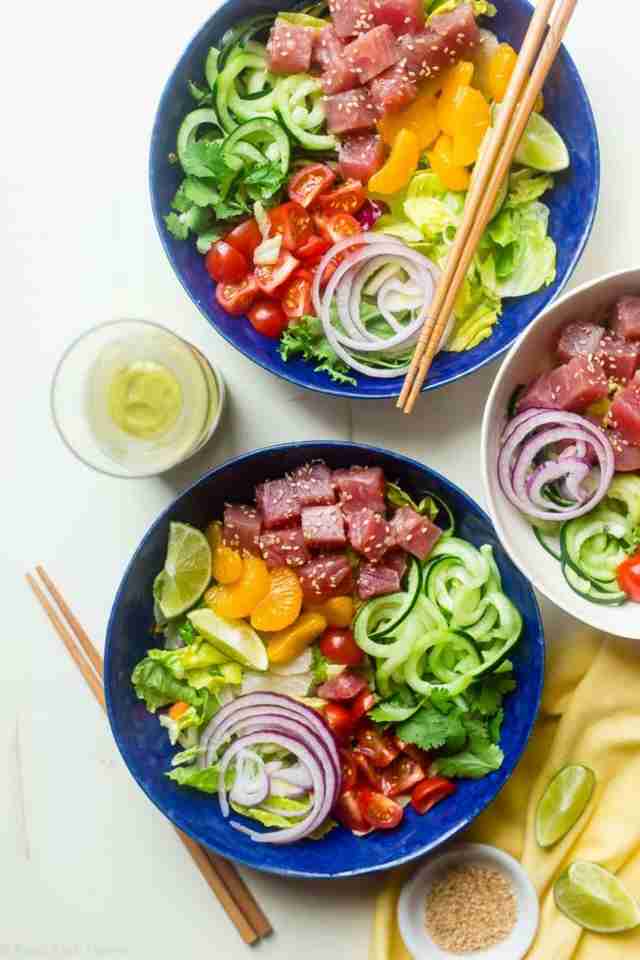 Poké bowls are having a moment in the spotlight (though there's another Poké-thing stealing their thunder), and they're also super easy to assemble at home, since they involve zero heat or electricity. Case in point, this tuna ceviche, which consists of cubes of raw tuna that get tossed in lime and orange juice, then arranged in a bowl with veggies and an easy avocado dressing. Learn the technique here.
The next time you think of ordering your favorite Chinese dish, remember that this lo mein recipe can be made in less time than it will take for your delivery to arrive. Just toss fresh-cut veggies and ramen noodles with soy sauce, sesame oil, and sugar. Chicken, tofu, and zodiac-emblazoned placemats are optional. Get the recipe here.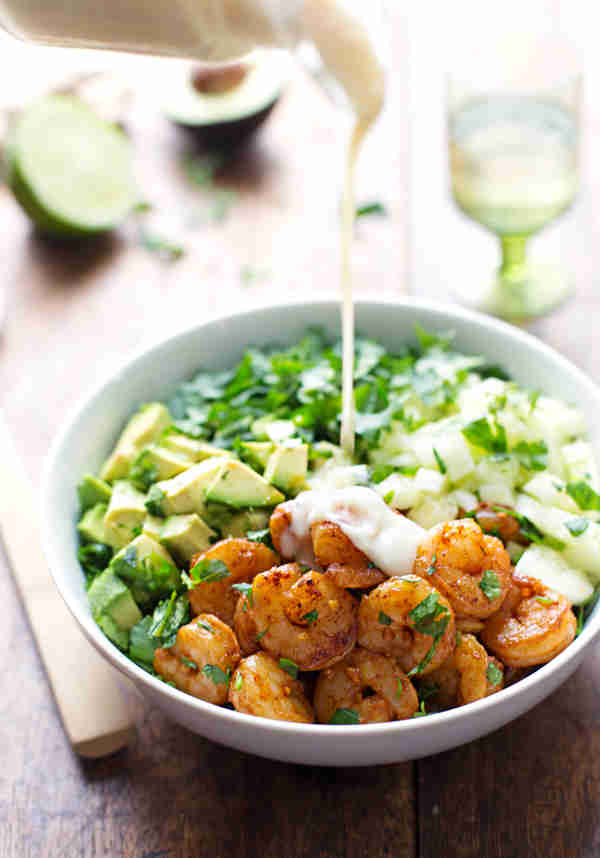 Buttered, spiced, sauteed shrimp get a cool pairing with chopped spinach, kale, and avocado slices. Then it's all lathered up together with a homemade dressing made from ginger, garlic, lime juice, agave, and white miso. There's salad, and then there's art. This is the latter. But also the former. Make this a weeknight staple and get the recipe here.
Sign up here for our daily Thrillist email, and get your fix of the best in food/drink/fun.