These are the country's craziest eating challenges
Some heroes can run like lightning. Others slay mighty beasts. But real heroes focus their minds, bodies, and souls in order to tackle the most arduous of tasks. Maybe it's eating 10lbs of meat in one sitting, or braving a bowl of broth infused with the world's hottest chilis. Below are the most-audacious eating challenges across the nation, the ones that separate the Richmans from the Richboys. Read up, then start training.
Cowtown Diner's Full O' Bull Challenge (Fort Worth, TX)
Everything truly is bigger in Texas -- including health care bills -- thanks to the Lone Star State's obsession with giant steaks. The one at Cowtown Diner, though, ups the ante by deep-frying a 64oz'er and pairing it with 6lbs of mashers, gravy, and 10 slices of Texas toast (seriously... watch them make it here). The prize for eating this Guinness World Record-winning slab of beef and its Irish cousins? A free meal, a picture on the wall, and a t-shirt that definitely won't fit.
Piranha's Bar & Grill Cheesesteak Challenge (Nashville, TN)
Most cheesesteaks are a soggy mess after three bites. Now imagine the slop on your plate as you tackle a 10lb cheeseteak covered in coleslaw and fries. Luckily, most cheesesteaks also don't come with a $100 prize just for consuming them… unfortunately, only one person's managed that feat, so get ready to drop $50 just to try.
Fat Sal's Deli's Big Fat Fatty Challenge (LA & San Diego, CA)
27 inches isn't just the length of this sandwich from a restaurant owned by Turtle from Entourage. It's also roughly equivalent to your future waistline-expansion after you suck down a hero stuffed with shredded beef, cheeseburgers, mozz sticks, fried eggs, poppers, pastrami, fried chicken, chili, and onion rings. You've got 45mins to finish the monster, and, if you do, you get to name a sandwich on the menu... a name that will probably also be on your tombstone.
J&J's Pizza Shack's Kitchen Sink Challenge (Six Locations Across Indiana)
In a challenge that would give the Noid Schwarzeneggarian biceps from repeated curls, this Indiana mini-chain loads a deep-dish monster with 6lbs of cheese, meat, and whatever "vegetables" are. Your prize for eating the 20-slice behemoth in less than an hour is just a free pizza, but nobody has ever made it all the way. Not even the Noid, who disappeared shortly after attempting.
The Edinboro Hotel's Loch Ness Monster Challenge (Edinboro, PA)
A challenge that'd probably kill a highlander faster than Christopher Lambert's sword, this sadistic place gives you 90mins to house a whole loaf of Italian bread stuffed with 1.5lbs of steak, 2lbs of meatballs and hot sausage, mushrooms, peppers, onions, and a gigantic slop of Provolone and marinara. Manage it without ripping your kilt and it's free (it's $46 otherwise), plus a free t-shirt, and a spot on the wall of fame, where, unfortunately, there can be more than one.
Mama Campisi's Mama's Challenge (St. Louis, MO)
For potential marathoners looking to carbo-load or people who never want to run again, take the plunge into this gigantic bowl of spaghetti and marinara topped with a meatball somewhere between the size of a softball and a bowling ball, all for a glorious t-shirt and the ability to say you ate more meatball than Gary Busey.
Nitally's ThaiMex's Inferno Bowl (St. Petersburg, FL)
Most challenges either go for spicy or for quantity. This Bangkokxican-fusion joint does both with this Satan soup, served in a 48oz bowl and cooked with 12 different peppers… including ghost chili (have you eaten these things? They're the absolute worst). The reward for eating the whole thing without puking fire? $1,000. Put it towards a new esophagus.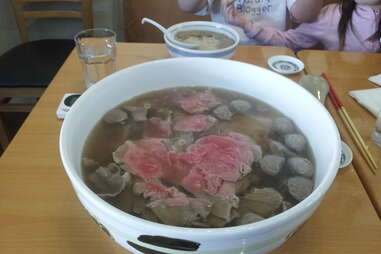 The Pho Garden Challenge (San Francisco, CA)
How phoking big is this gargantuan bowl of pho? The bucket boasts a whopping three extra-large orders of pho… including two full pounds of steak, intestines, tendons, brisket, meatballs, enough noodles to fill a pool, and over a gallon of broth. Essentially, enough to feed a small village, and if your stomach is the village in question, that bucket's free.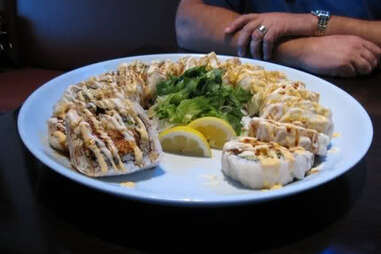 The Sushi Delight Godzilla Challenge (Lomita, CA)
Sushi's brain food, but your brain's probably not firing on all cylinders if you're tackling this 4lb roll packed with more than a dozen ingredients, including lobster and spicy tuna, and served up like the world's biggest/ quasi-healthiest burrito, all in the name of getting free food and a photo on the wall of fame (losers, by the way, get publicly shamed on a different wall).
Fat Sandwich Company's Big Fat Ugly Challenge (Champaign, IL & Madison, WI)
Named for what you'll look like when you consume it, the Big Fat Ugly sandwich consists of four cheeseburgers, a double-cheesesteak, a pile of gyro meat, grilled chicken, bacon, pork roll, sausage, fried cheese, a chicken finger, jalapeno poppers, pizza bites, hash browns, and fried mushrooms (for health) slathered in cheese, mayo, and ketchup. You have 15mins or you have to pay for it... which is actually much cheaper than your lifelong insulin prescriptions.