Akua buys kelp from Salt Sisters founder Colleen Francke

| Photo by Jonathan Laurence, courtesy of Akua
Akua buys kelp from Salt Sisters founder Colleen Francke

| Photo by Jonathan Laurence, courtesy of Akua
Seaweed is bringing a whole new meaning to eating your greens.
While you may envision lanky, leafy organisms living at the bottom of the ocean, seaweed actually refers to a number of species and algae found in the ocean and other bodies of water. And you can eat it.
A specific type of seaweed called kelp is showing up on dinner plates and in snack bags, bringing along a host of vitamins, and significant sources of potassium, calcium, and iron. But thanks to regenerative farming techniques, companies like 12 Tides and Akua are bringing kelp to you without ever having to go deep sea diving yourself.
"[Ocean regenerative farming] is a form of aquaculture in the ocean, and the idea is that it has a net positive benefit on the surrounding marine ecosystems," says Pat Schnettler, co-founder of 12 Tides, a San Francisco-based company that produces organic puffed kelp snacks. "In our context, it mostly involves kelp and seaweed farming and, because it's also zero input, it helps improve water quality."
Seaweed grown using zero-input ocean regenerative farming requires no fertilizers, pesticides, land, or freshwater. These ocean farms absorb a ton of carbon, and since the excess carbon in the ocean is what causes acidification, these techniques prevent species loss.
12 Tides primarily partners with Sarah Redmond, the founder of Springtide Seaweed in Maine. "Kelp farming is still a fairly small industry in North America, but it's important for us to maintain that direct relationship. We want our work to support the farmers and support the industry of regenerative ocean farming and help it grow," Schnettler says.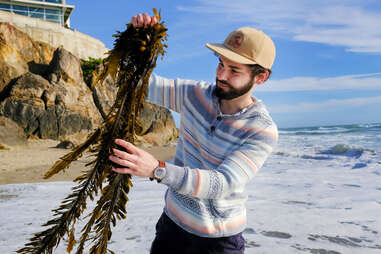 Seaweed farming is a complex process, typically beginning in October or November when the baby seaweed spores go out into the oceans attached to twine. Then, the twine gets strung out between buoys, forming a big array of seaweed.
"Seaweed can grow quite quickly. There's some species on the West Coast that can grow up to two feet a day. Our species doesn't grow quite that fast, but by April, May, and early June, it is basically full sized," Schnettler says. "There's not too much over processing that happens when you take it out of the water, but basically you strip it off the lines, wash it, clean it, dry it, and then it's ready to use in our snacks.
12 Tides snacks currently come in four flavors: sea salt, chili, and "everything"—which the owner and chef of Nightbird, Kim Alter, helped to develop.
But aside from choosing the right products and flavor combinations, Schnettler's interest in finding new ways to utilize the ocean's natural resources while also preserving it and its creatures stems from years spent in various parts of the seafood industry.
"I saw all of the bad things that are going on in the ocean," he says. "All of the overfishing, all of the pollution, all of the coastline destruction. I knew there had to be a better way for our food system to intersect with the ocean and that's really what we set out to create with 12 Tides."
The decision to create puffed kelp snacks was rooted in Schnettler wanting to make kelp accessible and easily introduce it into people's diets. "One of the problems we set out to solve is that we don't eat a lot of kelp here in the United States," he explains. "Most people aren't used to eating kelp and we wanted something that tastes great, is a low barrier, and can be eaten straight out of the bag.".
Like 12 Tides, New York-based Akua also incorporates kelp into its products, which include kelp pasta, kelp jerky, and kelp burgers. Because of its versatility, kelp is a great vegan alternative for meats and when the founders of Akua were brainstorming on how to make it easily edible, providing meat-free options for popular snacks and foods in the U.S. was the first step.
"We were like, 'Well, how do we get more Americans eating kelp?" And we thought, 'Well, nothing's more American than jerky, burgers, and sausages,'" says Akua co-founder Courtney Boyd Myers. "We decided to launch kelp jerky as our first product. We had the recipes for the burgers and the sausages already underway, but we wanted to start out with a product that was shelf stable and very easy to ship."
In collaboration with food scientists and chefs, Akua's team developed the jerky flavors, which come in hibachi teriyaki, rosemary and maple BBQ, sesame and nori sea salt, and spicy chili and lime.
"I think sesame and nori is a really important flavor because we have the nori sheets that are in the grocery stores, and people are familiar with the taste of nori," Myers says. "Our teriyaki and barbecue kelp jerkys are more meaty if you're coming over from the beef jerky aisle. Then our spicy chili and lime is quite earthy with a little bit of spice."
Akua works with a tight network of seaweed farmers along the northeast coast in Maine, including Colleen Francke, the head of Salt Sisters, a completely women-owned kelp farm in Maine.
"She works with women who are coming out of alcohol recovery and gets them out on the boats with the Labrador dogs, and gets them into this community that's really supportive," Myers says.
Though kelp farming has shown a multitude of benefits to not only the environment but also local farmers, Myers is aware that aquaculture is still given the side eye by many.
"I think in the past, fish farming and aquaculture has been done really poorly, and so it gets a really bad reputation. I hope that kelp farming is an example for a lot of the different fish farming practices," she says. "You don't need fertilizers, you just need to grow it in the environment that it's already in. You have this whole new way for local fishermen to make money so that maybe they don't need to fish as much, and they can become more ocean gardeners than ocean hunters."