8 Eco-Friendly Cannabis Brands to Support for Earth Day
There's a common bond between causes that support both cannabis cultivation and the protection of Mother Earth.
Design by Maitane Romagosa for Thrillist
It's fitting that the counterculture holiday of 4/20 and Earth Day share the same week on the calendar, marking the ritual of farming and consuming cannabis plants as part of life's great crop rotation. It doesn't take the crunchiest of hippies to recognize the common bond between causes that support both cannabis cultivation and the protection of Mother Earth.
While the production of plant medicine and agricultural sustainability should go hand-in-hand, that's not always the case in the cannabis space where trends of throw-away vape pens, excessive non-recyclable packaging, and generally less-than-transparent business practices still persist.
While said bad actors are certainly a contaminant within a blossoming industry, we're here to focus on the cannabis brands who are leading the charge in eco-consciousness and setting an example by treating cannabinoids like the manna from heaven that they truly are. From sustainable soil to recycled packaging, it's worth supporting the environmental efforts of these Earth Day-inspired companies.
Elite concentrates start with great plant material, and Raw Garden's live resin products are sourced from a 50-acre organic farm in the rolling hills of Santa Barbara's wine country. For the uninitiated, "live resin"—the most popular concentrate to fill vape carts and dab rigs these days—is made when freshly harvested cannabis is cryogenically flash-frozen and extracted into a resinous sauce that offers more flavor, aromas, and possibly the truest representation of a strains' characteristics than other forms of consumption. Raw Garden is prolific in its resin output, having produced live resin from more than 850 different strains, with a new drop launching each week.
To achieve a resin with no artificial ingredients, flavors, or thinners, Raw Garden's grow operation is modeled on existing USDA organic agricultural standards, to ensure environmentally clean and sustainable practices. Meeting those standards means using only organic and natural fertilizers, soil amendments, and pest control methods on the farm. Raw Garden's plants also use less than a gallon of water per plant, per day—about five times less water use than average for California.
The industry's premiere cannabis wellness brand, Papa & Barkley backs up its clean living ethos with pure ingredients. Having cornered the CBD section of many dispensary counters, you'll find myriad Releaf products from patches and balms to tinctures and gummies, all with variances in intended use cases and levels of psychoactivity.
Rather than relying on harsh chemical extraction methods that yield isolates or distillates, Papa & Barkley uses a proprietary solventless whole plant infusion process to preserve the purity of its final products. Base oils are made by slow-cooking the plant at low temperatures, using only heat, water, and pressure to infuse the oil and maintain the plant's integrity, after having been cultivated in a balanced, stress-reduced atmosphere in order to lessen the impact on the environment. As per the brand's Clean Halo mission statement, Papa & Barkley goes to great lengths to ensure supporting ingredients like coconut oil, MCT oil, and beeswax are also made using organic principles with no residual chemicals.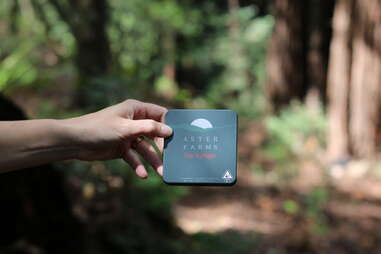 Not many cannabis cultivators would be proactive in putting out a consumer-facing sustainability report tracking all water, carbon, solid waste, and energy consumed and produced at their farm, but that's indicative of Aster Farms' commitment to the community. The Lake County cannabis company, founded in 2018, was born from three generations of weed knowledge with dedication to intentionality, transparency and organic practices.
The jarred eighth of Sour Maui or Day to Night pre roll pack you pick up or have delivered is sun grown by Aster Farms using responsible farming techniques, native soil, and organic inputs, essentially letting nature do the work. Growing with live soil means farmers don't discard depleted dirt after a harvest, but instead use regenerative crops like sunflowers, peas, and rye to reintroduce nutrients and use the soil over and over again.
When a company's founder creates a gilded $24,000 joint with world famous roller Weavers to raise funds for the African Wildlife Foundation, it's fair to say they're down for the environmentalist cause. Such is the case with Lex Corwin's Stone Road, known for their hand-rolled joint packs and infused pre rolls, all made with whole sun-grown flower on a sustainable biodynamic farm in Nevada City, California.
Stone Road's remote farm is off-grid and 100% solar powered, featuring a deep artesian well with living microbial water that gives it's plants the ideal pH level of 6.4. From cultivation to post-harvest, a new 2021 eco-conscious initiative will have packagers utilizing rice protein isolate to create the shrink wrap material around the pre roll packs along with sourcing fully recycled glass jars for flower using reclaimed ocean plastic for child-resistant lids.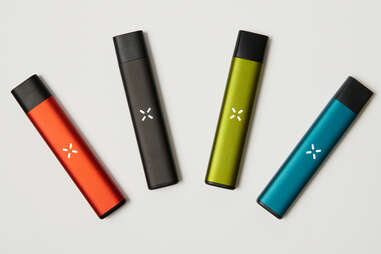 With vape sales projected to outpace flower and edibles as soon as next year, for the sake of the environment, it's critical to address the omnipresence of disposable 510 threaded vape pens. The skinny, screw-on style vape cart/battery combos are un-recyclable landfillers—analogous to Keurig cups. Popular vaporizer maker Pax has taken steps in the right direction by introducing multi-use devices and accessories that emphasize durability for sustained use over time.
Pax Labs' touts its latest pod packaging as fully recyclable and biodegradable, while still meeting strict requirements for child resistance. Devices like the Pax 2, Pax 3, and Pax Era Pro and Era Life leverage recyclable packaging as well.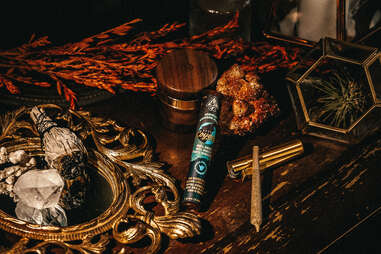 As you might have imagined, Space Coyote is a brand that was conceived during a meteor shower in Joshua Tree, with the line of heady and potent infused joints to prove it. While Space Coyote's glazy collaborations—such as a hash joint with Nasha Extracts, diamond joint with Moxie, and live resin joint with Utopia—are geared toward cosmic experiences, it's heartening that the business is grounded in sustainable practices.
After carrying out an environmental impact study on packaging, co-founders Libby Cooper and Scott Sundvor looked to address how they source the raw materials for the plastic tubes that house their powerful prerolls. The brand has taken the long and arduous journey to source and ultimately create low-impact joint tubes made of recycled aluminum with the aim of making the process open source to the entire industry. Their marketing focuses on educating consumers on the environmental impact of cannabis products and breaking stigmas around outdoor cultivation.
Among the top-selling flower brands in California and recipient of Cannabis & Tech Today's Sustainability Award, Glass House Farms cultivates over 500,000 sq. ft of greenhouse space in Carpinteria, just off the Santa Barbara coast. Those greenhouses are cooled by wind rather than air conditioning using the Golden State's 330 days of sunshine in place of artificial lights.
Among Glass House's sustainability practices include integrated pest management and a water recapture system that collects all of the leftover water the plants don't soak up, cleans it, then recycles it to avoid waste or infiltrating the groundwater table with nitrogen or fertilizers. The farm filters the water using cutting-edge, medical-grade ultrafiltration units that remove pathogens without disposing of the nutrients.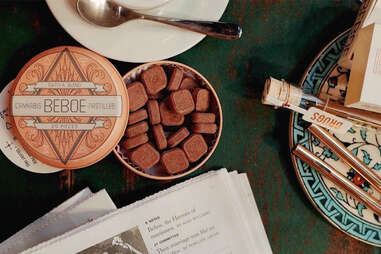 A luxe brand with down-to-Earth, less-harmful packaging choices: Beboe's credo of "We love you and want only the best things for you" is more than a corporate tagline. That sense of responsibility was passed down to founder Scott Campbell from his 85-year-old grandmother, Be Boe, who would make cannabis brownies for Scott's cancer-stricken mother.
Starting with Beboe's line of uplifting and downtime pastilles, which check accessibility boxes of being 100% vegan, gluten-free, dairy-free, low-sugar, and socially-dosed, the commitment to sustainability shows through with the tins made of post-consumer recycled materials and printed with FDA certified food grade ink. The brand's vape cartons likewise are produced with soy-based inks and dyes, aqueous and natural adhesives, and recycled board.
Sean Cooley is a senior contributor to Thrillist having spent the past decade covering cannabis, travel, and Los Angeles food and events. He's worked with the top brands in weed including Weedmaps, High Times, Vangst, and Grassdoor. Follow his half-baked festivities on Instagram