Chef Edward Lee Admires Louisville's Warmth and Slow Pace of Life
He also loves the city's most storied liquor, bourbon.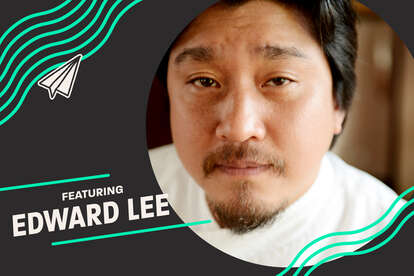 Photo: Dan Dry; Illustration: Maitane Romagosa/Thrillist
Photo: Dan Dry; Illustration: Maitane Romagosa/Thrillist
Life in Louisville is slightly slower-paced. There's a real sense of community: a spirit of generosity, curiosity, and good times. We do things a little bit differently here. We drink way more bourbon than the rest of the country, which probably contributes to our unique way of thinking. And the bourbon definitely tastes better here.
I came to Louisville after 9/11 to start a new life and didn't think I'd stay forever. I thought I'd maybe stay here for a year or two and see how I liked it. It's now been 19 years. There's something about this place that really captures you and puts its arms around you, so it's hard to leave. Personally, for me, it was really special that I came here and I found my voice. I found my cooking style, found my wife, and had my child here. I also found a city and a people that accept me. I'm a Korean kid from Brooklyn and to come to Louisville, Kentucky and not only be praised for what I'm doing -- but also to be loved and to be honored by the people here -- is really special.
But it makes sense. From the beginning of Louisville's existence as one of America's most important port cities on the Ohio river, there has always been a tradition of outsiders and business people coming in. There's a very rich history of African American culture and food and contributions here. There is a historic depth of German culture that came in from the East and down from Appalachia many generations ago. There's a midwestern work ethic coupled with a Southerner's love for food, drink, and storytelling. It is a commerce city, but it's a city of people who are open minded and want to start something cool. We're not a big city, we're not a small town, we're somewhere in between and that gives up a lot of freedom to do things. We don't have a singular identity that defines us.
There are some cities where you can open the best restaurant in town but you're just another restaurant. Here, I feel like people really have a vested interest in seeing me do well. People come to my restaurant and say thank you to me, and that doesn't happen. The people here are truly appreciative; they get it and they support independent restaurants. They're some of the kindest people I've ever met.
This also results in the amazing restaurant scene here. Mayan Cafe and Vietnam Kitchen have been here forever. The owners are like family to me and people you've grown old with. You see them and witness their struggles and their successes. And then you have newer restaurants -- places like Decca that are doing amazing things. The chef there, Annie, is a trailblazer and creating a new generation of food that's fantastic to see. There's a place called Bar Vetti that is young and vibrant and delicious, but with an attitude. It's definitely a generation younger than mine that's taking whatever Louisville is and doing it even better. There are soul food restaurants that are definitely a mainstay of my diet; places like Indi's Fried Chicken, which is an institution here, and Big Momma's soul food. One of my favorite Indian restaurants is called Dakshin and they are located in the most inconvenient neighborhood you could ever imagine, but they serve some of the best food. They're feeding hundreds of people during the crisis right now. They're community-driven people with some of the best Indian food I've had. There's a beer and gastropub bar called Holy Grale, which is in my neighborhood, and I probably walk over there once a week and grab a beer, sausage, and a pretzel. These places are treasures and they really sort of create this multilayered city where you can get everything -- they're worth supporting and they're worth saving.
When this is all over, my ideal day in Louisville is heading straight back to my restaurant and going to work. I'm going to support my farmers and get back to cooking. I'm going to hug my customers -- safely -- perhaps with a metaphorical embrace.
The culture of Louisville is all about kindness, warm embraces, sitting down and telling stories to each other, and staying up a little too late. It's about losing yourself in the moment and just enjoying life and living it to the fullest. I really hope to get back to doing that and offering it at my restaurant. Everybody needs a big ol' exhale and to let loose. I can't wait to go back and feed people, serve people, and show them a good time -- in the same manner that Louisville has provided for me.
With love,
Edward Lee
Sign up here for our daily Thrillist email, get Eatmail for more food coverage, and subscribe here for our YouTube channel to get your fix of the best in food/drink/fun.