Watch This Lady Blacksmith Totally Steal Anthony Bourdain's Spotlight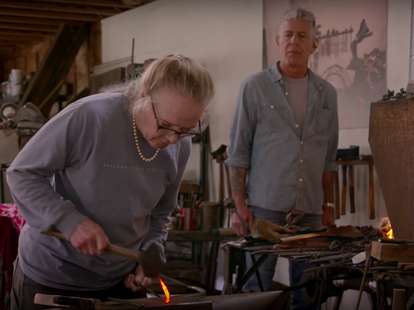 The seventh episode of the second season of Raw Craft with Anthony Bourdain -- a sponsored web series that features American artisans -- takes a look at a woman blacksmith so flippin' cool that you won't even notice Balvenie distillery's product placement.
Her name is Elizabeth Brim and she's made her name forging and inflating playful, elegant, and unexpected objects out of iron, a decidedly indelicate material. Bourdain travels to her home in North Carolina to meet with the pearl-wearing master metalsmith, first as she meticulously fashions a flower and then as she spreads knowledge to her students at the Penland School of Crafts.
"I was brought to believe that I needed some man to take care of me and to pay the bills and to make sure the oil in my car was changed and my tires were good... and so I'm really proud that I was able to pay that house off by selling my work," Brim says to Bourdain when they talk about the aftermath of a failed marriage. She's just so, so great. Bourdain himself even says she's the type of woman his own daughter will grow up to be.
Of course, you'll have to watch the video to understand the full breadth of this woman's work and badassery. But on a final note, know that she loves Tupac.
Sign up here for our daily Thrillist email, and get your fix of the best in food/drink/fun.