The Emmys air at 8pm tonight, and while we're pretty excited to see Jesse Pinkman and Dame Maggie Smith in the same room, we can't get over some glaring snubs. No love for Game of Thrones's Hot Pie or, more importantly, True Detective's Big Hug Mug? Since these all-stars deserve their due, we put together our own awards for the greatest food and drink moments from the latest season of TV. In our book, you're all winners.
Recommended Video
How to Have a Romantic Date at a Fast-Food Joint
Best BBQ: Freddy's
(House of Cards)
If the schemiest VP of all time is willing to eat your ribs at all hours of the day -- even 8am -- clearly you're making some damn good food. And if you're willing to ignore his weird habit of talking to himself, clearly you're a savvy restaurateur.
Best Last Drink: Dimple Pinch
(Breaking Bad)
He doesn't get to finish it, but Walt's Dimple Pinch (neat) made for a solid final drink. We don't even want to know what ghastly purple cocktail Marie would've chosen.
Most Appropriately-Named Chef: Hot Pie
(Game of Thrones)
He makes great pies, and they are usually warm, and so he was christened Hot Pie. Everyone else on this show should be grateful they weren't named for their actions, or we'd have a whole lot more Brother Lovers and Secret Hookers running around Westeros.
Best Beer Pong Rules: The Sigma House Rules
(Saturday Night Live)
Who cares about re-racks when you could be drawing your ideal roller coaster, or posing as a life-sized baseball card?
Most Uncomfortable Candy Binge: Betty Forces Bobby to Eat Gum Drops
(Mad Men)
You gotta feel bad for Bobby Draper. He's so forgettable, he's been played by three different kid actors, and he's so reviled by his icy mom, she basically shoves a bag of gum drops down his throat for trading her sandwich. Hopefully one day, he'll find some peace in sugary treats.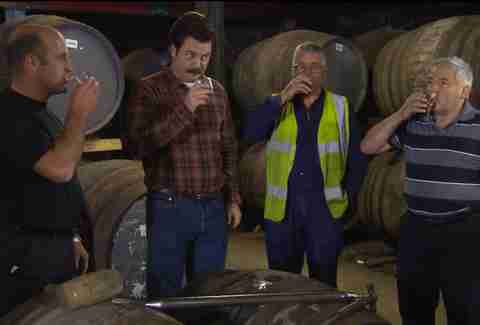 Best Boozy Pilgrimage: Ron Visits the Lagavulin Distillery
(Parks and Recreation)
The only thing that can get America's unofficial mascot Ron Swanson to enjoy Europe is the promise of excellent Scotch. Luckily, the Lagavulin distillery in Scotland had just the stuff.
Worst Meal: That Dude's Leg
(Hannibal)
Well, to be fair, Lecter probably thought it was awesome. The dude in question? Not so much.
Best Amateur Pizza Critic: Detective Boyle
(Brooklyn Nine-Nine)
Of course the biggest food snob on the force has a carefully curated pizza ranking email. We're only surprised he hasn't set up a companion podcast.
Most Delicious Bargaining Chip: Vee's Funfetti Cake
(Orange Is the New Black)
Though we guess Cup Noodles and prison hooch are the more commonly bartered jailhouse items, that Funfetti cake looks way, way tastier.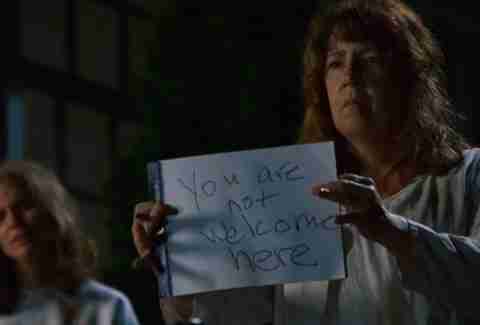 Most Deceptive Title: The Leftovers
(The Leftovers)
You mean this show isn't about a ton of day-old meatloaf?
Best Coffee Mug: Big Hug Mug
(True Detective)
Cohle might've been more interested in his pile of Lone Stars than the cup he used as an ashtray, but for everyone else, the Big Hug Mug was as beguiling as McConaughey's sweet facial hair.
 
Most Likely to Drink Tequila Over Jazz Music: Carrie Mathison
(Homeland)
Admittedly, it was a little shocking to see Carrie buying something other than white wine in the season three opener. But new booze preferences aside, this was still the same old Miles Davis-lovin' nutjob we'd come to know.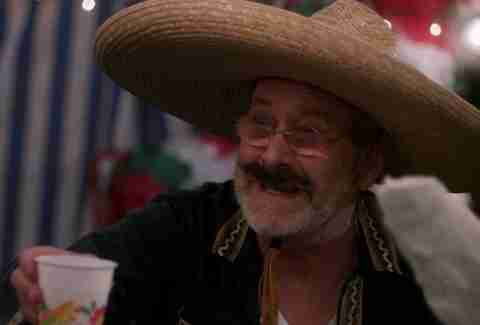 Best Bartender: Gene Parmesan
(Arrested Development)
We would order so many glasses of Donkey Punch from this guy -- provided we could recognize him in his many, brilliant disguises.
Kristin Hunt is a food/drink staff writer for Thrillist, and just signed up for Boyle's pizza email blast. Follow her at @kristin_hunt.