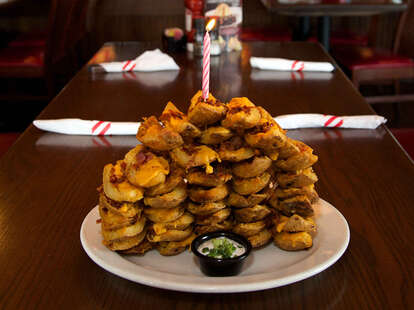 Conventional wisdom tells you not to load up on appetizers before your meal. But conventional wisdom is for cowards, because TGI Fridays is now offering unlimited apps for $10.
And you've got options: eat all the mozzarella sticks, pot stickers, boneless buffalo wings, green bean fries, loaded potato skins, garlic & basil bruschetta, or Tuscan spinach dip your stomach can handle, for just one Hamilton. Plus you get free refills. Since Fridays would prefer to stay in business, they're only running the promotion for a limited time this Summer. They'd also really appreciate it if you got your own stuff and didn't share 16 rounds of pot stickers with your entourage, but we suppose the only thing stopping you is the honor code. And side-eye from your fellow patrons.
Kristin Hunt is a food/drink staff writer for Thrillist. She consumed many mozzarella sticks at the Fridays in the Westview Promenade in high school. Follow her at @kristin_hunt.