Restaurant Customers Who Made Servers' Lives a Living Hell
Welcome back to Off the Menu, where we bring you the best and strangest food stories from my email inbox. This week, we have our old favorite: terrible, horrible customers. As always, these are real emails from real readers, though names have been changed.
Goddammit, Richard
"I recently met my girlfriend's parents when they came into town for her college graduation. Everything seemed normal until we decided to dine together, at which point I realized exactly what she meant by 'my dad can be difficult sometimes.' [Editor's Note: Strap in; this story is basically an onion of crazy -- just layers upon layers.]
"We went to a local Mexican restaurant known for its robust cocktail menu. It's a swanky place, not super-fancy, but definitely not a hole in the wall. My girlfriend's dad (we'll call him Richard) didn't seem too pleased with anything on the menu even though it was quite extensive. He finally seemed to select something and put his menu down with ours (we all decided fairly quickly what we wanted). The server came by to take our orders, and they had the following exchange.
"Richard: 'The fish in your fish tacos, is it SUSTAINABLE?'
"Server: 'Um, sir, can you be a bit more specific? Our fish is caught locally, I can get the name of the company we buy it from?'
"Richard: 'But is it SUSTAINABLE?'
"Server: 'Can you be a bit more specific about your concerns? What do you mean by sustainable?'
"Richard: 'Sustainable.'
"Server: 'I can get my manager, if you'd like?'
"Richard: 'No, don't worry about it. I'll have the the steak fajitas. But I want my dessert first. Bring me the ice cream.'
"Server: 'You want the fried ice cream… before your meal?'
"Richard: 'That's what I said.' He was staring at her as though she was being absolutely absurd to even question this request.
"The server scribbled it down and took the rest of our orders as we stared at each other in disbelief. My girlfriend got up to 'use the bathroom,' but actually found the server and apologized on behalf of her dad.
"It got a lot weirder from there.
"We ran out of chips. No big deal: The service had been super-fast the whole night with refilling our drinks and such, so none of us were sweating it.
"Except Richard.
"He pulled out a flashlight and started flashing the servers in their eyes as they passed our table, blinding a couple of servers as they carried heavy trays past us. His wife attempted to get him to stop, but he insisted he needed to do this to 'get the servers' attention.' Finally, our server came over and refilled our chips and my girlfriend managed to take the flashlight away from him.
"His ice cream came out and he ate it while we all exchanged looks. He retained his ice cream spoon, and once our meals arrived he proceeded to eat his fajitas WITH THE ICE CREAM SPOON. He also kept exclaiming that the 'caramel sauce' the fajitas came in was splendid. It was not caramel sauce -- it was spicy brown fajita juice.
"He decided he needed to speak to the chef. He said he needed to thank the chef for coming to this country and allowing us to experience his fine cuisine. Never mind the fact that Mexican food is super-popular and common in America. Never mind that he didn't know the immigration status, country of origin, nor the race of the chef in question, nor the fact that this perspective is condescending as all hell. We finally convinced him -- somehow -- not to go back and talk to the chef, because 'the restaurant is too busy, please don't bother him, just let him do his job.'
"Then the check came and we were ready to be done with this meal, which had gone on for 90 minutes at that point.
"Then Richard decided he needed to have an appetizer. The server looked puzzled, but put in an order and brought out a new check. We all waited an additional 40 minutes for his appetizer to be prepared, get delivered, and for him to eat it. He ate it excruciatingly slowly in front of us as we made uncomfortable small talk.
"Over two hours of dining with Richard. I felt so bad for my girlfriend and her mother. Both assured me he wasn't always that bad, but usually was fairly rude in restaurants. I cannot imagine what the two of them have witnessed over the years." -- Sarah O'Halloran
The three ladies
"A few years back, my then-boyfriend (now husband) and I went to a fairly well-known chain hibachi for dinner. As per how these kinds of places work, we were sat with another family of four for our dinner theater of cooktop shenanigans and bad puns. The family of four was comprised of three ladies and one young guy who we presumed from their conversation had just turned 21 and was there with his sister, mother, and aunt. They seemed like just a fine, completely normal family taking their 21-year-old out for a celebratory dinner, perfectly happy to joke with us about him only wanting sushi.
"The three ladies insisted the 21-year-old guy order first once the waitress walked up to our side of the table for orders. That's fine, we didn't mind letting Birthday Boy get his sushi first and smiled at the waitress at her questioning glance. Birthday Boy ordered a fair amount of sushi -- he sounded kinda meek when he spoke, but overall was fairly polite.
"Then the ladies started. First, one wanted the shrimp fried rice with the shrimp on the side, not in the rice, you know. Then she changed her order to the house fried rice with a side of shrimp. The second lady wanted the shrimp fried rice with EXTRA shrimp, not the two free 'dinky' ones you get for eating at the grill (her words). The third wanted the fried rice with shrimp on the side, then changed to the shrimp fried rice, and then changed AGAIN after we ordered to something else shrimp- and fried rice-related.
"You see where this was going.
"We *knew* this was about to be a wild ride, so we sighed and settled in. We ended up ordering two bottles of sake while the ladies proceeded to call the waitress over twice with edits to their orders each time and talking over each other to the poor English-was-not-her-first-language waitress. Then the chef came and started to unload his cart while the waitress arrived with Birthday Boy's sushi. He had sunk so far into his seat from embarrassment he was a full foot shorter than when they first came in. We exchanged glances with him during the entire service as he mouthed apologies.
"The ladies, meanwhile, were interrogating the chef about the order ticket: 'Did you get so-and-so's side shrimp? What about who's-it's second fried rice?' and so on. This mucked up the order even more to the point that the chef called over the waitress, who had long since lost her perky smile. They conferred for five minutes or so about the original order she had written down, and came to a verbal agreement with the three trouble ladies.
"The service and show began, though much more subdued and not nearly as lively a show as you usually get. The Birthday Boy had long since devoured his sushi and sunk even lower in his chair, covering his face while the ladies complained, barely under breath, about "Oriental incompetence" and other fairly racist comments. We were into bottle three of sake by this point and, truth be told, I wish I had said something. The only interaction with the waitress we had was to simply request more alcohol and smile as much as we could at the poor woman.
"As the chef began to divvy up the various dishes once prepared, the ladies started up again. Lady #1 had this dish, not Lady #2. Lady #3 had extra shrimp, etc. Finally, one of the ladies spat out this gem: 'How long have you worked here?!'
"The clearly annoyed chef, trying his damndest to bite his tongue, calmly answered, 'Three years.'
"The ladies demanded the manager and waitress return, then bitched the chef out to both and demanded compensation for ruining their boy's birthday. We just drank and kept our mouths shut until the ladies got what they wanted: the boy's sushi and most of their meals comped. Satisfied that they won, they paid cash (no tip as far as we could tell) and left, dragging the very embarrassed 21-year-old with them.
"When the manager turned to us to ask if we had the same complaints, we quickly assured her that the waitress had been NOTHING but patient and perfect and the chef was perfectly fine and wonderful and our food was everything we had wanted. The manager still comped two of our bottles of sake and we ended up leaving around a 70% tip on what the bill would have been with a note to the waitress that she had been nothing but lovely to us." -- Nona Walters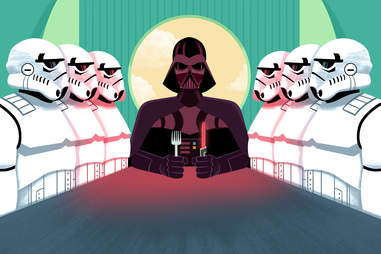 Jason Hoffman/Thrillist
Thai Basil Man
"I currently manage a Chinese and Thai restaurant run by a national hospitality group. We change our menu somewhat frequently.
"One night a middle-aged man and his wife came in for dinner. He asked his server for the Thai basil shrimp, which is a dish we used to have on the menu that we can still make. People still request it from time to time. We made the old dish and brought it out -- to his horror.
"'This is NOT the dish I ordered. I wanted the Thai basil shrimp! How hard is that to understand?! I need to see a manager NOW.'
"I approached the table and this guy was clearly on edge. He started telling me how awful his server was for not ordering him the correct dish. I explained that Thai basil shrimp is a dish we used to have on the menu, so we made the dish he asked for.
"'NO. THIS IS NOT WHAT I ORDERED.'
"I brought a menu over and offered to try and fix his mistake. I pointed out the menu item 'Thai hot pepper shrimp.'
"'NO, THAT'S NOT WHAT I WANT. THE DISH I WANT HAS THAI BASIL IN IT! HOW DO YOU NOT UNDERSTAND WHAT I WANT? ARE YOU NEW HERE?!'
"Meanwhile, his wife has not touched her food, but was sitting quietly while he berated my staff and myself. I calmly pointed out that under the description of the Thai hot pepper, it stated the dish came with Thai basil. At that point, it became clear he didn't know the name of the dish he wanted and was unable to read menu descriptions. Still uncertain this was the dish he wanted, we re-fired it from the menu, I delivered it myself, and he enjoyed it.
"That should be the end of the story, right? Wrong.
"The server dropped the check and immediately I saw the guy's hand shoot up in fury. I went back to the table to find out what could possibly be wrong.
"'I DO NOT UNDERSTAND THIS BILL. WHY AM I BEING CHARGED FOR YOUR MISTAKE?! MY WIFE HAD TO SIT HERE WAITING TO EAT DINNER BECAUSE YOU DON'T KNOW WHAT THE HELL YOU'RE DOING. DON'T YOU KNOW WHO I AM?! I'VE BEEN COMING HERE FOR 10 YEARS, AND YOU'RE SITTING HERE ARGUING WITH ME ABOUT WHAT DISH I ORDERED. HAVEN'T YOU EVER HEARD THE SAYING THE CUSTOMER IS ALWAYS RIGHT?!'
"'Yes, sir, I have, but in this case you are wrong. We prepared the dish you ordered. You confirmed with your server that you did not want the dish from the menu -- but that's exactly the dish you wanted after all. What would you like me to do?'
"'THIS IS RIDICULOUS! YOU RUINED MY WIFE'S DINNER BECAUSE YOU DON'T KNOW WHAT THE HELL YOU'RE DOING! YOU MUST BE NEW HERE. I'VE NEVER BEEN TREATED THIS WAY. I'VE BROUGHT BUSINESS LUNCHES HERE, CELEBRATED BIRTHDAYS, AND SPENT TONS OF MONEY. ALL YOU HAD TO DO WAS BUY ME A BEER AND I WOULD HAVE BEEN FINE! BUT NO, YOU HAD TO ARGUE WITH ME AND TELL ME I WAS WRONG. I'LL NEVER BE BACK!'
"That night the guest left a negative review on OpenTable, claiming there must have been a management change for the worse and that we no longer cared about the customer. Had the guest been calm and realized, I probably would have comped his meal. But I don't care how much money you spend, you don't get away with talking to my staff and I so disrespectfully." -- Brett Hamlin
Engineers can do things
"I was at a hotel restaurant in Ocean City, Maryland for breakfast. My family and I were waiting in line. (It was the only convenient breakfast place anywhere near this hotel. Also, it served pork roll, egg, and cheese sandwiches on a hard roll, which is perhaps the most New Jersey food ever -- a pleasant surprise, considering it was a restaurant staffed and run by Eastern Europeans and American Southerners in a Maryland tourist trap that reeks of cigarettes and racism -- so I insisted we go.)
"The bad customer here is a guy wearing a blue shirt, so henceforth he will be referred to as Blue. Blue was at the front of the line when my family and I first got there. He has now been seated, but, seeing that the line has grown longer, he leaves his table to rescue the poor hostess from HER OWN FUCKING JOB WHICH SHE IS DOING JUST FINE.
"BLUE: 'Long line.'
"HOSTESS [not looking at him, therefore not realizing she already seated him]: 'Yes, sir, I'm sorry.'
"BLUE: 'I can help you organize this stuff.'
"HOSTESS: 'Uh, thank you, sir, but that's not necessary.'
"BLUE: 'I can help, I really can! I know how.'
"HOSTESS [now politely agitated because he's taking up her time and a table just opened up]: 'Sir -- '
"BLUE: 'Can I speak to your manager? Get this line movin' along?'
"[MANAGER conveniently pops out from around the corner, motions for HOSTESS to return to work and ignore BLUE because clearly BLUE is a dickwad.]
"MANAGER: 'Sir, what's the issue?'
"BLUE: 'Well, I need to help you clear out this line. See, I'm an engineer. I can make spaces.'
"At this point, the hostess seated us, so I'll never know what was said next; my family mercilessly made fun of the guy once we sat down. We decided he had also instructed the guy at the omelet station, because engineers can make flat things." -- Ken Garretson
Do you have a restaurant, home-cooking, or any other food-adjacent story you'd like to see appear in Off the Menu (on ANY subject, not just this one)? Please email WilyUbertrout@gmail.com with "Off the Menu" in the subject line (or you can find me on Twitter @EyePatchGuy). Submissions are always welcome!

Sign up here for our daily Thrillist email, and get your fix of the best in food/drink/fun.
C.A. Pinkham is a guy who makes inappropriate jokes about Toblerones on the internet. Follow him on Twitter @EyePatchGuy.