Behind enemy lines at the most fantastic food fight ever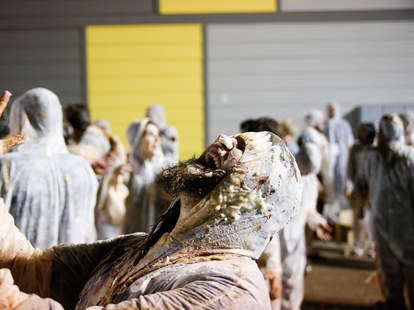 There's nothing that excites a 10-year-old quite as much as a food fight, so it was only fitting that the Alamo Drafthouse would kick off the 10th anniversary of the horror/sci-fi/totally-weird film celebration known as Fantastic Fest with some good ol' fashioned edible projectile warfare.
Read on to see our photos and scroll to the bottom to watch the official video.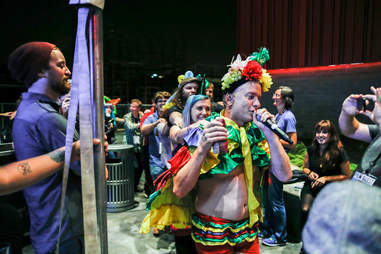 Dan Gentile
The Austin,TX-based festival kicked off with the US premiere of Kevin Smith's Tusk, followed by a raging party at Drafthouse's attached bar, The Highball. After a performance by a band dressed in unicorn costumes, the smashing of a human piñata, and a surprisingly charming aging magician, Alamo founder Tim League began a conga line leading festival-goers through the theater and into the back alley.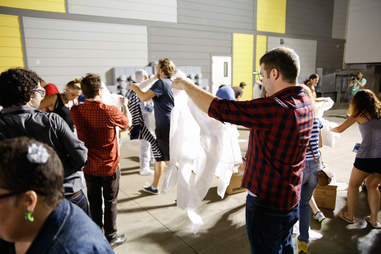 Dan Gentile
Once in the alley, nearly 200 combatants donned their armor: thin, white painter suits that turned out to not actually provide much protection against the impending barrage. It's worth noting that your intrepid photographer wasn't quick enough to grab a suit, and was one of the few truly defenseless participants.
Dan Gentile
Once the suits had been donned, the anticipation in the air was as thick as a tub of chocolate pudding.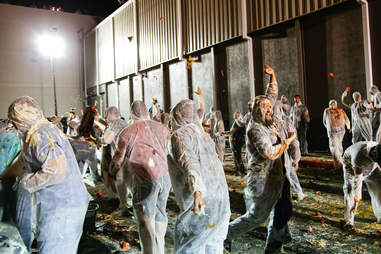 Dan Gentile
At 1:41am, the carnage began.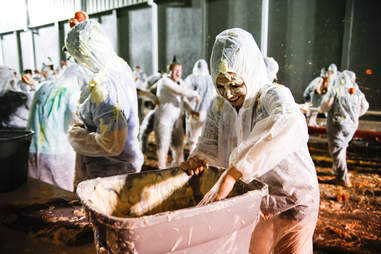 Dan Gentile
The weaponry: 20gal tubs of mashed potatoes, spaghetti in red sauce, and some dangerously firm tomatoes.
Dan Gentile
For dessert there was both vanilla and chocolate pudding.
Dan Gentile
Vanilla pudding shouldn't be orange colored, better dump it out!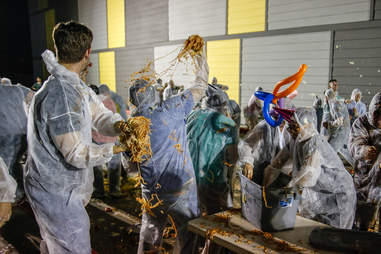 Dan Gentile
The arsenal totaled 320gal worth of edible firepower.
Dan Gentile
Of all the weaponry, the tomatoes were the most dangerous.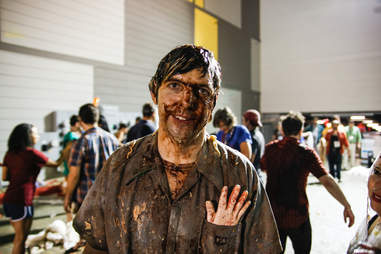 Dan Gentile
Organizer Zach Carlson learned the power of the tomato the hard way. He took a shot to the bathing-suit area and fell into a Slip 'N Slide of pudding.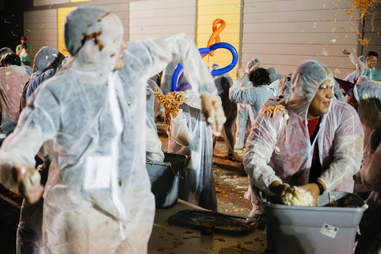 Dan Gentile
At this point you might be thinking, hey, that's a whole lot of wasted mashed potatoes...
Dan Gentile
... and severed plastic hands.
Dan Gentile
But you can put the ethics hounds back into the moral doghouse, because no actually-edible food was harmed in the making of this battle. All the ingredients were either expired, too bruised, or just too orange-colored to be sold for public consumption.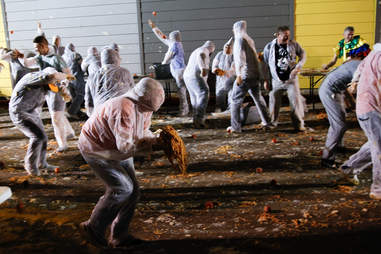 Dan Gentile
During the conception of this crazy idea, there was originally talk of separating contestants into teams, quartering the war into rounds, and having a system to decide winners and losers.
Dan Gentile
But in the end they came to the realization that in a war of pudding, every man is truly for himself.
Dan Gentile
As ammunition stores were depleted, they literally sent in the clowns, armed with pies, whipped cream, and a disregard for future dry-cleaning bills.
Dan Gentile
After roughly 12 minutes of carnage, the gallon tubs of food were cashed and the agony gave way to ecstasy.
Dan Gentile
Spaghetti man-hugs for all!
Dan Gentile
But not every camper was a happy one. As the dust cleared, word came from the Drafthouse camp that a staff videographer (not the nice Luigi look-alike pictured above) had actually lost his wedding ring in the mayhem.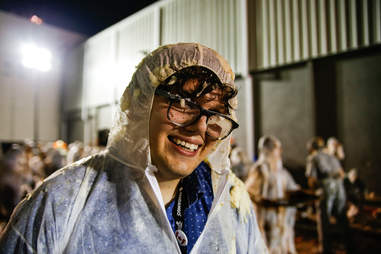 Dan Gentile
But they scoured the battleground, found the ring, and the videographer ended up looking as happy as this guy will be when someone gets him an eyeglasses cleaning cloth.
Dan Gentile
At this point the hundreds of tomato-bruised warriors retreated home, ruining their car upholstery in the process.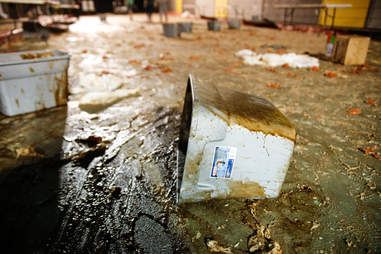 Dan Gentile
But the night was just beginning for the clean-up crew, a team of core Fantastic Fest organizers who spent nearly three hours picking up smashed tomatoes and squeegeeing mashed potatoes off the asphalt.
Dan Gentile
The following day, while introducing one of the films, League recounted his personal aftermath from the events. Despite showering when he got home like any responsible human, he awoke to the sad realization that his pudding-caked toes had ruined his fancy bedsheets.
His wife's response? She probably said something like, "that's fantastic". Or made him sleep on the couch.


Dan Gentile is a staff writer on Thrillist's National Food and Drink team. His camera miraculously survived this story, and he doesn't own sheets nearly nice enough to mourn, but he did destroy a previously functional pair of sneakers. Follow him to online footwear shopping at @Dannosphere.