We had Epic Meal Time create America's most American burger ever
Courtesy of FYI
Courtesy of FYI
When you need help, it's nice to have friendly neighbors. So when we wanted assistance in celebrating America's independence, we turned to a bunch of Canadians to help us create the most American burger possible. But not just any Canadians -- the Epic Meal Time guys, who have a new TV show premiering on FYI later this month that you should watch.
Here is their All American Burger. It weighs more than 2,000 Big Macs. See how the hell they did this:
Epic Meal Time to dress up
The team dressed up for the occasion: EpicMook as our President; Ameer as your typical fanny-pack rockin', Hawaiian shirt-wearin' bro; Natalie (a real American, herself!) in her Sunday best; Harley looking like he stepped out of Rocky 3; and Dave appearing to be an extra in a Larry the Cable Guy movie.
The burger's ingredients
OK, we're gonna take a deep breath before we type out these ingredients. Here goes nothing: 10lbs ribs, 20lbs ground pork, 30lbs ground buffalo, 100 hot dogs, 40 apples, 7 raw pizza doughs, 4 beers, 10lbs flour, 120 cheese slices, 45 pieces of bacon, 10lbs steak fries, one bag of chips, and one 18-inch deep-dish pizza.
Making the American Burger
Here, the Sauce Boss grinds up a hundred hot dogs in order to make the big-ass burger patty.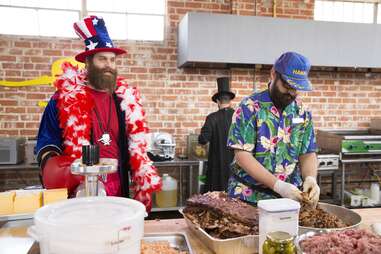 Ameer pulls the pork, which will also make its way into the burger patty.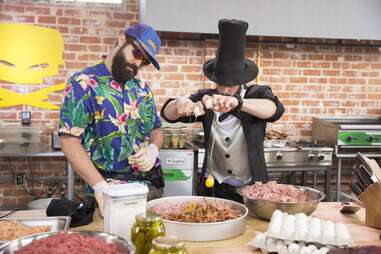 The ground hot dogs and pulled pork are added to 30lbs of ground buffalo. Eggs are cracked into the meaty mixture, and it's formed into a patty. Remember this important step when you're making a 100lb burger for your next BBQ.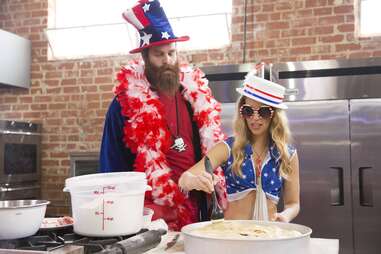 Because nothing is more American than apple pie, and this is an American burger dammit, Natalie applies a coat of butter to an apple pie. The apple pie is a layer within the burger like a needle in a haystack, where the haystack is a 100lb burger.
The patty's all cooked up and ready to be added to the burger.
After applying about 60 slices of cheese to that patty in the foreground, a bunch of the buns come out of the oven. It took seven raw pizza doughs to make the middle and top bun. The bread on the bottom is a deep-dish pizza. Chicagoans should be proud.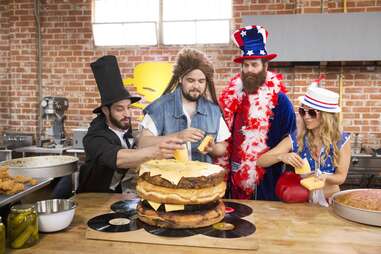 Fun fact: "Yeah, that could use some more cheese", is something every American has said at some point in his life.
It's not a real burger without bacon. And it's not an All American Burger without 45 slices of it.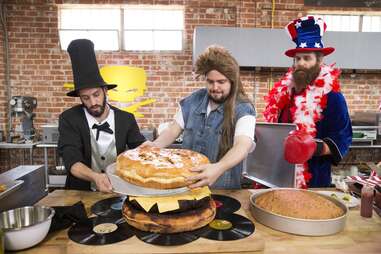 Finally, some carbs in this thing!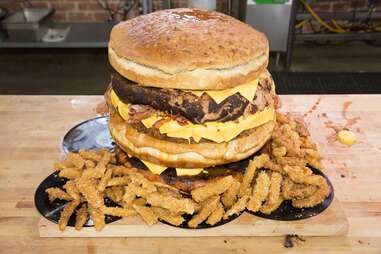 The finished burger in all of its glory! Best enjoyed with 10lbs of steak fries.
Because food should never go to waste, the 1ft-tall, 18in-wide burger was devoured by all of the Epic team and their crew. Unsurprisingly, it was delicious. Surprisingly, they finished it within a few hours.
If we had it our way, they all would've been given citizenship on the spot for achieving such a great feat. Happy America Week, everyone.
Lee Breslouer writes about food and drink for Thrillist, and is proud to be an American, where at least he knows he's free. Follow him at @LeeBreslouer, because you can't make up a name that good.