The Great Nutella Pyramid makes the ancient Egyptians look lazy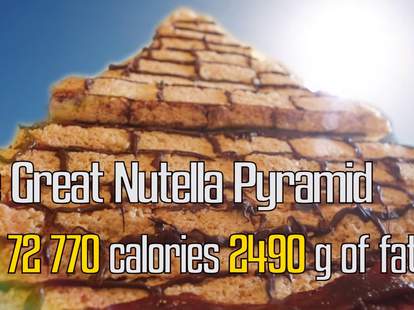 King Tut got the short end of the sarcophagus when he got entombed in a bunch of crappy stone, especially when we now know he could have spent eternity in a giant Rice Krispies-and-Nutella monument. The dudes at Epic Meal Time have unveiled a new wonder of the world in the form of the Great Nutella Pyramid, a 72,770-calorie beast made of Rice Krispies Treat bricks and Nutella mortar... but that's not all. The pyramid also contains a s'mores sarcophagus housing a deceased bacon king. He wasn't buried with any candy or snack cakes, though, so clearly he wasn't a very popular pharaoh.
Kristin Hunt is a food/drink staff writer for Thrillist, and would be cool with some sort of pizza coffin. Follow her at @kristin_hunt.