What Chefs Would Save if Their Kitchen Was on Fire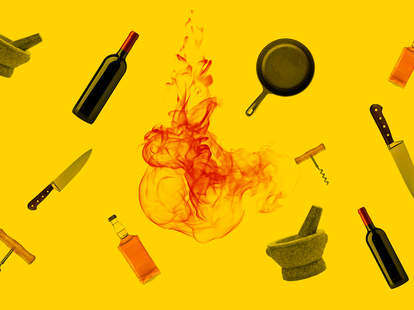 Quick, your house is on fire (for the purposes of this fun thought exercise)! What do you grab first? Your pets? Your terrifying Furby collection? We posed this same question to top chefs from around the country about the one thing from their kitchen they'd save in the event of a fire, and it's everything from booze to fancy knives. Read on to learn what they'd rescue, and then ask yourself -- what would you take from your kitchen? Let us know in the comments.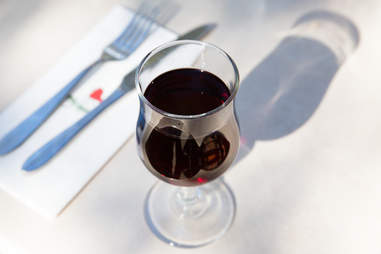 Cole Saladino/Thrillist
Wine
"I'd grab my corkscrew and a bottle of wine. God knows I would need a glass or two if my house was on fire." -- Philippe Haddad, Cape Dutch(Atlanta, GA)
Potato steamer
"The beautiful thing is that I wouldn't have to grab my cast iron pan collection as they would withstand the fire. My current grab would be my copper potato steamer; it would melt." -- Linton Hopkins, Holeman and Finch (Atlanta, GA)
SCOBY "mushroom" (symbiotic colony of bacteria and yeast)
"If I had to save one thing, it would be my SCOBY 'mushroom.' I've had it for years, and I use it to make my own kombucha." -- Bethany Zozula, Whitfield (Pittsburgh, PA)
Vinegar collection
"I've collected vinegar since I graduated from culinary school, when my mom gave me my first bottle of collector-worthy vinegar as a gift. My collection has grown to include the 13 different varieties that we at Team Sawyer produce in-house to a variety of rare finds from around the world." -- Jonathon Sawyer, The Greenhouse Tavern (Cleveland, OH)
Shutterstock
Mortar and pestle
"I would take my uncle's marble mortar and pestle. It's the perfect size, and gets pulled into service almost every time we cook!" -- Karl Worley, Biscuit Love (Nashville, TN)
Handmade knives
"I'd grab my handmade knives from Adam Simha. Adam is a good friend based in Cambridge and makes beautiful knives that I've collected over time." -- Jamie Bissonnette, Coppa (Boston, MA)
KitchenAid mixer
"I'd have to grab the mixer -- I can't make my wife's favorite whipped mashed potatoes without them!
-- John Hogan, River Roast (Chicago, IL)
"I'd grab my coffee cup that my dad gave me 20 years ago. And my Thermomix!" -- Kevin Nashan, Sidney Street Cafe (St. Louis, MO)
Meyer lemons
"I'd try to grab my jar of preserved Meyer lemons. The lemons come from a tree in my backyard, and I love using them in dishes whenever I can. They also remind me of home." -- Gregorio Calderin, King's Highway (Palm Springs, CA)
Grandma's pans
"The one thing I'd grab is my grandma's cast iron pans -- all of them!" -- Justin Brunson, Old Major (Denver, CO)
Whiskey
"I'd grab all the really nice whiskey that's in my cabinet above the fridge!" -- Erik Niel, Easy Bistro & Bar (Chattanooga, TN)
Masala Dabba
"Every kitchen in India has a divided metal container of spices, and the contents are unique to that family's culture, heritage, and the part of India they're from. Mothers pass it down to their daughters. Newlyweds are given one as a present to start their own kitchen and culinary traditions. It's usually engraved, and it's the cornerstone of the kitchen." -- Meherwan Irani, Chai Pani (Atlanta, GA)
Sign up here for our daily Thrillist email, and get your fix of the best in food/drink/fun.