Before you can even think about mastering these 17 kitchen skills by the time you're 30, you need a well-equipped kitchen. This will not only enable you to cook all the one-pot pasta recipes your little heart desires and prepare any of these 25 delicious meals you can make from a simple rotisserie chicken, it also sends a message to the world that you're (more or less) successfully doing that thing we've come to know as "adulting."
Lame gerunds aside, if you're not sure where you stand, use this list of kitchen utensils as a guide for roughly how many new toys you should anticipate buying at the kitchenware store the next time you're at the mall. Obviously, we've left out items like wooden spoons and whisks because, well, they're just a bit obvious.
Instant-read thermometer
Ballpark price: $10
A surefire way to screw up a meal is to over or undercook it, especially if meat is involved. An instant-read thermometer ensures that that steak is perfectly medium rare and those Buffalo chicken wings (recipes here!) aren't pink at the center. Simply stick the probe as deep into the center of the meat as possible to get an accurate reading of its internal temperature. You'll pay a little more for a digital over a dial, but both will do the trick.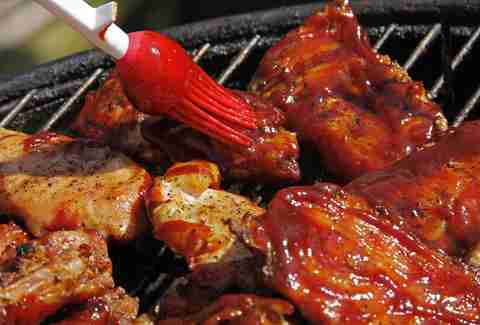 Silicone basting brush
Ballpark price: $8
Unlike a traditional basting/pastry brush made of wood and natural bristles, a silicone basting brush is durable and easy to clean. Use it to spread butter, oil, glazes, and sauces over your favorite foods evenly, with little fuss and an easy cleanup.
Stainless-steel box grater
Ballpark price: $13
Every self-respecting adult should have one no-fail mac & cheese recipe in his or her back pocket that doesn't require pre-shredded (or worse -- powdered) cheese. Enter: the multi-purpose stainless-steel box grater. Use the smaller grates for things like hard cheeses, chocolate, and even zesting lemons; use the larger grates for shredding softer cheeses and veggies.
Microplane
Ballpark price: $12
While a box grater is good for most of your grating needs, sometimes, you just need a little more precision. A microplane allows you to zest citrus, grate whole spices like nutmeg and cloves, and even grate garlic, which eliminates the need for a single-purpose garlic press.
Kitchen shears
Ballpark price: $11
Few kitchen tools are more versatile than a pair of humble kitchen shears. Use them to mince fresh herbs, break down poultry, cut open packaged food/ingredients, open jar lids, crack nuts and shells, and more.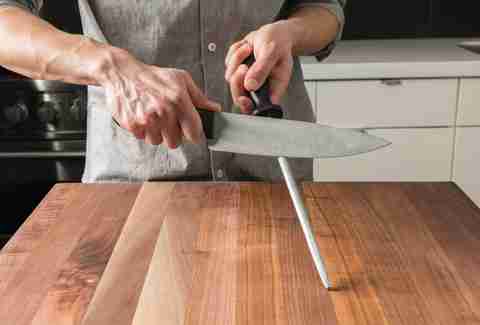 Chef's knife
Ballpark price: $50-$500
This is your go-to knife for the majority of slicing and dicing needs. The three most common blades are French (a straighter blade that curves at the tip), German (a continuous curve), and Japanese (the gyuto, which is known for its particular sharpness and steel hardness). It typically has an 8in blade and is an inch and a half in width, and is generally multipurpose -- it's just as great for breaking down a whole chicken as it is for dicing onions.
There are a lot of styles out there, though, so instead of buying one online, make a point to go into a local retailer and select one that feels comfortable in your hand.
Long serrated knife
Ballpark price: $45
For foods with tough exteriors, like bread, sandwiches, and tomatoes, nothing works better than this sharp-toothed knife. Use delicate, even pressure to cut through food cleanly and without squishing or compromising structural integrity.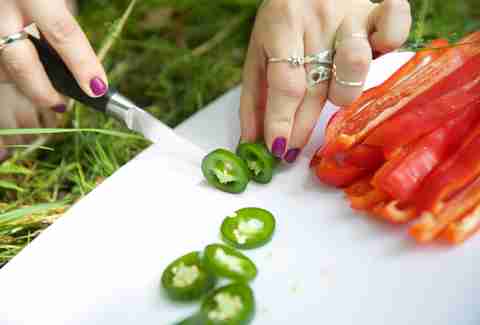 Paring knife
Ballpark price: $50
This small-bladed knife is best for the controlled cutting and peeling of small items, such as shallots, garlic, and fruits.
Honing steel
Ballpark price: $50
What good are knives if their blades aren't sharp and aligned? Run your knife over a honing steel before you use it, every time. The more you hone your knives, the less you'll have to sharpen them.
Better yet, invest in a knife block starter set and get the kitchen shears, paring, serrated, and chef's knives, and honing steel all in one shot.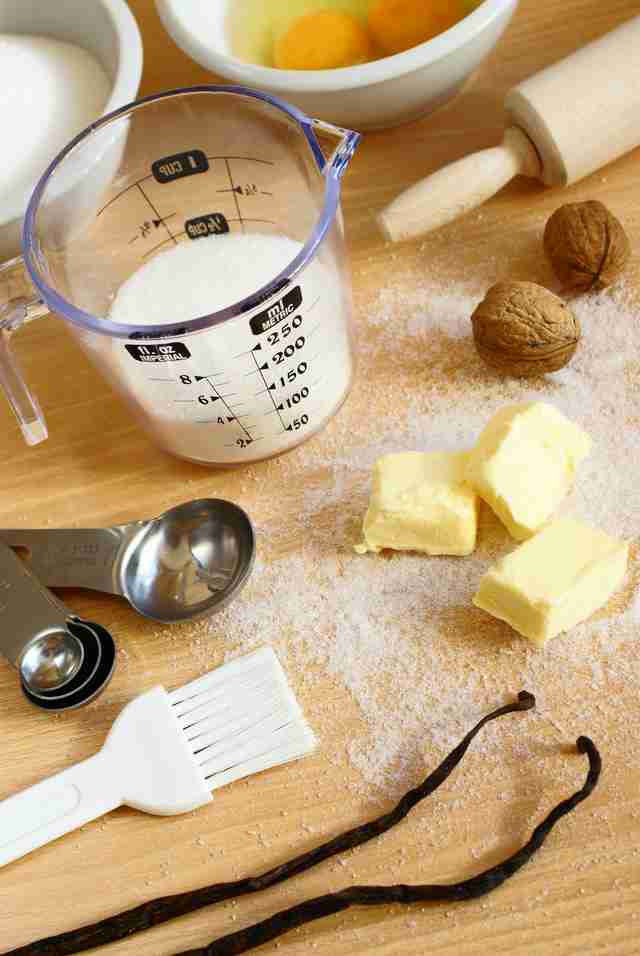 Wet AND dry measuring cups
Ballpark price: $15 AND $14
Wet measuring cups (typically used for liquid ingredients) are made of transparent material and have a spout for easy visibility and pouring, whereas dry measuring cups (typically used for flour, sugar, or any other dry ingredients) are perfectly flat across the rim so you can level things off with ease. Go for glass and stainless steel respectively, because they'll last longer and are less likely to end up disfigured, and thus inaccurate, from normal wear and tear.
While, technically, they both hold the same volume, your recipes will be far more precise if you invest in a set for both liquids and solids.
Heat-resistant offset spatula
Ballpark price: $8
If you can't flip an omelet or toss a skillet of veggies with a simple flick of the wrist yet, don't sweat it; just grab a heat-resistant offset spatula to make the turnover process quick and painless. These also help to scrape away the sticky, caramelized bits of food that have stuck to the base of a pan (don't toss these bits away unless they're burnt; they can actually add great flavor to whatever you're cooking!). Just remember -- it's heat resistant, not proof, so you definitely can't let it hang out in the pan.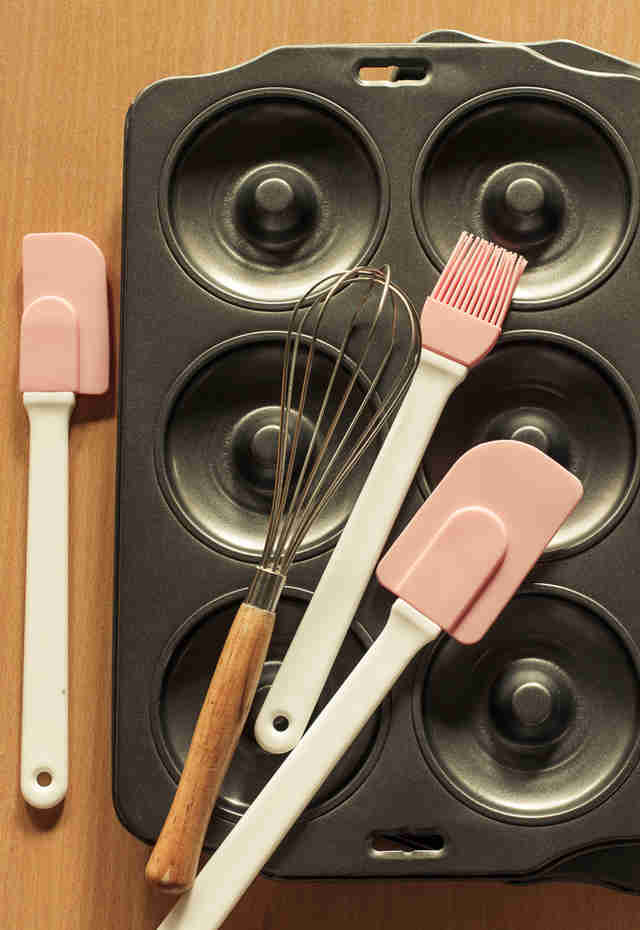 Bowl scraper/spatula
Ballpark price: $10
A big mistake that many people make while cooking is not making sure they scrape out every last drop of oil from that wet measuring cup -- accuracy makes a huge difference in recipes! This flexible implement -- usually made with silicone or rubber -- easily slides along the contours of bowls, jars, and other odd-shaped vessels. Scoop out the precious remnants from a mayo jar, remove every bit of cookie dough from a mixing bowl, or smooth over poured cake batter before you pop it into the oven to bake. Get one with a wooden or stainless-steel handle so there's less risk of melting that sucker if you accidentally leave it on the stove!
Mortar and pestle
Ballpark price: $30
You may have seen these used to make guacamole at your favorite Mexican spot, and while they certainly make the guac-making process easy, they're useful for more than just that. Instead of spending a fortune on pre-packaged ground spices and herbs, spring for fresh and/or whole options and grind them down; they're much more potent this way. 
Y-shaped peeler
Ballpark price: $9
At some point in your adult life, you're probably going to have to host your family and/or friends for Thanksgiving, and the boxed, microwaveable mashed potatoes just aren't going to cut it. Spare yourself the embarrassment by investing in a sturdy peeler -- the Y-shaped variety offers a better grip than the traditional model -- and get peeling, friend. Leftovers? Try these fried mashed potato & gravy bombs.
Brulee torch
Ballpark price: $20
If you think this tiny torch is only good for caramelizing sugar on top of creme brulee, think again. The handy butane-fueled tool can brown meringue topping on a pie, toast marshmallows when you don't have access to a campfire, melt cheese over French onion soup, roast bell peppers, solder together a house made of pizza, and plenty more. Plus, torching stuff is pretty fun.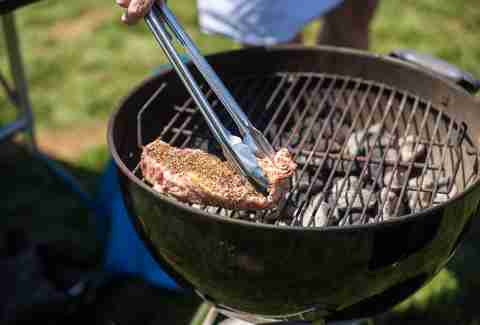 Locking tongs
Ballpark price: $13
For the clean and easy turning of meat and veggies, nothing offers you better grip and control than a set of tongs outfitted with a nonslip handle and scalloped tips. Find a pair that locks so that you can save space when storing them in a drawer or store them upright in a utensil crock by the stove.

Sign up here for our daily Thrillist email, and get your fix of the best in food/drink/fun.