Photo by Cole Saladino for Thrillist
Photo by Cole Saladino for Thrillist
Esther Choi is an ox, not a tiger. It's believed that the year of your birth sign, which comes every 12 years, is particularly unlucky and challenging. Then it's fitting that 2021—which was the Year of the Ox—felt difficult for Choi. "I had gone into it with this mindset that because it was the Year of the Ox, it would be amazing for me," Choi explains. "And then I read about how you're fighting with energy of the year and I'd have to work really, really hard."
But, as an ox, working hard comes naturally to Choi. A self-described workaholic, she really feels aligned with her zodiac sign. She has to be—Choi is the chef and restaurateur behind New York's Mokbar, which has three locations, she runs a Korean cocktail bar named after her grandmother called Ms. Yoo and has a CBD-infused sesame oil brand, Sessy. It's a lot for one person, ox or not.
Despite her challenging schedule, Choi loves celebrating Lunar New Year, called Seollal in Korean. It's a time for family gatherings, games, and prayer. Every holiday, Choi gathers with her parents and grandparents, dressed in a hanbok, and does a customary bow to her elders before commencing the eating.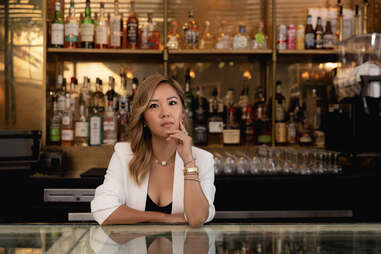 "It's a really, really important tradition that's been instilled in us," she says. Even during pandemic shutdowns, when her family was unable to gather in person, she found ways to celebrate the holiday. "It's very important for me to keep it as traditional as possible. I created my whole career out of traditions and love I have for my family so I always like to pay respect during the new year."
Of course, food is a big part of the tradition. "The fondest memory that I have that we still keep is making dumplings and tteokguk on New Year's," she says. Choi gathers around a table folding dumplings with her family, which are steamed, fried, and added to a traditional rice cake soup. "For tteokguk, there's rice cakes cut into a bias in the shape of a coin. It's supposed to symbolize prosperity, money, and growth." The soup with the addition of dumplings is called tteok mandu guk.
Choi incorporates this tradition into the menu at Mokbar. Every year that the restaurant has been open, Choi and her teams have served a ramen version of tteok mandu guk. "Our concept at Mokbar is a noodle shop so I created this dish based on tteok," she explains. "It's your traditional tteokguk but made into a craft ramen." The broth is milky white, created from beef bones boiled over the course of three days. Atop the noodles is tender, fall-apart brisket that's been braised for hours, plus dumplings, rice cakes, scallions, and shredded seaweed.
Although it may not be the most conventional preparation of tteokguk, Choi loves making traditional dishes her own. "I think a big part of what I do at my restaurants is to educate with food," she says. "I was born and raised in America and I feel very strongly of both my American and Korean background. I am able to create dishes that are both traditional and modern."
The Lunar New Year ramen is an example of this reinterpretation of classics. Choi does not want to conform to anyone's notion of what it means to be Korean or American. Her food, therefore, is uniquely her own.
As another Lunar New Year approaches, Choi is eager to leave the challenges of prior years behind. "I do feel that I am very strongly an ox and have a lot of the traits and personality qualities that have to do with dedication and working hard," she explains. "But this year, I think I want to think about myself for once." It's a great goal to have as we ring in a new year.
Kat Thompson is a senior staff writer of food & drink at Thrillist. Follow her on Twitter @katthompsonn.