This Glass Artist Is Disrupting the Pour-Over Coffee Scene
How a cannabis industry glass artist used pipe-making skills to invent a new kind of coffee filter.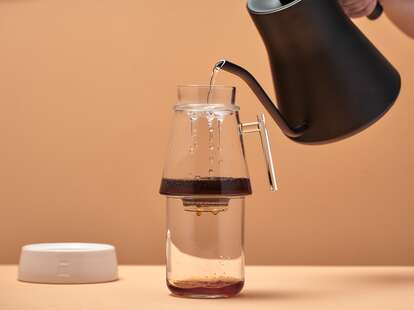 Photo courtesy of Pure Over
Photo courtesy of Pure Over
Etai Rahmil is known for his intricate, colorful, over-the-top smoking accessories. A scroll through the Portland, Oregon based glass artist's Instagram feed shows saxophone-shaped pipes, tiered rigs fitted with spiraling marble details, and ombre-colored bongs with crystal columns jutting out of the beakers. Rahmil has been a full-time glass artist for 12 years, and it shows.
So, imagine my surprise when I heard he had launched a Kickstarter campaign for a coffee filter in August of 2020. Something called the Pure Over: an all-glass, pour-over coffee maker that didn't require the use of a paper filter. Then imagine my double take when I checked the campaign a month later and saw it'd raised over $350,000.
As Rahmil prepares to ship out his first batch of Pure Overs to Kickstarter backers, I caught up with him about fundraising during a pandemic, what bong-making skills translated to coffee-filtering technology, and where weed continues to fit into his evolving glasswork.
Thrillist: When did you first start playing with glass?
My journey with glass started in Eugene in 2009, while I was still attending school at University of Oregon and got a part-time job at a local head shop. After working there for a few months, I started meeting the local glass artists that would come in to sell work. Curiosity set in, and I took a six-week class at the U of O Craft Center. After a couple of classes, I was hooked! A few months later, I dropped out of school and put all my energy into blowing glass. I'm very thankful for the museums, galleries, and collectors that have supported me over the years.
What does cannabis mean to you?
Cannabis has been a big part of my life for a long time, and I got my medical card at age 18 in California. At first, I saw it as a replacement for the ADD meds I was taking that made me feel horrible. Smoking for the first time showed me my best self, and my mind felt great. I continue to consume cannabis daily, and I trust it to put me in a headspace where I feel creative, measured, and at ease.
Please tell me you've made yourself your most perfect, custom smoking piece.
This is definitely a question I get a lot. Ha! While I'm in my shop working, I usually smoke joints. But at home, our main dab rig is a piece I made that goes particularly well with our home design! Gotta have something that looks nice on the coffee table.
What first gave you the idea to create a coffee filter?
It all started because, well, I love coffee. My daily coffee is such an important part of my day, and the same was true for my former shop mate Josh Vineyard. One day in the glass shop, we were talking about other things that could be designed in glass besides pipes, and the idea of an all-glass coffee maker came up. We started scouring the internet and couldn't find anything like what we had initially imagined. After that, it was off to the races making prototypes and finding what worked!
How different was this process from making glass smokeware? How long/how many versions did it take for you to nail down the perfect design?
The process actually utilizes a lot of the same techniques. That's a big part of the reason I wanted to pursue the idea seriously. We were able to personally prototype on our own time without any new machines or anything, and we could do it all in our shop.
It took around six months of prototyping before I landed on a final design. We took what is traditionally used as a diffuser/percolator and modified it to work for filtering ground coffee. Besides this integral part, the beaker shape and clean lines are a direct crossover from my experience making glass pipes.
It's no joke to fundraise your own endeavor, much less during a pandemic. How was 2020 for you?
2020 was a roller coaster! We've been working on Pure Over since 2018, and had already planned to launch in 2020. When the pandemic hit and everything changed, we had to make a conscious decision to push forward with a 2020 launch despite the unknown. One thing was clear: daily routines became more sacred and intentional.
What's next for you? Have you left the weed world for coffee industry domination?
First, I don't ever see myself not blowing glass and making art. It's just something I'll always have to do! It also enables me to stay sharp at my craft and continue to look at product design through the lens of glass blowing. For now, Pure Over is focused on the at-home coffee-making experience, but we do have a lot of ideas for complimentary products for the home that we plan to bring to market in the future.
Thanks for speaking with me!
Sign up here for our daily Thrillist email and subscribe here for our YouTube channel to get your fix of the best in food/drink/fun.
Lauren Yoshiko is a Portland-based writer and co-host of Broccoli Magazine's podcast, Broccoli Talk. She was among the first journalists to cover the commerce and culture of cannabis starting in 2014 and her work has since appeared in
Willamette Week
,
Forbes
,
Rolling Stone
, and
Broccoli Magazine
, among others. Follow her on Instagram at @laurenyoshiko for Portland breakfast sandwich recs, stoned nail art, and moderate cat content.