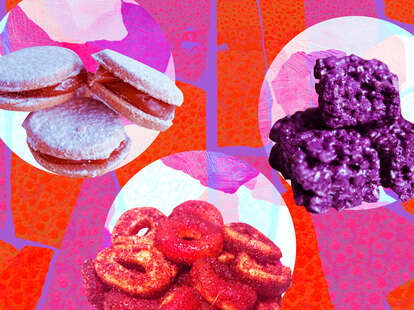 Design by Grace Han for Thrillist
What was once primarily the home for craftily crocheted cardigans, vintage apparel,, and homemade ceramics, Etsy has found a wave of new vendors in an entirely different category. Home chefs and bakers are pickling kimchi, baking dessert baskets, and tossing reimagined Chex mixes and finding great success on the DIY website.
Such is the case of Adrian Martinez and Ashley Garza of Texas Chile Dulceria, aMexican candy Etsy shop the couple opened in November 2020. Garza dreamt up the idea last summer, and fully committed to it after Martinez left an unfulfilling and tiring job. In light of the enduring Covid-19 pandemic, it seemed like a perfect opportunity to try something new and entrepreneurial.
"Both of us have always wanted to have a business," Garza explains. "He quit and then we spent a few weeks buying all of our products and coming up with the recipe. We tried a whole bunch of recipes and one day he tried the one that we have now and he really liked it."
Although the pair began selling their candy creations locally, it seemed like bringing their product online would allow them to reach more customers. After watching YouTube videos for burgeoning businesses, Garza decided to give Etsy a shot. "Etsy is a good platform to start on because it already has warm wires. People already go to Etsy to shop because they want to buy something," Garza explains. "Sure, everybodies' shops look the same, but it's also on you with how you photograph your products, the logo you put, and the banner." Garza also commends Etsy for teaching her better SEO practices—so when she eventually leaves the platform to open up her own website, she'll know how to become searchable.
The ease of Etsy is also what appealed to Maribel Valverde, the baker behind Mary's Famous Alfajores. Valverde only has one item listed in her shop, the South American dulce de leche cookies, yet being online has allowed Valverde to expand her business beyond her local Los Angeles borders. Instead of making alfajores for just her family and friends, with the encouragement of her son, she can share her gift of baking across the country.
"Etsy finds the customers for me. When someone searches 'alfajores' in the search box, my listing will pop up and so will those of other sellers. I have had customers leave reviews saying that they will tell their friends about it, so there is a bit of word of mouth, as well," she says. "My customers are from all over the United States. That is the beautiful thing—I now have access to markets that I never had before."
According to Dayna Issom Johnson, a trend expert at Etsy, there has been a 134% increase in searches on Etsy within the food and drink category between July and December 2020. "During the pandemic, shoppers took on new hobbies as a way to pass time and keep busy—many turning to baking and cooking—which drove a rise in food-related items and at-home kits," she explains. That includes a 973% increase in searches for boba tea kits and a 113% increase in breadmaking items.
"My customers are from all over the United States. That is the beautiful thing—I now have access to markets that I never had before."
On the island of O'ahu, Melissa Lamerson turned to Etsy so that her freeze drying and snack business, Holomua Kitchen, could reach customers on the mainland. "Holomua Kitchen means 'to move forward' and I had actually started the company because I was retiring from my other career," Lamerson says. "When we started the business and we made the products, we said it was going to all be made in Hawaii, all handmade, and we were going to try to bring the local flavors to people that couldn't get it."
What initially drew her to Etsy was the community of creators and homemade aspect of the platform, which she likened to an "online craft fair." She also commends Etsy for being simple to use, laughing that "even my husband can do it." Unlike other online marketplaces, Etsy also allows for lead times—a feature necessary to give small businesses a more flexible timeline when creating their products. "Etsy will allow [for] made-to-order. You can actually get more business and it will give you a lead time to make more products," Lamerson explains. "As a small business owner, if you don't have a huge manufacturing company, that makes it doable. You can actually make a living and survive still."
Lamerson wasn't sure how popular more locally flavored things would be on her Etsy shop versus the Hawaii-based website, but both a furikake Chex Mix blend popular in Hawaii and freeze-dried ube rice krispy treats sold out nearly instantly. She learned that people really do want to connect to global foods—whether it be trying something for the first time or seeking out a sense of nostalgia.
"Our mission statement, our kuleana or our responsibility, is to bring smiles to the faces of our community," Lamerson says."So whether our community be here in O'ahu or our customers that buy things on the mainland, if we make people happy, then that's my fulfillment."
The same goes for Garza and Martinez. Although mixing candy with chamoy and chile powder may seem simple, Garza says it takes time to find the right ratio and perfect all of her customers' packages, complete with a handwritten thank you note. The effort is worth it to witness their customers' joy and share a glimpse of who they are as business owners.
"My culture is very important to me—it's important to both of us. I want to give our customers a good product," Garza says. " It's a little piece of our heart down here in Texas."
Kat Thompson is a staff writer at Thrillist. Follow her on Twitter @katthompsonn.