Fact: there is no such thing as a bad Dorito. Doritos are perfect. They make everything better, from Christmas to Taco Bell. They are, and will always be, the perfect snack chip: crunchy, salty, flavor-packed, and, as all great things should be, slightly dangerous due to their combination of jaggedness and binge-edibility.
As a lifelong devotee, taking on the extremely unbiased task of ranking every flavor of Doritos was particularly daunting. But it was with science and humanitarianism on my mind that I grabbed every available flavor -- RIP Cheetos Doritos and Tijuana Girl Scout -- and, in one mighty session, tasted them all. Here's how they stacked up.
Recommended Video
The Most Overlooked Mediterranean Paradise in Europe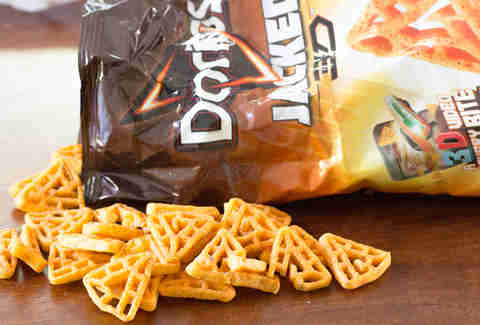 17. Jacked 3D Bacon Cheddar Ranch
With the exception of the wonderful TGI Fridays potato skins, which are basically the reincarnation of Tato Skins (RIP! Never forget!), nobody can get a bacon-flavored chip right. When even Doritos' attempt tastes like liquid smoke and a little ranch, things are dour. Bacon, thou art dead to me. (Just kidding, bacon. I was just trying to be funny in my article. I'll see you in the morning and we can laugh about this!)

16. Taco
Sorry. I just don't get it. I also don't get why I can't stop eating them, but I'm not sure I've ever eaten a taco that tastes like this. But the retro bag's cool... even though the window is actually fake. It's like the Doritos version of The Truman Show.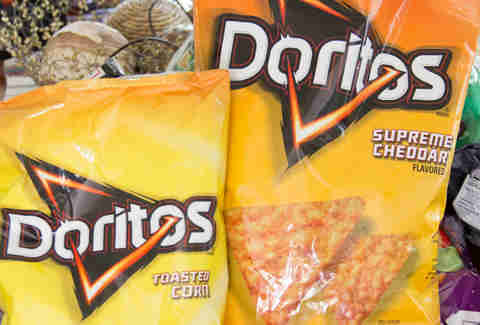 15. Toasted Corn
These things, mind you, are great dipped in queso. Fantastic! They're just thicker cousins of Tostitos. And if drinking at weddings has taught me anything, it's that the thicker cousin is always more fun. But this isn't a test of dip-ability. It's a test of Doritos. And without the orange cheese sauce, they're just triangular salt licks.

14. Supreme Cheddar
I found these ones at Costco, and got weirdly excited to buy the 40lb bag. Maybe the anticipation of this discovery got the better of me, but I gotta say, they're kind of the missionary position of Doritos. They're satisfying. I would get down with them any day if they were offered. But there's no real bite to them. The cheese flavor lands somewhere between a Cheeto and a Goldfish. I wouldn't choose them. But I wouldn't deny them. And I didn't.
13. Cool Ranch
"But Writer on an Internet Site I Read on the Bus," you say, taking this more personally than psychologically reasonable, "Cool Ranch is the best flavor. I hope you choke on a Doritos shard. Also, this is my stop." Well, Angry Internet Friend, there's a simple answer to the low ranking. I don't like ranch. And it's my ranking, dammit. Plus, you're probably the kind of person who thinks nothing of dumping Cool Ranch chips in the same bowl as Nacho Cheese. Which is to say, stop ruining my birthdays. And also, thanks for reading!

12. Jacked Spicy Street Taco
The chip's thicker, and it's incredible for munching. But these make me miss the now-defunct Enchilada flavor. Because it just kind of tastes like taco seasoning with a little Cholula. That's not a bad thing, but when I think Jacked, I think of Hugh Jackman in Wolverine (shink!), not empty promises. It's the X-Men: First Class of Doritos: pretty good, but kind of forgettable.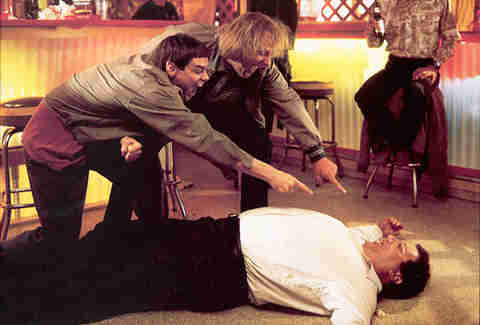 11. Doritos Roulette
You know that scene in Dumb and Dumber when Harry and Lloyd put the peppers in Gas Man's burger, and he eats it and then turns all red and dies? Apparently, Doritos creator Thadeus Dorito (that's the real name, right?) loves Dumb and Dumber. Every six or so chips in this bag will light your mouth on fire. No, they won't kill you. But they will remind you that Harry and Lloyd were kind of dicks.

10. Dinamita Fiery Habanero
The Dinamitas are the curio of the Doritos canon. They're basically the same, texturally, as regular Doritos. Except they're rolled into little extra-crunchy tubes. For something called Fiery Habanero, these are pretty mild. They taste like lightly seasoned corn chips, and frankly... oh shit. Oh shit! Here we go. My mouth is heating up. The pepper flavor actually gets stronger the longer you wait. But this does confirm my long-standing belief that Doritos taste great with cold milk.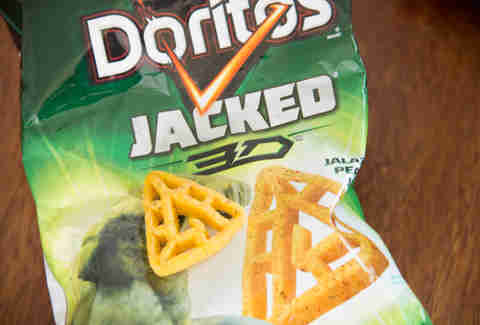 9. Jacked 3D Jalapeño Pepper Jack
The weird, extra-thick pyramid shape is kind of a deterrent here. Because the taste of pepper Jack is, in fact, here. But it's dwarfed by the corn (kind of like Limp Bizkit in the late '90s). If the Illuminati wants me to get hooked on pepper Jack, they're gonna need to up their game.

8. Flamas
Dios mio! These suckers really are pretty spicy. There's a hint of lime, though, which cuts through it and mellows everything out. Me gusta, though I'm not sure I could house a bag of these after a night of drinking. (Editor's Note: Turns out I can.)

7. Jacked Ranch Dipped Hot Wings
I'll take my chicken wing-flavored snacks in the form of Chicken in a Biskit crackers dipped in Frank's, thank you very much! Actually, that sounds pretty good. So are these. But there's no chicken flavor. That's probably a good thing.
6. Spicy Sweet Chili
The spice on these suckers is pretty minimal, which is a good thing for me, and a bad thing for my pharmacist, who probably depends on my Prilosec habit more than he knows. The sweetness here is where it's at. It's almost like Thai chili sauce, except a lot more mellow. More alarmingly, though, this is a rare instance where the lack of cheese is welcome. But that still doesn't explain why the dude at Thai Noon won't throw béchamel on my drunken noodles.

5. Dinamita Chile Limón
They're a lot like the Flamas, except rolled into little taquitos. They're wonderful. The only negative is that they're the most colorfully seasoned Doritos, painting your fingers like Easter egg dye and making it impossible for you to lie to your wife about quitting Doritos and eating healthy. That's a positive too, mainly because it reminds you to wash your hands before and after using the head.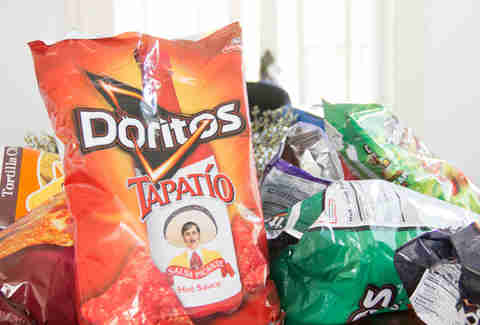 4. Tapatío
The man in the sombrero finally mated with the corn chip. And the result is the closest bagged approximation to my favorite hot sauce that I know.

3. Salsa Verde
Unlike Bacon Cheddar Ranch, these suckers really nail the refreshing flavor of Salsa Verde. Now I kind of wish my favorite burrito joint would figure out a way to liquefy these. Or at least I wish that Taco Bell would make this the next DLT.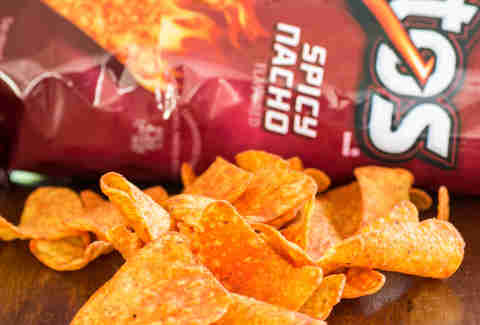 2. Spicy Nacho
They're exactly like Nacho Cheese. Except very slightly spicier. They represent a rare instance where a person who is spice-averse can actually eat something labeled "spicy." That's a confidence builder, Doritos! That alone would make them the best of the bunch, except...

1. Nacho Cheese
Oh, come on. You knew it was coming. You know the iconic flavor like you know the scent of your own home. You've likely caught a shard between the teeth, and still crunched through the blood. My love for Nacho Cheese Doritos began as a child, and each time I eat one, it's like experiencing them all over again. I'm not going to belabor the point too much here, but know this: most people look forward to their child's first day of school, or their first word. Me? As soon as my daughter has enough teeth, I'm looking forward to the ecstasy on her sweet little face when she finally gets her mouth on a Nacho Cheese Dorito.

Andy Kryza is a senior editor at Thrillist, a lifelong disciple of Frito-Lay, and, apparently, a snack chip purist. Follow him to Doritos-spiked baby formula: @apkryza.