Fact: Doritos are the greatest mass-produced snacks in the world. They make everything better, from Christmas to Taco Bell. They are, and will always be, the perfect snack chip: crunchy, salty, flavor-packed, and, as all great things should be, slightly dangerous due to their combination of jaggedness and binge-edibility.
As a lifelong devotee, taking on the extremely biased task of ranking every flavor of Doritos was particularly daunting. But it was with science and humanitarianism on my mind that I grabbed every available flavor -- RIP Chester's Cheese and Tijuana Girl Scout -- and, in one mighty session, tasted them all. Here's how they stacked up.
20. Simply Organic White Cheddar
These things are nearly flavorless, which is fine and all, but if somebody offers me white Cheddar, I expect to taste it. With each bite, I wonder whether I bought a faulty bag of Doritos that were sprayed by a cheese machine that had run out of powder the night before. And look, I'm all for healthier organic stuff, but if we're being honest, I would still eat cheesy Doritos even if somebody told me they were fried in arsenic and powdered with ground puppy bones, so given there are so many explosive flavors in the roster, these are a hard pass.  
19. Taco
Sorry. I just don't get it. I also don't get why I can't stop eating them, but I'm not sure I've ever eaten a taco that tastes like this. But the retro bag's cool... even though the window is actually fake. It's like the Doritos version of The Truman Show. Also, whoever decided to name the snack mix based around this flavor Taco Explosion totally stole my term for the after-effects of eating at questionable food carts at 3am.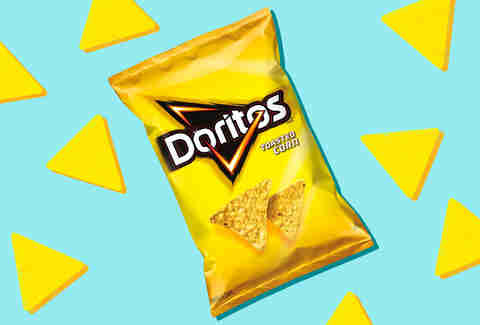 18. Toasted Corn
These things, mind you, are great dipped in queso. Fantastic! They're just thicker cousins of Tostitos. And if drinking at weddings has taught me anything, it's that the thicker cousin is always more fun. But this isn't a test of dip-ability. It's a test of Doritos. And without the orange cheese sauce, they're just triangular salt licks. (Side note, why haven't we gotten a queso-flavored Dorito. It's 2019, people!)
17. Supreme Cheddar
I found these ones at Costco, and got weirdly excited to buy the 40-pound bag. Maybe the anticipation of this discovery got the better of me, but I gotta say, they're kind of the missionary position of Doritos. They're satisfying. I would get down with them any day if they were offered. But there's no real bite to them. The cheese flavor lands somewhere between a Cheeto and a Goldfish. I wouldn't choose them. But I wouldn't deny them. And I didn't.
16. Screamin' Sriracha
Presumably rushed to market when a Doritos exec found a note that read "Sriracha is so hot right now," then failed to notice that said theoretical note was covered in dust and dated 2013, this new flavor just hit shelves for a limited time. That might be for the best. They definitely pack a kick, and have a barely-there sweet/acidic flavor. But Doritos aren't exactly the best vessel for a flavor like sriracha, or for this approximation of sriracha, which tastes more like red pepper flakes and powdered ketchup. The lack of counter-balancing flavors like cheese or citrus means they just kind of taste like powdered spice on tortilla chips. If you're the type of person who licks off-brand Huy Fong off a plate after it's been sitting there drying for an hour, this is your jam. Side note: My wife came into my office from two rooms over right after I opened this bag and asked if I smelled gas. So there's that.
15. Blaze
Not long ago, Doritos dropped a limited-edition bag called Doritos Roulette. It was a normal bag of Nacho Cheese Doritos, but every now and again you'd get a chip that was alarmingly spicy. It was the Doritos equivalent of that scene in Dumb & Dumber when Jim Carrey and Jeff Daniels accidentally kill some dude by planting a hot pepper in his food, but then it's totally cool because it turns out he was a bad guy. Anyway, this is a whole bag of those hot chips. Your enjoyment will depend on whether you like spicy stuff. Me, I'm not a fan. Go ahead and call me an amateur. I won't be listening, most likely because I'll be watching Dumb & Dumber while eating pretty much any other flavor of Doritos.
14. Blaze & Ultimate Cheddar Collisions
Love the concept of smashing two flavors together in some sort of ballet of flavor-powder harmony. But this basically mooshes the most aggressive flavor with the most passive. So it's a slightly cheesy version of Blaze. And that's totally cool, because it means it's also a slightly better version of Blaze. But maybe they should have take a cue from the ranch-dipped hot wings and gone a little (sigh) bolder. Like taco and Tapatio (Tacotio!) or toasted corn and jalapeno... oh, wait, that's actually just jalapeno. But what if it was nacho cheese and ranch?! Think of the diplomacy! Either way, I just ate a whole bag of these Collisions, and I don't feel very good about myself. 
13. Simply Organic spicy White Cheddar
As the Collisions proved, sometimes magic happens then you put together two things that don't really work well on their own. Here, the bland cheese of the white Cheddar organic Doritos seems mated to the spice blend of taco. Unlike the white Cheddar organic, the cheese here is front and center, and the (not very spicy) spice blend kicks it into high gear. It also makes a strong case for a quesadilla-flavored Dorito variant. Sometimes, it appears, two wrongs do make a right. 
12. Cool Ranch
"But Writer on an Internet Site I Read on the Bus," you say, taking this more personally than psychologically reasonable, "Cool Ranch is the best flavor. I hope you choke on a Doritos shard. Also, this is my stop." Well, Angry Internet Friend, there's a simple answer to the low ranking: I don't like ranch. And it's my ranking, dammit. In this world, you're either a Cool Ranch person or a Nacho Cheese person. I am on the side of right. Also, you're probably the kind of person who thinks nothing of dumping Cool Ranch chips in the same bowl as Nacho Cheese. Which is to say, stop ruining my birthdays. And also, thanks for reading!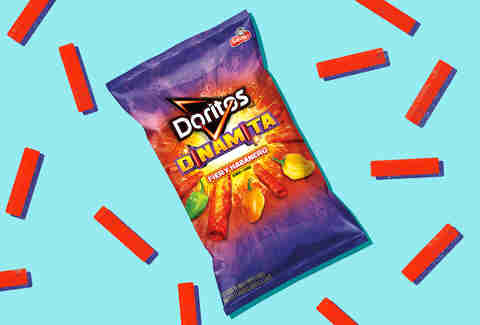 11. Dinamita Fiery Habanero
The Dinamitas are the curio of the Doritos family. They're basically the same, texturally, as regular Doritos. Except they're rolled into little extra-crunchy tubes. For something called fiery habanero, these are pretty mild. They taste like lightly seasoned corn chips, and frankly... oh shit. Oh shit! Here we go. My mouth is heating up. The pepper flavor actually gets stronger the longer you wait. But this does confirm my long-standing belief that Doritos taste great with cold milk.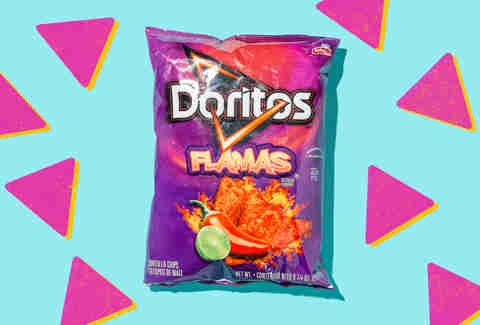 10. Flamas
Dios mio! These suckers really are pretty spicy, but taste way better than Blaze. There's a hint of lime, though, which cuts through it and mellows everything out. Me gusta, though I'm not sure I could house a bag of these after a night of drinking. (Note from future self: You can, you will, and it's gonna be great.)
9. Poppin' Jalapeño
The little flames on the bag are kind of some bullshit, which is actually a relief because the extremely light spice on these things means this is a "spicy" chip that my weak ass can really get behind. There is virtually no heat whatsoever here, but the pepper flavor remains, along with a slight hint of cheese that the bag tells me is Cheddar and Romano, but kind of reminds me of the old Jumpin' Jack flavor that was discontinued years ago. The best part, though, is that you can open these in front of a bunch of other spice-averse people and guarantee the whole bag to yourself. You'll look like a big tough guy when you're just being a selfish child. That, friends, is the dream.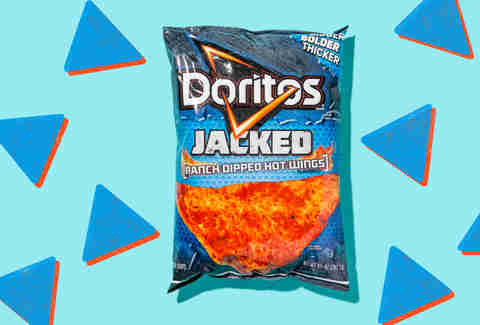 8. Jacked Ranch-Dipped Hot Wings
I'll take my chicken wing-flavored snacks in the form of Chicken in a Biskit crackers dipped in Frank's, thank you very much! Actually, that sounds pretty good. So are these. But there's no chicken flavor. That's probably a good thing.
7. Spicy Sweet Chili
The spice on these suckers is pretty minimal, which is a good thing for me, and a bad thing for my pharmacist, who probably depends on my Prilosec habit more than he knows. The sweetness here is where it's at. It's almost like Thai chili sauce, except a lot more mellow. More alarmingly, though, this is a rare instance where the lack of cheese is welcome. But that still doesn't explain why the dude at Thai Noon won't throw béchamel on my drunken noodles.
6. Dinamita Chile Limon
They're a lot like the Flamas, except rolled into little taquitos. They're wonderful. The only negative is that they're the most colorfully seasoned Doritos, painting your fingers like Easter egg dye and making it impossible for you to lie to your wife about quitting Doritos and eating healthy. That's a positive too, mainly because it reminds you to wash your hands before and after using the bathroom.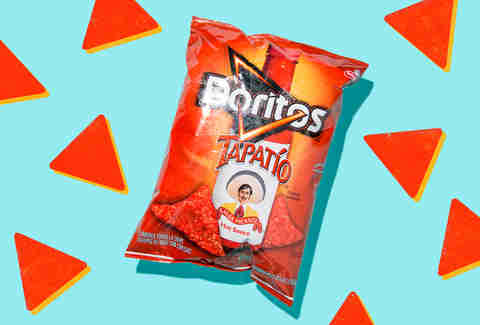 5. Tapatío
The man in the sombrero finally mated with the corn chip. And the result is the closest bagged approximation to my favorite hot sauce that I know.
4. Flamin' Hot Nacho Cheese
The newest Doritos flavor is one that seemingly took the chorus of "they're not really that spicy" that heat nerds sang around the Spicy Nacho flavor to heart. These are basically an amped-up version of the classic Spicy Nacho, with a heat level closer to Flamas but with the undeniably perfect Nacho Cheese flavor front and center and that unmistakable neon-orange hue that makes Flamin' Hot Cheetos so recognizable. They're hot, but not debilitatingly so. Most importantly they maintain the classic Doritos flavor. Despite chronic heartburn, I'd honestly brave eating the whole bag if I hadn't read an urban legend about Flamin' Hot Cheetos burning a hole through some kid's stomach. I scare easily, even when there's delicious nacho flavoring around.  
3. Salsa Verde
Is it weird that I kind of would rather crush some of these up and sprinkle them on a taco than eat regular salsa verde? That's weird, right? Yet I kind of wish my favorite burrito joint would figure out a way to liquefy these. Or at least I wish that Taco Bell would make this the next DLT.
2. Spicy Nacho
They're exactly like Nacho Cheese. Except very slightly spicier. They represent a rare instance where a person who is spice-averse can actually eat something labeled "spicy." Mostly because they're not very spicy at all. But that's a confidence builder, Doritos! That alone would make them the best of the bunch, except...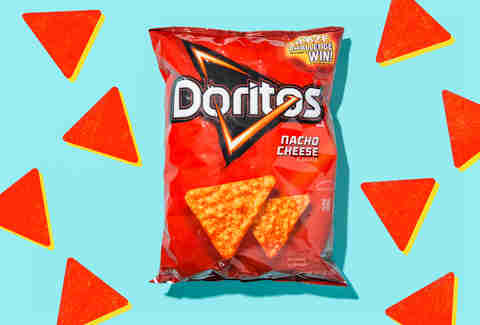 1. Nacho Cheese
Oh, come on. You knew it was coming. You know the iconic flavor like you know the scent of your own home. You've likely caught a shard between the teeth, and still crunched through the blood. My love for Nacho Cheese Doritos began as a child, and each time I eat one, it's like experiencing them all over again. I'm not going to belabor the point too much here, but know this: most people look forward to their child's first day of school, or their first word. Me? I counted the days until my daughter had enough teeth to taste her first Dorito. And when she did, her pupils dilated, she smiled, and signaled for more. But she didn't get any. Because, um, they're not healthy snacks. And also, those were mine.
Sign up here for our daily Thrillist email and subscribe here for our YouTube channel to get your fix of the best in food/drink/fun.