Every Single Thing That Walt Jr. Eats for Breakfast on 'Breaking Bad'
AMC
AMC
Breaking Bad ends forever this Sunday, and while the show has repeatedly defied expectations over its five-season run, we do know a few things to be constant and true. Horrible things will always happen to Jesse Pinkman's girlfriends. Marie will always be clothed in some shade of purple. But, most importantly, you will never love anything as much as Walt Jr. loves breakfast. In celebration of the show's purest relationship, we decided to exhaustively catalog everything Flynn eats in the AM from the pilot to present. The man has an expansive palate, but whatever you do, please don't give him Raisin Bran sans Crunch.
Episode: S1E1, "Pilot"
Breakfast Eaten: The series kicks off Walt Jr.'s love affair with breakfast with eggs and some, gulp, veggie bacon. Also, is that tomato juice we spy? Clearly these were humble beginnings.
Episode: S1E2 "Cat's in the Bag"
Breakfast Eaten: Pancakes, eggs, and (hopefully real) bacon. Now that's more like it.
Episode: S1E5, "Gray Matter"
Breakfast Eaten: Toast and what appears to be eggs.
Episode: S1E6, "Crazy Handful of Nothin"
Breakfast Eaten: In this grand reveal of Walt's shaved head -- which our breakfast hero acknowledges with a "Badass, Dad" -- Junior is feasting on some fruit salad and toast.
Episode: S2E4, "Down"
Breakfast Eaten: After disappearing and making that naked grocery store run, Walt Sr. whips up pancakes, orange juice, grapefruit juice, fruit salad, and even croissants to distract his son. Based on that look of anticipation in Junior's eye, he is pretty successful.
Episode: S2E7, "Negro y Azul"
Breakfast Eaten: Raisin Bran. That's right, Raisin Bran. Not the Raisin Bran Crunch he requested, MOM.
Episode: S2E10, "Over"
Breakfast Eaten: We're back in action with a classic plate of eggs, bacon, and toast. But wait, there's more...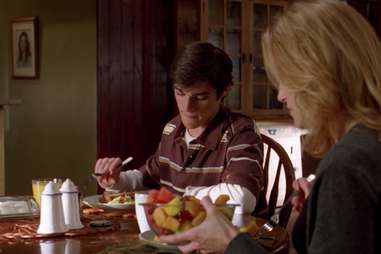 Episode: S2E10, "Over"
Breakfast Eaten: A twofer! It's breakfast on breakfast in this episode, only, in this bonus scene, the Whites are noshing on fruit salad, toast, and omelets.
Episode: S2E13, "ABQ"
Breakfast Eaten: Cheerios are only poured, but presumably eaten after the excitement over SaveWalterWhite.com has died down.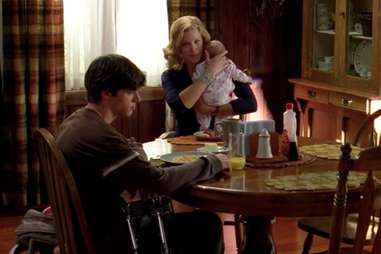 Episode: S3E1, "No Mas"
Breakfast Eaten: An untouched waffle, 'cause he's upset about Walt moving out and no one telling him jacksh*t. When Flynn skips breakfast, you know he means business.
Episode: S3E4, "Green Light"
Breakfast Eaten: A White morning meal staple of eggs and fruit.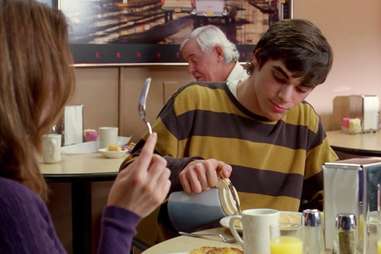 Episode: S3E8, "I See You"
Breakfast Eaten: Nothing like some good old-fashioned hospital pancakes, which Flynn douses in syrup while Marie complains about the silverware.
Episode: S4E2, "Thirty-Eight Snub"
Breakfast Eaten: Our main man sneaks some cereal as Skyler and Walt fight about the car wash.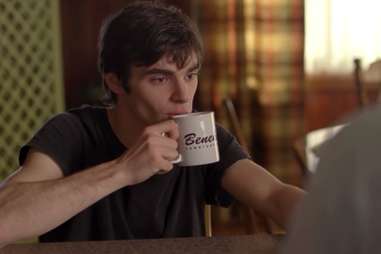 Episode: S4E5, "Shotgun"
Breakfast Eaten: Just a cup of coffee. Black, like his father's heart.
Episode: S4E6, "Cornered"
Breakfast Eaten: And we're back to a bowl of Raisin Bran. Unclear as to whether or not Skyler finally wised up and got the crunchy kind.
Episode: S4E10, "Salud"
Breakfast Eaten: We only see his mom make moves for the mixing bowl, but you better believe Flynn gobbled up a ton of 16th birthday pancakes to make up for that dumb PT Cruiser.
Episode: S5E2, "Madrigal"
Breakfast Eaten: Cereal, and it appears to be Raisin Bran once again based on that purple box in the distance. Still unconfirmed on the presence or absence of Crunch. Hold up, what's that...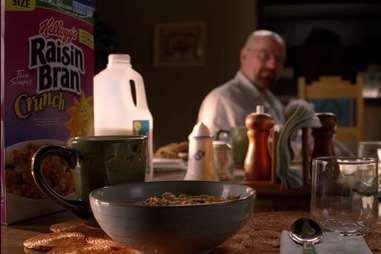 Boom. And it only took five seasons.
Episode: S5E4, "Fifty-One"
Breakfast Eaten: Scrambled eggs, toast, and bacon. Flynn insists his mom break up some bacon over Heisenberg's eggs to spell out "51" for his birthday. Flynn gets shafted a whole piece of bacon in the process. Flynn immediately regrets that decision.
That's all folks! It's been 11 whole episodes since this poor guy got breakfast, so let's cross our fingers and hope the series finale includes an extended cut of Flynn and Huell getting some eggs at a diner. Maybe Badger can come, too.
Sign up here for our daily Thrillist email, and get your fix of the best in food/drink/fun.