If you could only eat in one state for the rest of your life, what state would it be?
It's a complicated question informed by numerous factors -- cities with quality restaurant scenes, singular state specialties, variety of fresh seafood and produce -- and obviously the answer will vary tremendously from person to person. After all, one person's Maine lobster binge is another person's shellfish allergy-induced emergency room visit. Nonetheless, our intrepid panel (which is unbiased at least in the sense of being completely omnivorous) put its best taste buds forward and devised this unassailable hierarchy of state-by-state deliciousness. Enjoy, and then feel free to assail it (and them) in the comments.
Recommended Video
Mini Chicken Pot Pies: Big Homestyle Flavor, Endearingly Tiny Portion
50. West Virginia
Almost heaven... does not describe the flavor of a state where a glorified Hot Pocket is the signature food and road kill is probably top five.
49. North Dakota
Buffalo burgers! Um… outdated Fargo jokes! Um… damn, North Dakota makes South Dakota look like France, doesn't it?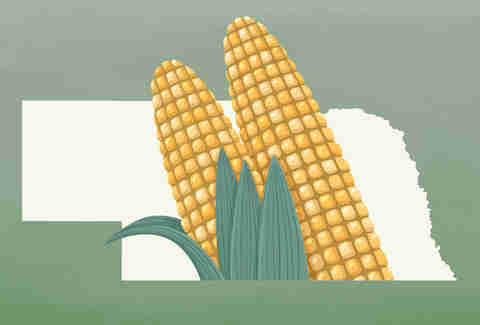 48. Nebraska
On the one hand, it's home of Runza -- which is a damn-fine chain that could lazily be described as selling gourmet Hot Pockets -- claims to have invented the Reuben, and delivers steak to your mailbox. On the other hand… so much corn. But weirdly, you have to go up to South Dakota to find a damn Corn Palace. Build that palace, Nebraska!
47. Delaware
The signature food of Delaware is a piece of untoasted white bread with a medium amount of mayonnaise on it. Fine, that's not true. But you believed it for half a second, didn't you?
46. New Hampshire
Everyone is too busy planning out which NASCAR T-shirt they're going to wear to vote in the 2020 primaries to cook... all those apples lying around rotting in their yards next to all those old Paul Tsongas campaign signs.
45. Iowa
How does America's largest pork producing state (by far) not have a better barbecue scene? And don't try waving that pork tenderloin sandwich in our faces, as its comically out-of-whack meat-to-bun ratio makes it unwieldy.
44. Utah
We're all about "fry sauce," but honestly it's pretty easy to just mix ketchup and mayo together somewhere else. Sweet Jell-O molds though!
43. Wyoming
There's some great food in the cities (both of them!), and Pitchfork Fondue is a marvel of modern eating. But for a state where the cattle population more than doubles the humans, it's alarming how many restaurants are content to thaw out Sysco patties and frozen steaks.
42. South Dakota
We're on record calling South Dakota an underrated state on the whole, so it's not like we don't have love. But the enormous expanses between fried steak tips in Belle Fourche, amazing steaks in Sioux Falls, great subs in Yankton, and the country's best Indian tacos don't exactly make for an amazing food state. Still, picking chislic out of your teeth while driving through the Badlands amounts to something, right?
41. Idaho
Boise's making a play to become the Portland of Idaho, which means tons of great food, from high-end farm-to-table spots to great burgers, pizza, and some of the most innovative chicken wings we've ever seen. So potato jokes be damned. The rest of the state… um. Shit. Something something potato joke.
40. Kansas
Let's just say Kansas is extremely fortunate for the piece of the KC metropolitan area is has to bless it with the likes of Joe's and a few other luminaries. Without it, there's not much going on. That's probably why they convinced themselves some random town holds the gateway to hell.
39. Alaska
It's not all reindeer sausages and akutaq in Alaska. Juneau and Anchorage have fantastic dining scenes. King crab is, um, the monarch of the dinner table. There's even a low-key incredible Thai food scene in Fairbanks. And the rest of the state has… some pretty good reindeer sausage?
38. Montana
A rich man's Wyoming, one might say.
37. Arizona
Allegedly inventing the chimichanga by deep-frying a burrito definitely counts for something, and we're insanely fixated on Pizzeria Bianco. But it's hard to get excited about all those chains dotting the scorched landscape. If you happen to be elderly, advance this ranking seven spots up the list. If you happen to be a minority, drop Arizona 13 spots.
36. Indiana
Indianapolis has come a long way in recent years, with establishments like the universally beloved Milktooth injecting some life into a far too chain-dominant dining scene. And when you're outside Indy, keep your eyes peeled for some sugar cream pie. Maybe skip the fried brain sandwich.
35. Oklahoma
You can spend a lot of time on food sites reading about people debating Oklahoma's signature dish. Is it the onion burger? BBQ? Fried catfish? Just the fact that people aren't quite sure (look, it is the damn onion burger, OK?!) is enough to keep OK from moving anywhere farther down the road.
34. Rhode Island
You've got Del's frozen lemonade, grilled pizzas, generally serviceable Italian food, and and the worst of all styles of clam chowder. Woonsocket is a really fun town name to say, but that doesn't do much in this context.
33. Connecticut
If there was a bit more going on beyond a rich hamburger history and one of the nation's legitimately singular pizza cultures in New Haven, MAYBE THE WHALERS WOULDN'T HAVE LEFT YOU.
32. Nevada
Las Vegas offers up every single food and drink you could ever imagine, making it something of a Disney theme park of world cuisine. That's great for high rollers, but it often comes at a steep price that leaves the newly empty-pocketed scrambling for questionable shrimp cocktails. The rest of the state is… well, basically the equivalent of that sad little cup of bay shrimp and ketchup, with a few notable exceptions. Sorry, Carrot Top. But at least you can hit Tahoe on the weekend. Maybe eat on the California side, though.
31. Arkansas
If someone from North Dakota moved here, they would be in foodie heaven. But Arkansas lacks the dominant iconic Southern foods of literally all their neighbors to the south. They do have pretty good cheese dip and possum pie, though.
30. New Jersey
Despite all the negative PR brought on by its citizenry, New Jersey is actually something of a poor man's New York, particularly when it comes to Italian food. Which is way better than being a poor man's Wyoming. Or a rich man's Wyoming, for that matter. Plus, most of those red-sauce places let you bring your own wine.
29. Kentucky
Yes, the robust bourbon culture in Kentucky isn't technically admissible as a factor here, but the buzz that comes along with polishing off a few too many bourbon balls absolutely is. Chefs like Edward Lee have helped make Louisville a legitimate destination for anyone interested in eating well. As signature state foods go, however, the Hot Brown is just a turkey sandwich that quit midway through being made.
28. Virginia
Many excellent things have been happening in northern Virginia thanks to the halo of DC's ascendant dining scene. Many excellent things have been happening with country ham in Virginia for centuries. However, more excellent things are happening in the states that are about to follow. Hey, it's getting competitive now, OK?
27. Minnesota
Any chump can melt cheese ON a burger, but it takes vision to put it INSIDE the burger. But the fabled Jucy Lucy isn't the only trick the Land of 1,000 Lakes has up its sleeves: The Twin Cities represent one of the best under-the-common-radar food scenes in the entire country, with everything from Korean BBQ and Somali food holding court alongside upscale American comfort. Even the state's famed tater-tot-laden hot dish gets the special treatment here. It's amazing that Prince could move like he did with so much decadence washing up on the shores of Lake Minnetonka.
26. New Mexico
We don't blame you for putting that green chile all over everything -- it's quite tasty, but that's only going to take you so far.
25. Vermont
We're not medically advising you to subsist solely on a diet of maple syrup, boutique ice cream, and artisanal cheeses, but if one WERE to pursue such a diet, Vermont would be the place to do it. Burlington would be a good place to start. In all seriousness, they even have a way with foods that don't come from cows or maple trees.
24. Ohio
Cleveland has established itself as Midwestern leader in the Rust Belt food revival, with baller chefs like Michael Symon and Jonathon Sawyer inspiring other big-name chefs to come home and infuse the local economy by making incredible food. Regional dishes like the Polish Boy and Columbus-style pizza (it's a thing) hold their own alongside the wealth of pierogies in Parma. Add to that the legacy of places like Swensons Drive-In and Tony Packo's, subtract or add a point depending on your feelings about putting chili on spaghetti, then throw in some ice cream from the likes of Jeni's and Graeter's and it's safe to say that Ohio's shaping up to become a fatter, weirdly accented answer to Oregon in the Great Lakes region.
23. Mississippi
The Magnolia State reps a staggeringly good slew of deep-fried Southern and soul food gems, like catfish and pork chops, not to mention the étouffée, po-boys, and jambalaya more commonly associated with a certain neighbor of theirs. But Mississippi is also famous for its bountiful pecan trees, caramel cakes, and Gulf crabs and shrimp. They also have award-winning barbecue, and even an astonishingly active and interesting hot tamale trade in the Delta, due to the blending of African American and Mexican immigrant cultures. There's a reason Mississippi consistently rates among our heftiest states.
22. Alabama
Bama doesn't quite get its due as a great BBQ state, despite a singular innovation (white sauce, a la Big Bob Gibson's, on chicken or pulled pork) and other standout joints like Dreamland in Tuscaloosa. Throw in a side of all the other fried, smothered, sweetened goodness that permeates the South, and you're in surprisingly good culinary hands, hands that more often than not smell like pull-and-peel shrimp, but still.
21. Maryland
Crab cakes and football, right everyone? That's a quote from a hit 2005 movie called Wedding Crashers, and it is hilarious if you understand the context. Beyond the crabs, there's Baltimore's pit beef, which is one of America's most underrated carnivorous indulgences. There's also a thing called Smith Island Cake, which is really just a chocolate layer cake? Feels like we're starting to reach. This is as high as Maryland goes.
20. Florida
Florida jokes are so easy. It's like, "BLAH BLAH BLAH EVERYONE IS CRAZY OR OLD; SUBPRIME MORTGAGES, ELIAN GONZALEZ." But the thing is, the Sunshine State has some moves. For one, they get a lot of that sunshine, and so they grow those famous Florida oranges and those famous Key limes, and less famously, starfruit, which are in season nearly year-round.  On top of that, Miami's whole Cuban influence means delicious sandwiches, arroz con pollo, and the like. And there's tons of coastline so obviously their seafood game is a given. But it's… still Florida.
19. Missouri
Both Kansas City and St. Louis boast some damn fine BBQ joints, and there are some who would argue that burnt ends are the finest damn piece of meat you can ever put in your mouth. So fine, in fact, that it's easy to ignore the abomination that is the St. Paul sandwich comes from the very same state, and that Provel cheese is considered an acceptable substitute for mozzarella on pizza. Such is the power of the Texas of the Midwest.
18. Colorado
Were craft beer a factor here, Colorado would be skyrocketed to the top of the list. It's not. But you can eat weed! And Colorado does have some of the best edibles in the US. Why do we mention it? Well, it's certainly helpful when you consider that an appetizer of a weird-tasting baked good makes most things taste better, and considering things already taste great in hubs like Denver, Boulder, Breck, and Aspen, it's astounding. It's tough to pin down the "thing" that really defines Colorado food-wise -- it's kind of a mish-mash of Western influences that've migrated from elsewhere (they're big on green chile) with a heavy dose of meats like buffalo and Colorado lamb. Also, it's hard to discover that Rocky Mountain oysters are actually delicious without a little metaphysical courage-building.
17. Hawaii
There's some sort of magic in the air in Hawaii, a confluence of Polynesian, East Asian, and mainland cultures that manages to set it apart as one of the most singular American cuisines out there. It doesn't take a ton to make the state's bounty of seafood incredible, or its Kalua pork a very real rival to the Carolina throne. The true magic is the fact that Hawaiian cuisine manages to take something as seemingly off-putting as SPAM dolled up like sushi or a hamburger patty covered in gravy atop rice and make it the kind of thing you'll crave for a lifetime.
16. Wisconsin
It's easy to talk about Wisconsin solely in terms of cheese and sausages and fried things and sausages topped with cheesy fried things. We've been known to do it! But to focus solely on that (admittedly delightful) component of Wisconsin's edible culture does a disservice to the accessible sophistication of Milwaukee and Madison's restaurant scenes, the simple pleasure of a lakeside fish fry, and the instant happiness that comes with taking that first bite of Kringle. Which could be filled with cheese. Which means we just mentioned fried things and cheese again. Whoops.
15. Massachusetts
Mass has a lot going for it. Yeah, sure there's chowder, Boston cream pie, all that Cape and Island seafood, all that Italian food in Boston's North End, all the Barbara Lynch restaurants everywhere in Boston, and all those teeny delicious burgers at West Springfield's White Hut. But not baked beans. Boston baked beans aren't really a thing anyone in Boston cares about. They do, however, care about how many Dunkin' Donuts locations are within walking distance from their residence.
14. Georgia
Atlanta is having something of a moment right now, but there's more to eating well there than just lemon pepper wet wings. And while we're at it, there's also more than pecan pie and peach cobbler. Contemporary dining in Atlanta can increasingly hold its own with just about anywhere, and yet the state still boasts much of the slow-smoked, Southern fried goodness that makes the rest of the region taste so good. It's the kind of combination that can make you forget what happened in the Super Bowl last year for a few fleeting milliseconds.
13. Maine
The Pine Tree State is a bit of a sleeping giant in the food world, and not simply because it is actually so big that you can be hundreds of miles north of Montreal, and still in Maine. Their dominance in the lobster game is legendary, but causes the rest of their excellent seafood game to be a bit shortchanged. Also, it's worth noting that these days, if you tell someone you're going to spend the weekend eating amazing meals in Portland, you had better specify which one.
12. South Carolina
Does a trip to South Carolina to eat some shrimp & grits, devour some of Rodney Scott's barbecue, and inhale (but, like, classily) some of Sean Brock's food at Husk sound good to you? No? Then you'd better have either a shellfish allergy, a principled adherence to veganism, or a court order not to leave your state.
11. Michigan
It's weirdly the original home of the coney hot dog, enormous pasties (the meat pies, not the stripper nipple covers), and the currently hot, always-square Detroit-style pizza, not to mention the fact that Mitten-born Little Caesars and Domino's more or less defined American takeout pizza as we know it. The Detroit Metro area also has a massive wealth of Polish, Greek, and Middle Eastern food, while Traverse City and Grand Rapids are fast becoming food destinations unto themselves (the Yoopers have it low-key going on too). BBQ and soul food, too, are plentiful in the lower half of the state. Additional points for the state's farmer's market cred, and for its wealth of fish fries and venison chili. Minus points for losing your appetite when you see a shitload of deer splattered on the road en route to actually eat that chili.
10. North Carolina
It would be one thing if North Carolina only boasted one of America's great barbecue traditions, but it just so happens that it has TWO of them. But there's more going on here than just whole hog artistry, from the abundant seafood shacks lining the coast from Nags Head to Calabash, to an Asheville food scene that's increasingly catching up with its beer, to a Charlotte food scene that's consistently underrated. If ingesting tobacco was a more pleasant experience, it'd be even higher.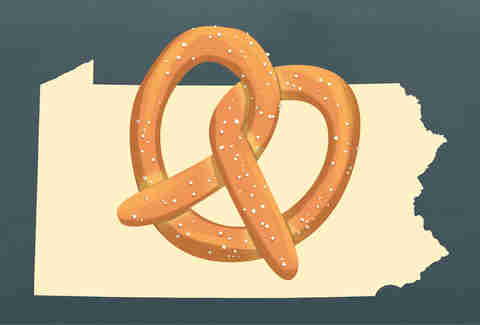 9. Pennsylvania
Perhaps you dig Philadelphia, what with its cheesesteaks and roast pork and pretzels and many excellent restaurants, some of which actually do not belong to Stephen Starr. Perhaps Pittsburgh is more your style, with its pierogies and fry-stuffed sandwiches and restaurant scene that's been called "up and coming" for long enough that we should just start calling it "really good."  But both are inarguably great, so stop arguing and pass the scrapple.
8. Washington
Do you like apples? They were probably grown in Washington. For real though, this state's a produce powerhouse and farmer's market wet dream come to life. That sounded gross. You get the idea, though. Their oysters are delicious, even if they won't actually get you laid, and the state manages to overtake the entire western seaboard when it comes to seafood. And, um, riverfood: You've never had salmon until you've had it smoked on a cedar plank while listening to a tourist gab on about Nirvana near Pike Place, or experienced coffee culture in a cafe that requires you to take a ferry. Seattle's basically Portland's more-refined older brother, long on legacy and finer dining, and this is indeed a place where you can always get a damn fine slice of cherry pie… either in the actual diner from Twin Peaks or from the hundreds of cheaper and more charming places nearby, including Leavenworth, which might just have the best German food in the west. But seriously, you should get that salmon.
7. Illinois
Any top-five list of American cities to eat in that doesn't include Chicago is a bad and wrong list, and if the person arguing against its inclusion starts in on some rant against deep dish pizza they might as well just wear a sandwich board that says "I know nothing about Chicago." The rest of the state lags behind a bit, but isn't without its charms, such as a frighteningly caloric regional indulgence known as the horseshoe and a better-than-you-realized barbecue culture in the southern portion of the state.
6. Oregon
Portland, with its farm-to-table movement and food carts and donuts and endless brunch lines. Central and western Oregon , with its prized beef. The coast, with its bounty of dungeness crab and famous tuna and Goonies. Hood River with all its fruit. Southern Oregon, with its mountainous landscape and legendary off-highway restaurants. The fancy-pants fine-dining and casual cheese-munching of the Willamette Valley wine country. And all that damn Tillamook cheese. We could go on and on, but we're not going to, because people who live in Oregon already have an issue of going on and on and on and on about how great the food is. They're right, but Jesus, dial it back, Oregon.
5. Tennessee
Nashville was already hotter than the hot chicken that helped make it hot in the first place (got all that) before notorious food lover Aziz Ansari made a pilgrimage there in the first season of Master of None. And Memphis has so much more going on for it than pulled pork and ribs but also… holy hell, their pulled pork and ribs. As Arrested Development said in their 1992 hit "Tennessee" -- you know, they actually didn't talk much about food in that song. But they SHOULD have.
4. Louisiana
Look, there's been so much waxing poetic about the cuisine of Louisiana over the years (both from within and from outsiders) that it gets to feel repetitive. You know all the buzzwords: Cajun and Creole, gumbo and jambalaya, po-boys and crawfish étouffée, and so forth. It doesn't change the fact that it's all unspeakably delicious, which is why lesser versions of it constantly show up on menus around the country. Eating amazing, singular food is engrained in Louisiana as the shards of stomped beads are on Bourbon Street.
3. New York
Even though the Big Apple only has mostly normal-sized apples, it also has just a FEW other things going for it, from the advantages that come from being a major immigration hub for generations (the pizza's just the tastily foldable tip of the iceberg) to the delicious results that come from waves of chefs flocking there to try and make it among the scores of Michelin-starred elites already doing their thing. Basically, any kind of cuisine you can crave can be found somewhere in the state, and often in its purest and best form. Oh yeah, there are also BUFFALO WINGS. Fresh Long Island seafood is spectacular. The bagels that NY expats won't stop talking about really are that good, too, and more than make up for the fact that the hot dogs are questionable unless they're coming from upstate. Even garbage plates are delicious here. Apparently, the New York state of mind is one induced by a food coma.
2. Texas
Whereas most states have one style of BBQ -- maybe two -- Texas has four: East, Central, South, and West (sorry, North). And these styles, particularly Central Texas, happen to be among our favorite barbecue in the whole world. There's a reason that line is so long at Franklin, y'all (wishing speedy recovery after that fire). Texans invented their own style of cuisine (Tex-Mex), their own style of chili (no beans!), and the ballpark nachos (in 1973 at Arlington Stadium). There are famous cattle ranches like King in South Texas, which is bigger than all of Rhode Island, and their wares are served in preparations as varied as "giant hunk of meat" and "deep-fried giant hunk of flattened meat." You could make a damn compelling case that four cities (Austin, Houston, San Antonio, and, OK, maybe Dallas/Fort Worth) are all destination-worthy when it comes to eating. Dining at Whataburger could well push a Double-Double out of your cult-chain manifesto, and kolaches are king. Texas is a culinary wonderland… unless you're a staunch vegetarian who can't stand the omnipresent smell of smoked meat wafting through the air.
1. California
We truly didn't want to be so predictable here. We tried to justify Texas. We made a play for New York. Hell, we weighed the options of trolling hard and going with a Dakota, but we couldn't do it. Because California is impossibly long. And California is diverse. And as such, there's really something exemplary for pretty much anyone here. The Bear Republic is like an entire galaxy of food spread over an entire state, one where a road trip could start with the greatest fish tacos and pan-Latin-American fare in America and end with actual bear paired with great wine in the north. Along with half of all US-grown fruits, nuts, and vegetables, it also produces lauded eateries across its entire geography, from hot-shit food cities (LA, San Diego, San Francisco) to fancy-pants wine-country restaurants to some of the greatest roadside eats you can find in the country, served in shacks, trucks, and dives. Along the coast, great food comes with amazing vistas, served up at roadhouses that overlook the kind of Americana an entire generation of songwriters crooned about, usually with mouths full of tri-tip and seafood. But you know what puts it all over the top? The fact that you could take away those better-known places, and it'd still have enough good food cities to be in the top 10. Oakland/Berkeley with its "anything SF can do, I can do cheaper and potentially better" vibe. San Jose and its cultish ramen from Santouka and Halu. Sacramento and those delicious burgers at the Squeeze Inn with that cheese skirt. Anyone who bemoans skimpy "California cuisine" should be suspected of only visiting the state via reruns of Melrose Place. It's California on a knockout, and it ain't even that close.
Sign up here for our daily Thrillist email and subscribe here for our YouTube channel to get your fix of the best in food/drink/fun.