All 50 States, Ranked by Their Food
Jason Hoffman/Thrillist
Jason Hoffman/Thrillist
If you could only eat in one state for the rest of your life, what state would it be?
It's a complicated question informed by numerous factors -- cities with quality restaurant scenes, singular state specialties, variety of fresh seafood and produce -- and obviously the answer will vary tremendously from person to person. After all, one person's Maine lobster binge is another person's shellfish allergy-induced emergency room visit. Nonetheless, our intrepid panel (which is unbiased at least in the sense of being completely omnivorous) put its best taste buds forward and devised this unassailable hierarchy of state-by-state deliciousness. Enjoy, and then feel free to assail it (and them) in the comments.
50. West Virginia
Almost heaven... does not describe the flavor of a state where a glorified Hot Pocket is the signature food and road kill is probably top five.
49. North Dakota
Buffalo burgers! Um… outdated Fargo jokes! Um… damn, North Dakota makes South Dakota look like France, doesn't it?
48. Nebraska
On the one hand, it's home of Runza -- which is a damn-fine chain that could lazily be described as selling gourmet Hot Pockets -- claims to have invented the Reuben, and delivers steak to your mailbox. On the other hand… so much corn. But weirdly, you have to go up to South Dakota to find a damn Corn Palace. Build that palace, Nebraska!
47. Delaware
The signature food of Delaware is a piece of untoasted white bread with a medium amount of mayonnaise on it. Fine, that's not true. But you believed it for half a second, didn't you?
46. New Hampshire
The Arkansas of New England, minus the possum pie, but plus free political T-shirts they were given that time they stood behind Gary Hart at a Portsmouth diner during a campaign commercial, pretending to eat apple cider donuts and orange cake.
45. Iowa
How does America's largest pork producing state (by far) not have a better barbecue scene? And don't try waving that pork tenderloin sandwich in our faces, as its comically out-of-whack meat-to-bun ratio makes it unwieldy.
44. Utah
We're all about "fry sauce," but honestly it's pretty easy to just mix ketchup and mayo together somewhere else. Sweet Jell-O molds though!
43. Wyoming
There's some great food in the cities (both of them!), and Pitchfork Fondue is a marvel of modern eating. But for a state where the cattle population more than doubles the humans, it's alarming how many restaurants are content to thaw out Sysco patties and frozen steaks.
42. South Dakota
We're on record calling South Dakota an underrated state on the whole, so it's not like we don't have love. But the enormous expanses between fried steak tips in Belle Fourche, amazing steaks in Sioux Falls, great subs in Yankton, and the country's best Indian tacos don't exactly make for an amazing food state. Still, picking chislic out of your teeth while driving through the Badlands amounts to something, right?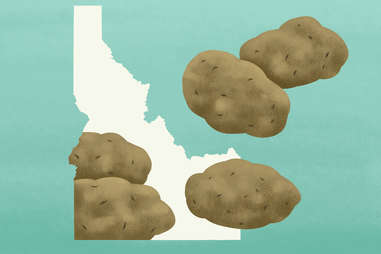 41. Idaho
Boise's making a play to become the Portland of Idaho, which means tons of great food, from high-end farm-to-table spots to great burgers, pizza, and some of the most innovative chicken wings we've ever seen. So potato jokes be damned. The rest of the state… um. Shit. Something something potato joke.
40. Kansas
Let's just say Kansas is extremely fortunate for the piece of the KC metropolitan area is has to bless it with the likes of Joe's and a few other luminaries. Without it, there's not much going on. That's probably why they convinced themselves some random town holds the gateway to hell.
39. Alaska
It's not all reindeer sausages and akutaq in Alaska. Juneau and Anchorage have fantastic dining scenes. King crab is, um, the monarch of the dinner table. There's even a low-key incredible Thai food scene in Fairbanks. And the rest of the state has… some pretty good reindeer sausage?
38. Montana
A rich man's Wyoming, one might say.
37. Arizona
Allegedly inventing the chimichanga by deep-frying a burrito definitely counts for something, and we're insanely fixated on Pizzeria Bianco. But it's hard to get excited about all those chains dotting the scorched landscape. If you happen to be elderly, advance this ranking seven spots up the list. If you happen to be a minority, drop Arizona 13 spots.
36. Indiana
Indianapolis has come a long way in recent years, with establishments like the universally beloved Milktooth injecting some life into a far too chain-dominant dining scene. And when you're outside Indy, keep your eyes peeled for some sugar cream pie. Maybe skip the fried brain sandwich.
35. Oklahoma
You can spend a lot of time on food sites reading about people debating Oklahoma's signature dish. Is it the onion burger? BBQ? Fried catfish? Just the fact that people aren't quite sure (look, it is the damn onion burger, OK?!) is enough to keep OK from moving anywhere farther down the road.
34. Rhode Island
You've got Del's frozen lemonade, grilled pizzas, generally serviceable Italian food, and and the worst of all styles of clam chowder. Woonsocket is a really fun town name to say, but that doesn't do much in this context.
33. Connecticut
If there was a bit more going on beyond a rich hamburger history and one of the nation's legitimately singular pizza cultures in New Haven, MAYBE THE WHALERS WOULDN'T HAVE LEFT YOU.
32. Nevada
Las Vegas offers up every single food and drink you could ever imagine, making it something of a Disney theme park of world cuisine. That's great for high rollers, but it often comes at a steep price that leaves the newly empty-pocketed scrambling for questionable shrimp cocktails. The rest of the state is… well, basically the equivalent of that sad little cup of bay shrimp and ketchup, with a few notable exceptions. Sorry, Carrot Top. But at least you can hit Tahoe on the weekend. Maybe eat on the California side, though.
31. Arkansas
Arkansas doesn't have the signature dishes or styles of food that a lot of their more well-known neighbors are constantly being lauded for, so they're more or less the southern state perpetually standing just off the podium of culinary achievement. But if the camera just pulled back a little bit, you'd see Arkansas standing there, just off to the side, impatiently dunking a possum pie in cheese dip. Plus we've heard whispers that SoMa in Little Rock is actually having a bit of a moment thanks to the folks behind The Root and a few other joints, so let this serve as a warning to Mississippi not to get complacent as the pig sooie calls start getting closer.
30. New Jersey
Despite all the negative PR brought on by its citizenry, New Jersey is actually something of a poor man's New York, particularly when it comes to Italian food. Which is way better than being a poor man's Wyoming. Or a rich man's Wyoming, for that matter. Plus, most of those red-sauce places let you bring your own wine.
29. Kentucky
Yes, the robust bourbon culture in Kentucky isn't technically admissible as a factor here, but the buzz that comes along with polishing off a few too many bourbon balls absolutely is. Chefs like Edward Lee have helped make Louisville a legitimate destination for anyone interested in eating well. As signature state foods go, however, the Hot Brown is just a turkey sandwich that quit midway through being made.
28. Virginia
Many excellent things have been happening in northern Virginia thanks to the halo of DC's ascendant dining scene. Many excellent things have been happening with country ham in Virginia for centuries. However, more excellent things are happening in the states that are about to follow. Hey, it's getting competitive now, OK?
27. Minnesota
The Twin Cities have so many things going for them. Vibrant Korean and Somali and Hmong food scenes. Truly exceptional and unique wild rice. A tater tot and cheese-laden foodstuff that sounds like something a dishwasher might call out in a restaurant kitchen (hot dish). Butter coffee before the bulletproof trend. A bunch of Nordic dishes that are pretty weird but at least interesting! But there is something that must be said and really prevents the State of Polite People in Interesting Sweaters from moving higher: The beloved Jucy Lucy, aka the signature MN burger with the cheese cooked inside, is not that good. Part of the problem is that it leaves you with a Sophie's Choice moment: Do you eat the burger while hot and risk scalding your mouth on molten cheese? Or do you wait for the cheese to cool but transfer its heat to the surrounding burger patty, thus overcooking and drying it out? May we politely suggest a third way: HOW ABOUT YOU DON'T PUT IT INSIDE THE BURGER AT ALL?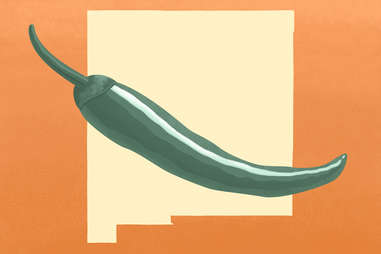 26. New Mexico
Everyone makes a really big deal about the green chiles, but you know what they're forgetting?!?! *Checks notes*
Oh, I guess I just wrote down green chiles.
(Also, a soon-to-be RIP to Santa Fe Bite, which is closing October 26 and does the best things with those green chiles and cheeseburgers.)
25. Vermont
We're not medically advising you to subsist solely on a diet of maple syrup, boutique ice cream, and artisanal cheeses, but if one WERE to pursue such a diet, Vermont would be the place to do it. Burlington would be a good place to start. In all seriousness, they even have a way with foods that don't come from cows or maple trees.
24. Ohio
Cleveland has established itself as Midwestern leader in the Rust Belt food revival, with baller chefs like Michael Symon and Jonathon Sawyer inspiring other big-name chefs to come home and infuse the local economy by making incredible food. Regional dishes like the Polish Boy and Columbus-style pizza (it's a thing) hold their own alongside the wealth of pierogies in Parma. Add to that the legacy of places like Swensons Drive-In and Tony Packo's, subtract or add a point depending on your feelings about putting chili on spaghetti, then throw in some ice cream from the likes of Jeni's and Graeter's and it's safe to say that Ohio's shaping up to become a fatter, weirdly accented answer to Oregon in the Great Lakes region.
23. Mississippi
The Magnolia State reps a staggeringly good slew of deep-fried Southern and soul food gems, like catfish and pork chops, not to mention the étouffée, po-boys, and jambalaya more commonly associated with a certain neighbor of theirs. But Mississippi is also famous for its bountiful pecan trees, caramel cakes, and Gulf crabs and shrimp. They also have award-winning barbecue, and even an astonishingly active and interesting hot tamale trade in the Delta, due to the blending of African American and Mexican immigrant cultures. There's a reason Mississippi consistently rates among our heftiest states.

22. Florida
We have to tread lightly here, because Noted Florida Man Dave Barry apparently reads these things with a red pen in hand, ready to deal in dad joke word vengeance at the slightest indignity. But we've come in peace, Florida. Your state has lots going for it in the food department, from the oranges and key limes, to the starfruit, to the incredible stone crabs and conch fritters. Miami's Cuban influence means glorious sandwiches stuffed with pork, pastelitos, arroz con pollo, vaca frita, and coffee, and St. Petersburg is quietly turning into a hip, creative enclave with all the obligatory delights you'd expect to back that up. Now be cool, Mr. Barry, and please refrain from throwing an alligator at us on the highway.
21. Maryland
Crab cakes and football, right everyone? That's a quote from a hit 2005 movie called Wedding Crashers, and it is hilarious if you understand the context. Beyond the crabs, there's Baltimore's pit beef, which is one of America's most underrated carnivorous indulgences. There's also a thing called Smith Island Cake, which is really just a chocolate layer cake? Feels like we're starting to reach. This is as high as Maryland goes.
20. Missouri
Both Kansas City and St. Louis boast some damn fine BBQ joints, and there are some who would argue that burnt ends are the finest damn piece of meat you can ever put in your mouth. So fine, in fact, that it's easy to ignore the abomination that is the St. Paul sandwich comes from the very same state, and that Provel cheese is considered an acceptable substitute for mozzarella on pizza. Such is the power of the Texas of the Midwest.
19. Colorado
Were craft beer a factor here, Colorado would be skyrocketed to the top of the list. It's not. But you can eat weed! And Colorado does have some of the best edibles in the US. Why do we mention it? Well, it's certainly helpful when you consider that an appetizer of a weird-tasting baked good makes most things taste better, and considering things already taste great in hubs like Denver, Boulder, Breck, and Aspen, it's astounding. It's tough to pin down the "thing" that really defines Colorado food-wise -- it's kind of a mish-mash of Western influences that've migrated from elsewhere (they're big on green chile) with a heavy dose of meats like buffalo and Colorado lamb. Also, it's hard to discover that Rocky Mountain oysters are actually delicious without a little metaphysical courage-building.
18. Hawaii
There's some sort of magic in the air in Hawaii, a confluence of Polynesian, East Asian, and mainland cultures that manages to set it apart as one of the most singular American cuisines out there. It doesn't take a ton to make the state's bounty of seafood incredible, or its Kalua pork a very real rival to the Carolina throne. The true magic is the fact that Hawaiian cuisine manages to take something as seemingly off-putting as SPAM dolled up like sushi or a hamburger patty covered in gravy atop rice and make it the kind of thing you'll crave for a lifetime.

17. Alabama
The knee-jerk food talking point that television show hosts get fed in their ears by producers right before they have to talk about food in Alabama is white sauce barbecue, with a specific shoutout to Big Bob's and maybe even Dreamland. And honestly white sauce is delicious, tangy and peppery and also full of mayonnaise -- it's really the chubby thinking man's BBQ, so we shall get that out of the way first, and now talk about what really matters: God and Footba— sorry, what's that? Oh right, back to food.
Alabama is currently having a moment. For one, Frank Stitt and the Highlands Bar and Grill finally and deservedly won most outstanding restaurant in America at the James Beard Awards after being nominated TEN TIMES. And Birmingham itself, but specifically the Avondale hood, has quietly been a great place to eat and drink for years now. Outside of Birmingham, places like Fisher's in Orange Beach, with their incredible summer dinner series pulling in top chefs from all over the south, make a pretty good argument against going to FloraBama every night. And the farm-raised oyster movement there, started in an attempt to combat over harvesting, has produced some incredible nationally acclaimed oysters with thriller film names (see: murder point). Also, Alabama peaches are much better than Georgia peaches, and it's crazy that Nick Saban refuses to talk about this.
16. Wisconsin
It's easy to talk about Wisconsin solely in terms of cheese and sausages and fried things and sausages topped with cheesy fried things. We've been known to do it! But to focus solely on that (admittedly delightful) component of Wisconsin's edible culture does a disservice to the accessible sophistication of Milwaukee and Madison's restaurant scenes, the simple pleasure of a lakeside fish fry, and the instant happiness that comes with taking that first bite of Kringle. Which could be filled with cheese. Which means we just mentioned fried things and cheese again. Whoops.
15. Massachusetts
Baked beans are gross. Greek-style pizza isn't great. Necco wafers taste stale even if you eat them right at the factory. Boston cream pies are only good in donut form. Cranberries are OK? Tom Brady has lobbied the Mass legislature to outlaw nightshades. And no one talks much about molasses since that incident in 1919. Dunkin' Donuts is changing its name in a lame way and stopped making their actual incredibly delicious Dunkin' donuts, with those little nubs you could hold onto while you dipped it in coffee, which, by the way, WAS THE ENTIRE PURPOSE OF THE NAME IN THE FIRST PLACE.
But just when you think this is going to be bad, because we spent like 300 words complaining, you remember all the glorious things that make the Bay State competitive in any food conversation: New England clam chowder, the finest of all soups (don't @ us). Lobster rolls at Neptune Oyster. The cannoli triangle in Boston's North End. Fried full belly clams in Ipswich and Cape Cod. Kelly's roast beef. The "horse feast" at Jared Forman's criminally underrated Deadhorse Hill in Worcester. The "Dirty Italian" grinders at Pajer's in Agawam. And the legendary "cheeseburgs" with fried onions at the White Hut in West Springfield (our national burger critic's most cherished spot). So yeah, much like the plot of Good Will Hunting, Massachusetts' food scene is complicated and polarizing and frustrating, but beautiful and also mentions Kelly's before fist fights break out.
14. South Carolina
There is Charleston, of course, which held a Hot New Food Town crown for many years thanks to Sean Brock at Husk and Mike Lata at FIG and The Ordinary, and no longer needs the "new" in its name, as it's now a staple on America's culinary tourism circuit, and boasts both Rodney Scott's legendary whole hog barbecue and Texas expat John Lewis's incredible Central Texas brisket, making it in the conversation for one of the best barbecue cities in America. Outside of Charleston, Greenville is slowly creeping into the world food conversation, thanks to a revitalized downtown that features small batch distilleries and inventive restaurants including one of Sean Brock's newest Husks (though people still whisper about the legend that was The Owl). Throw in frogmore stew (for a crew!) and the fact that South Carolina is the second state that claims their peaches are much better than incredibly overrated Georgia's and it would appear The Palmetto State has a pretty strong culinary case.
13. Georgia
Atlanta has had something of a cultural moment the past year or so, but there's more to eating well there than just lemon pepper wet wings. And while we're at it, there's also more than pecan pie and peach cobbler. Contemporary dining in Atlanta can increasingly hold its own with just about anywhere, and yet the state still boasts much of the slow-smoked, Southern fried goodness that makes the rest of the region taste so good -- Savannah in particular deserves its own shout-out. It's the kind of combination that can make you forget what happened in Super Bowl LI for a few fleeting milliseconds.
12. Maine
Portland is, pound for pound, one of the finest food cities in all of North America, NAY THE WORLD (but at least North America) and we could spend the rest of our time name dropping every jealousy-inducing spot in Portland's general area. Eventide!! Central Provisions! Fore Street! Palace Diner! Duckfat! But really, Maine comes down to a few key things done better than everywhere else. Namely: Blueberries! Lobster rolls! Clambakes! Blueberries and lobster rolls and clams stuffed into LL Bean boots and then baked! Throw in a trip to the outlets in Kittery for some cut-price maple syrup, and Maine proves you really can have it all.
11. Michigan
It's weirdly the original home of the coney hot dog, enormous pasties (the meat pies, not the stripper nipple covers), and the currently hot, always-square Detroit-style pizza, not to mention the fact that Mitten-born Little Caesars and Domino's more or less defined American takeout pizza as we know it. The Detroit Metro area also has a massive wealth of Polish, Greek, and Middle Eastern food, while Traverse City and Grand Rapids are fast becoming food destinations unto themselves (the Yoopers have it low-key going on too). BBQ and soul food, too, are plentiful in the lower half of the state. Additional points for the state's farmers market cred, and for its wealth of fish fries and venison chili. Minus points for losing your appetite when you see a shitload of deer splattered on the road en route to actually eat that chili.
10. North Carolina
It would be one thing if North Carolina only boasted one of America's great barbecue traditions, but it just so happens that it has TWO of them. But there's more going on here than just whole hog artistry, from the abundant seafood shacks lining the coast from Nags Head to Calabash, to an Asheville food scene that's increasingly catching up with its beer, to a Charlotte food scene that's consistently underrated. If ingesting tobacco was a more pleasant experience, it'd be even higher.
9. Pennsylvania
Despite the incessant but extremely proud overuse of the term "jawn," Philadelphia boasts an incredibly rich eating scene, from the fancier realms of Vernick Food & Drink and Vetri Cucina and Zahav and Serpico, to the cheesesteak and roast pork (John's! Always John's!), to the middle ground, which we'd imagine hovers somewhere over Federal Donuts (Philly also has arguably the best BYOB restaurant culture in the world).
Not to be undone, the Pittsburgh of the last few years has became a national food darling thanks to the likes of Justin Severino, Sonja Finn, Richard DeShantz, and Becca Hegarty (the whole shoving fries in sandwiches thing coupled with bountiful pierogis also doesn't hurt), and the farmlands of southeastern PA -- Lancaster and Berks County in particular -- are increasingly impressive, especially if you want dairy products. And we haven't even gotten into Amish foods, which should be noted if only because on AmishAmerica.com, they list the number one favorite Amish food as pie. Legend.
8. Washington
Do you like apples? They were probably grown in Washington. For real though, this state's a produce powerhouse and farmer's market wet dream come to life. That sounded gross. You get the idea, though. Their oysters are delicious, even if they won't actually get you laid, and the state manages to overtake the entire western seaboard when it comes to seafood. And, um, riverfood: You've never had salmon until you've had it smoked on a cedar plank while listening to a tourist gab on about Nirvana near Pike Place, or experienced coffee culture in a cafe that requires you to take a ferry. Seattle's basically Portland's more-refined older brother, long on legacy and finer dining, and this is indeed a place where you can always get a damn fine slice of cherry pie… either in the actual diner from Twin Peaks or from the hundreds of cheaper and more charming places nearby, including Leavenworth, which might just have the best German food in the west. But seriously, you should get that salmon.
7. Illinois
Any top-five list of American cities to eat in that doesn't include Chicago is a bad and wrong list, and if the person arguing against its inclusion starts in on some rant against deep dish pizza they might as well just wear a sandwich board that says "I know nothing about Chicago." The rest of the state lags behind a bit, but isn't without its charms, such as a frighteningly caloric regional indulgence known as the horseshoe and a better-than-you-realized barbecue culture in the southern portion of the state.
6. Oregon
Portland, with its farm-to-table movement and food carts and donuts and endless brunch lines. Central and western Oregon , with its prized beef. The coast, with its bounty of dungeness crab and famous tuna and Goonies. Hood River with all its fruit. Southern Oregon, with its mountainous landscape and legendary off-highway restaurants. The fancy-pants fine-dining and casual cheese-munching of the Willamette Valley wine country. And all that damn Tillamook cheese. We could go on and on, but we're not going to, because people who live in Oregon already have an issue of going on and on and on and on about how great the food is. They're right, but Jesus, dial it back, Oregon.
5. Tennessee
There's an obligatory remark to be made about Nashville's food scene being so hot right now, much like a certain of-the-moment spicy chicken dish popularized there. But now that THAT'S out of the way, we should make sure that the state's other ample culinary delights get their due -- like, it's worth mentioning that if fried chicken is your thing, Memphis is arguably the pound-for-pound better city for poultry (commence the arguments!).
On the flip side, Memphis had better watch its back when it comes to barbecue, as joints like Martin's are elevating Nashville's profile as a worthy destination strictly on barbecue terms (as if they needed any more visitors). But the point of all this isn't to get into some kind of inter-city food shouting match, but just to celebrate a singular American state anchored with two vibrant-yet-connected food cultures. Now let's all be friends, drink a few Yazoo's and Wiseacres, and then put in an ill-advisedly large order at Krystal when it's all done.
4. Louisiana
If New Orleans was its own state, it would probably still end up in the top 10, because of not only the foods that've come out of there -- muffulettas at Central Grocery, po-boys, oyster Rockefeller, beignets, King Cakes, pralines, sno-balls, turtle soup, bananas Foster, BLACKENED REDFISH (RIP Paul Prudhomme)— and the legendary restaurants (Antoine's, Commander's Palace, Galatoire's, Dooky Chase) but also a modern food scene that can go toe to toe with any other city in the country, thanks to the likes of Nina Compton, Alon Shaya, Donald Link, Sue Zemanick, Isaac Toups, Kristen Essig, Tory McPhail, Justin Devillier, Adam Biderman, the whole Turkey & the Wolf crew, and you could honestly keep on going forever. And we haven't even gotten into the incredible Vietnamese food at places like Magasin Kitchen and Tan Dinh. It's also featured in the only Disney princess movie where said princess is an incredibly skilled chef who dreams of opening her own restaurant and befriends an alligator who plays a mean trumpet.
But beyond that, there is a uniqueness to Louisiana's food culture that separates it out from other states, the whispers of history are all around the food, and -- not to get philosophical here as we arbitrarily rank states -- maybe that's true with literally every food, which had to come from SOMEWHERE, but in Louisiana the mishmash of those historical footnotes is so damn interesting and delicious. Do you want to go to Gonzalez for the Jambalaya festival? Or LaPlace for an Andouille festival? Or Avery Island to see where Tabasco is made? Or go to Scott, Louisiana, which is the BOUDIN CAPITAL OF THE WORLD?!?! The answer, of course, is yes. Yes you do.
3. New York
Even though the Big Apple only has mostly normal-sized apples, it also has just a FEW other things going for it, from the advantages that come from being a major immigration hub for generations (the pizza's just the tastily foldable tip of the iceberg) to the delicious results that come from waves of chefs flocking there to try and make it among the scores of Michelin-starred elites already doing their thing. Basically, any kind of cuisine you can crave can be found somewhere in the state, and often in its purest and best form. Oh yeah, there are also BUFFALO WINGS. Fresh Long Island seafood is spectacular. The bagels that NY expats won't stop talking about really are that good, too, and more than make up for the fact that the hot dogs are questionable unless they're coming from upstate. Even garbage plates are delicious here. Apparently, the New York state of mind is one induced by a food coma.
2. California
Imagine the country of Sweden. Now put that in the United States and replace the meatballs and knäckebröd with an incredible agriculture and farming system that helps provide the staging ground for every imaginable food culture. Sizzling Sonoran hot dogs and fresh fish tacos drizzled with crema and burritos stuffed with fries and Mexico City-style chilaquiles. Soba and udon noodles and karaage and gyoza. Mapo doufu and lazi ji and soup dumplings and egg tarts. Dosas and uttapams and chaat. A style of griddled, thin, American cheese-laced double burgers copied all over the country. Another type of burger out of Sacramento with a "skirt" of cooked cheese nestled around it. A style of pizza that blends Neapolitan with the glorious bounty of all California has to offer. Both garlic and cherries in Gilroy. Avocado trees in your backyard next to the Meyer lemon and REGULAR lemon trees. Oysters up by Point Reyes. Cheeses from Cowgirl Creamery. Weed mixed with food up Humboldt way. The bounty of wine country. And then the other wine country you're not even thinking of. A food scene in Los Angeles that is currently the hottest in the nation and not just because David Chang is currently forced to make the Hemsworth brothers wait hours to eat at Majordomo. A food scene in the North that is somewhat overrated in SF, but properly rated in Oakland, and underrated in Sacramento. On paper, California should win this thing going away, but it won't because we are MONSTERS (and also, we no longer use paper).
1. Texas

Earlier this year, Brett Martin penned a beautiful love letter to the city of Houston, convincingly making the case that it is the best food city in America basically for reasons that used to never make sense: It is sprawling and random and unregulated. But amongst that sprawl, it also happens to have one of the most diverse immigrant populations in the country, and as anyone who's ever watched Netflix documentaries about foodways knows, the best places to eat are always where the most different folks collide. And normally you wouldn't think of Texas on the whole as a place where diverse populations intersect, but rather a place where folks wearing big belt buckles meet folks wearing BIGGER belt buckles to buy American-made trucks to drive to high school football games.
But just for a moment consider the glory that is the Texas food world:
A barbecue scene that is the best in the world, thanks to not only the dominance and perfection of the craft of Central Texas-style brisket at places like Franklin and Snow's, but the fact that there happen to be several different styles of barbecue just in Texas alone.
A Tex-Mex style of bastardized food that is admittedly delicious, and for a second in the late '80s, was elevated into a national culinary craze, once it was made fancier and marketed as "Southwestern."
Four substantial cities with their own unique food scenes and styles: Dallas's perfection of the meat-centric steakhouse and hybrid, modern steakhouse (think Knife). Houston's incredible mix of ice house, seafood, and immigrant cultures, all often colliding at once. San Antonio's small but mighty scene (oh, also: it was named a "Creative City of Gastronomy by UNESCO") filled with puffy taco joints, chorizo burger spots, the best overall Mexican food of any Texas city, and a growing nouveau food culture thanks to European-style food halls and young, modestly tatted chefs. Austin's ability to disguise itself in the clothes of the Good Food Revival Movement and be seen as the most non-Texan place in Texas draws chefs from all over the country to come and try their hands (nothing is more illustrative of this point than the fact that Detroit-style pizza basically first became popular nationwide thanks to Austin), WHILE maintaining the best traditionally Texan barbecue and breakfast taco scenes, plus a food truck culture that continues to innovate.
All of this is to say: Texas is having its national food moment, and it may be time to get a bigger belt to go along with that buckle.
Sign up here for our daily Thrillist email and subscribe here for our YouTube channel to get your fix of the best in food/drink/fun.

Matt Lynch is a Thrillist senior editor who hopes Puerto Rico one day becomes a state and turns these rankings UPSIDE DOWN. You can follow the vitriol he's about to receive from Indiana at @MLynchChi.