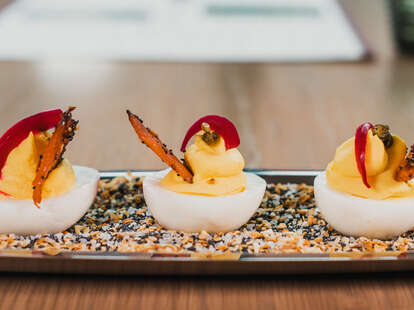 Everything Bagel Deviled Eggs

| Photo courtesy of The Original
Everything Bagel Deviled Eggs

| Photo courtesy of The Original
We love a deviled egg. Whether perfectly placed on an Easter brunch spread, sprinkled with Old Bay for a barbecue, or topped with caviar for something fancy, they're a side that simply doesn't miss.
Chef Derek Simcik, of elevated Denver diner The Original, couldn't agree more. Growing up, he says his mom always added an eclectic touch to the classic American dish.
"I remember her making barbecue baked bean deviled eggs, brisket burnt ends, pickled jalapeño, and even crawfish," he says. They moved all around the world because of his father's job, so deviled eggs were a mainstay at family dinner parties. The themed toppings were his mom's way of reminding her kids of American dishes back home.
Simcik has channeled that creativity and nostalgia into his menu at The Original, most notably in the Everything Bagel Deviled Eggs. The dish was an immediate hit with customers and quickly went from a breakfast side to an all-day appetizer.
"I remember her making barbecue baked bean deviled eggs, brisket burnt ends, pickled jalapeño, and even crawfish."
So what came first? Everything But the Bagel Seasoning or the egg? When the chef moved to Denver from Brooklyn last September, he knew he wanted to include this staple dish on the menu. The inspiration came one day when he spotted the popular everything bagel seasoning at the store. Childhood nostalgia and his longing for New York City's bagel scene inspired the idea of topping them with a homemade version of the seasoning, smoked salmon, pickled onions, and capers.
"Deviled eggs are so simple that a mistake on prepping them speaks loudly," says Simcik, who orders deviled eggs every time they're on a menu. "If you can't do the simplest thing, why the hell are you even trying the more complicated ones?"
He recommends buying extra large, farm fresh eggs to ensure you have plenty of filling. His fool-proof way of hardboiling involves adding room temperature eggs to boiling water for exactly seven minutes. Remove the pot from the heat, but let the eggs sit in the water for another seven minutes. Last, cool them in an ice bath and remove shells under running water.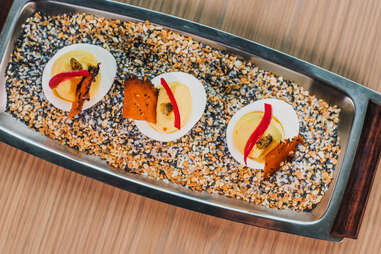 Simcik always boils a few extra eggs to stretch the filling. This also serves as a glue when plating the eggs, so they don't roll around the dish. He uses a food processor to combine the yolk with mayo and dijon to create a creamy filling perfect for adding garnishes on top.
For the filling, he suggests buying a piping bag from the store (avoid the star tips to play up the creamy texture), using the classic Ziploc technique (fill and clip off the corner), or a melon baller or ice cream scooper to keep your presentation creamy and clean.
And lastly, the key ingredient that can make or break this delicate dish: smoked salmon. If you're smoking salmon at home, Simcik advises brining the fish ahead of time for about 30 minutes in a saltwater bath and using alder wood. However, you can also find high-quality smoked salmon from your local deli, bagel spot, or Whole Foods.
If you really want your deviled eggs to take center stage at your upcoming Easter or Passover brunch, Simcik recommends using dyed eggs (with beet juice or egg dye) for a whimsical, celebratory vibe.
As for what to serve them with? "Good people. Lots of friends and family," Simcik says. "And bubbles. Champagne all day." Now that's a recipe we can follow.
Everything Bagel Deviled Eggs Recipe
Hard boiled eggs:
Take eggs out of the fridge to get them to room temperature. Bring a heavy bottom pot of water (enough to cover the eggs by an inch or so up to boil). Once boiling then add the eggs gently and let boil for 7 minutes. Once 7 minutes are up then remove pot from heat and let eggs sit in the hot water for another 7 minutes. Once the additional 7 minutes are up then add ice to cool and peel eggs under running water. Split the eggs in half and remove the yolks carefully for the filling and save the whites to use to refill with mix later.
Deviled egg filling:
Ingredients:
• 1 quart of hard boiled saved egg yolks
• 3 cups of mayonnaise
• 1 cup of dijon mustard
• Salt and pepper to taste
Directions:
In a food processor, place all the ingredients and blend until nice and smooth. Season to taste with salt and pepper. Add to a piping bag and pipe back into the saved egg whites.
Everything bagel seasoning:
Ingredients:
• 4 teaspoons white sesame seeds
• 2 teaspoons black sesame seeds
• 2 teaspoons poppy seeds
• 2 teaspoons dried garlic minced
• 2 teaspoons dried onion minced
• 1 teaspoon Maldon sea salt
Directions:
Mix all ingredients together.
Pickled red onions:
Ingredients:
• 1 large red onion
• 1 cup of apple cider vinegar
• ½ cup of red wine vinegar
• ¼ cup sugar
• 1 teaspoon kosher salt
• Pinch of red pepper flakes
Directions:
1. Slice the onion in half and then slice thinly into julienne cuts about 1/8" thick
2. In a medium saucepan, add both vinegars, sugar and salt with pepper flakes. Bring up to a boil until sugar and salt dissolve.
3. Add slice onions to a jar or container with a lid and pour hot vinegar solution over the onions.
4. Once cool seal and refrigerate until ready to use (can be stored for 2 weeks).
Assemble the eggs:
Ingredients:
• Egg whites filled with deviled egg mix
• Everything bagel seasoning
• Pickled red onions
• Smoked salmon flaked pieces
Directions:
1. Sprinkle a small amount of the everything bagel seasoning atop the deviled eggs.
2. Place a small ½-inch piece of smoked salmon atop the deviled egg.
3. Place one sliver of pickled red onion atop the salmon on the deviled egg.
4. Serve and enjoy!
Abby Maddigan is the social media manager at Thrillist
,
who recently relocated to Denver and is accepting all local coffee shop recommendations. Follow her on
Instagram
.